Mediation period for Nassar suits to be extended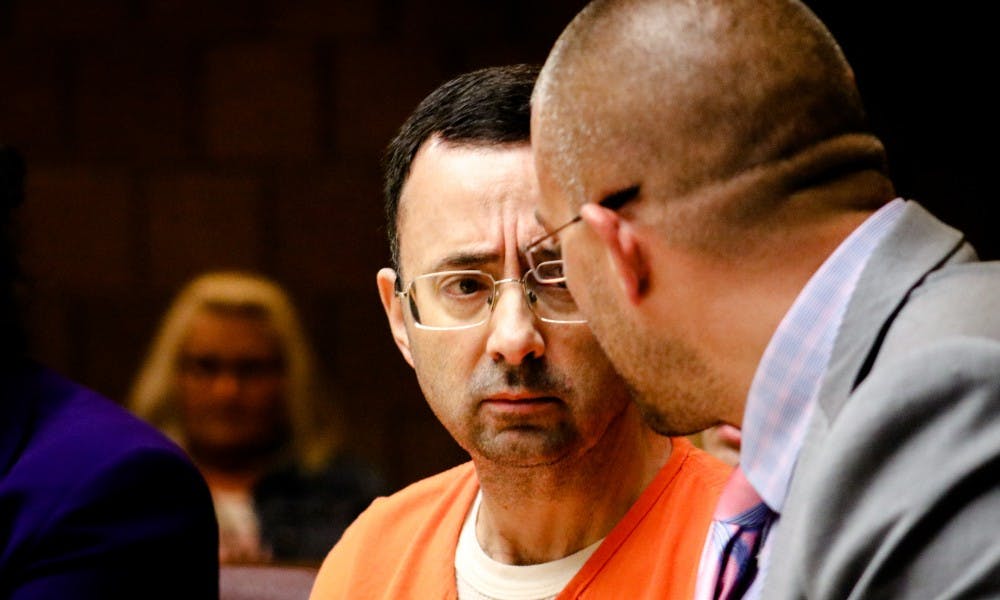 ---
The mediation period for lawsuits related to alleged sexual abuse by ex-MSU and USA Gymnastics doctor Larry Nassar will be extended, according to court documents filed Monday.
Attorneys representing alleged victims and all defendants except USA Gymnastics filed a stipulation to extend the stay of proceedings Nov. 7. In the stipulation, both parties sought to extend the mediation period an additional 30 days to "promote efficient use of judicial resources without prejudicing any of the parties."
Now that the additional 30 days is added, the mediation period will extend until Dec. 6.
All of the lawsuits list MSU, MSU's Board of Trustees, Nassar and USA Gymnastics as defendants. Most include Twistars Gymnastics Club, ex-MSU head gymnastics coach Kathie Klages, current College of Osteopathic Medicine Dean William D. Strampel, Twistars Gymnastics founder and owner John Geddert among others.
The attorneys involved in these nine lawsuits are hoping to reach a settlement during this mediation period.
In August, a preliminary scheduling order was entered and as part of this order, the parties agreed to a voluntary pre-litigation mediation process that would last 90 days. Since then, progress has been made, the mediator for the lawsuits, Jon Muth, wrote in a letter to the counsel on Nov. 7.
"Although the parties still have significant work to do if they are to reach a consensual resolution of these matters, substantial progress was made during the mediation," Muth wrote. "In my view, the parties would benefit from an additional 30-day stay of litigation so that they can focus their efforts on continued mediation discussions."
Nassar is accused of sexually abusing over 140 women and girls under the guise of medical treatment. He was arrested in December 2016 on charges of possessing "at least 37,000" images of child pornography to which he has pleaded guilty. His sentencing for these charges is set for Dec. 7.
Nassar additionally faces criminal sexual assault charges in Ingham County and Eaton County. Trials for these charges will begin in early 2018.