MSU tobacco ban goes into effect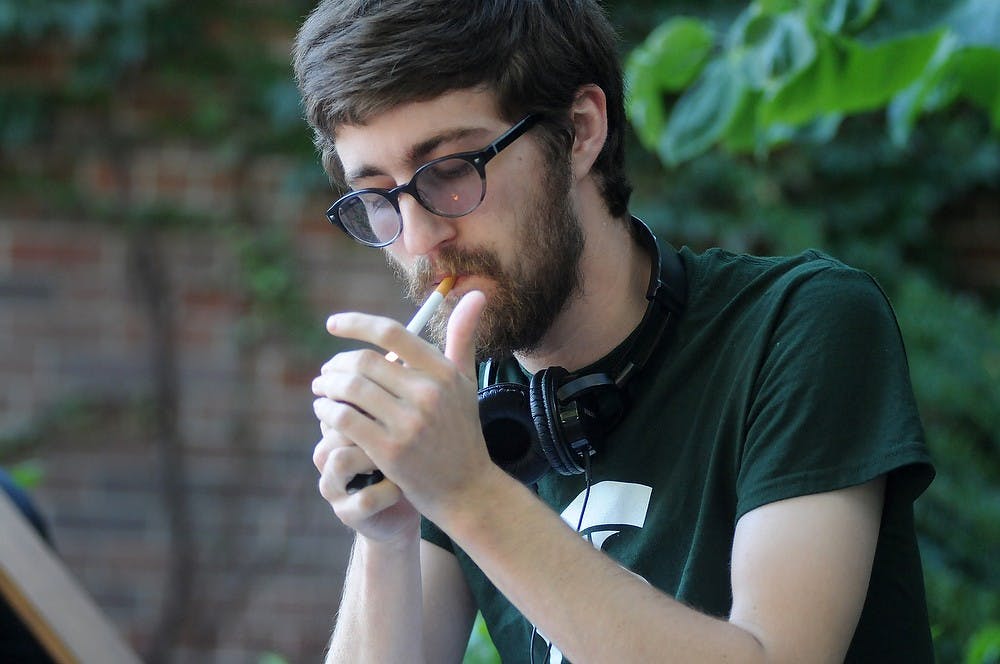 ---
On Monday, MSU's ban on tobacco use officially went into effect. Approved by the MSU Board of Trustees in 2015, the new ordinance prohibits the use of all tobacco products, including cigarettes, chewing tobacco and vaporizers on all MSU property.
While the tobacco ban is outright and immediate, MSU does not expect students to instantly adjust to the ban and may be lenient and patient with initial offenses.
MSU spokesperson Jason Cody said while violations will be a civil infraction and carry a fine of $150, MSU police will not seek out violations or actively aim to give tickets to students, and students will not be getting in trouble for tobacco use off the bat. The ban also applies to use within vehicles, but Cody said in a 2015 interview that this would also not be enforced in any real capacity.
"This is going to be a sustained educational effort to try to create a healthier campus culture... We are not looking at this process through an enforcement lens, but rather an educational one," Cody said. "That said, with any ordinance that's on the books here, of course there's going to be enforcement mechanisms."
MSU plans to treat violations of the ban the same way as other university policies in regards to enforcement. With repeated offenses students may be referred to the student judicial system, as with any other student code of conduct violation. Cody said there is also a path to discipline for university employees such as himself, should they defy the ordinance.
They would ban tobacco at MSU after I graduated nothing was worse than walking behind/through people smoking. But glad they banned it!

— Kate (@KManinga) July 17, 2016
As part of initiating the ban, Landscape Services has begun the removal of all cement ashtrays from MSU's campus. Cody expects MSU's more than 400 ashtrays to be completely removed by the time a majority of students have moved onto campus for the Fall semester.
Adam Lawver, interim manager of Landscape Services, said it is likely the ashtrays will be sold or recycled through the MSU Surplus Store.
While the ban and subsequent removal of ashtrays may make smoking more inconvenient for MSU students, many may simply cross Grand River Avenue or other streets bordering MSU to use tobacco. Cody does not expect the ban and removal of ashtrays to increase cigarette-based pollution on or around campus.
"Hopefully, people who do choose to use tobacco off campus in East Lansing would continue as they have been, to do so respectfully," Cody said
Chad Freehaf, a Lansing resident and manager working at Campus Corner on Grand River, does not anticipate that the smoking ban will have any effect on cigarette sales or student behavior.
Smoking ban? Sorry MSU, but these are not the issues you need to spend time and money on.

— ellen studzinski (@ellenstudz) June 19, 2015
"I don't think people will smoke any less just because they're banning it on campus," Freehaf said. Freehaf worked at Campus Corner for more than five years, and said smokers have typically smoked in alleys near the store rather than on the streets. Freehaf anticipates they'll continue to do despite the ban.
"I don't think we'll see a lot of people just on the sidewalk on Grand River smoking... I don't think we'll notice a big difference," Freehaf said.
Journalism senior Jack Nissen, a non-smoker, said he thinks some might appreciate the lack of tobacco products on campus but the ban may spark dissent or unruliness in others.
"I think it's ambitious... I think that it's impressive it's enacted, I think it'll be a long time before it's actually a reality," Nissen said. "They can say they're banning it, but people will get away with it quite a bit."
Check back with The State News for updates on how MSU students adjust to the tobacco ban throughout the Fall 2016 Semester.