Suiting up for winter's chill
Survive Michigan weather using this guide to winter clothing essentials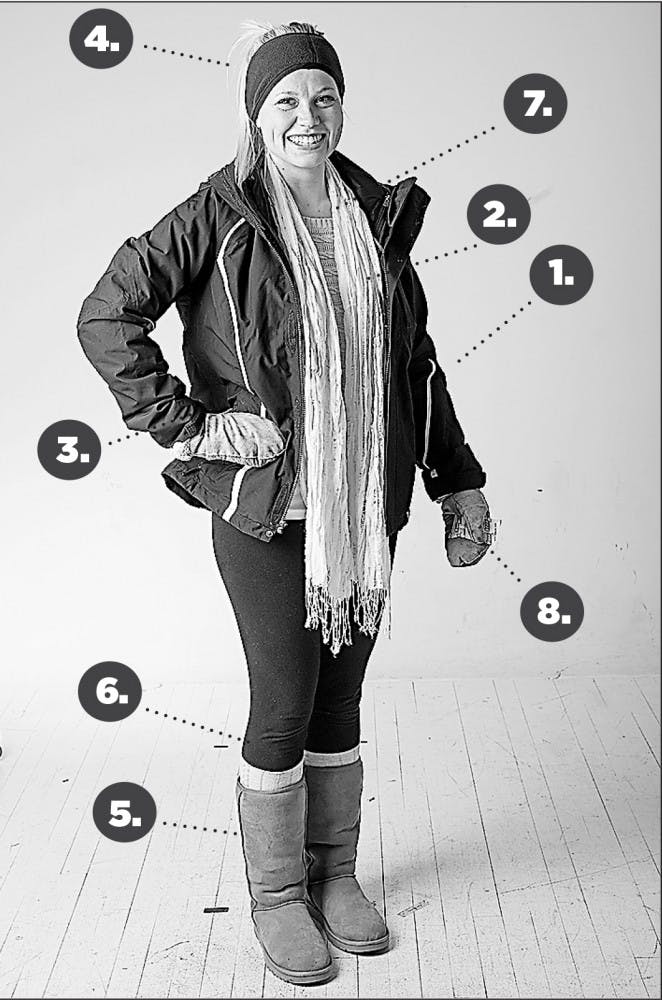 ---
The winter chill officially has set in and only plans to get worse. For students who need to walk the span of campus on a regular basis, it is necessary to cover up to stay warm and keep frostbite at bay. Here are some winter clothing essentials that anyone facing Michigan's brutal winters should keep in their closet.
1. A thick coat
A good coat is the most important thing any student on this campus can own. While down stuffing has the potential of shedding on clothes, it keeps its owner undeniably warm. Additionally, a hood on the coat is beneficial when trying to stay warm.
2. A scarf
Scarves do not just have to be fashion accessories — a scarf is a good way to cover up exposed necks and stay snug during the colder months.
3. Gloves
Sometimes, it's necessary to carry things in the cold and pockets will do no good. To keep hands from turning into popsicles, invest in a good pair of gloves. There also are brands that sell gloves that can be used with touch screens on smart phones.
4. Ear muffs/winter hat
For people with coats that lack hoods, ear muffs or a winter hat are necessary to keep ears warm. Winter hats, ear muffs and even thick headbands come in a vast variety of styles that are sure to satisfy anyone's tastes.
5. Winter boots
A pair of boots with a warm lining can go a long way in keeping feet toasty. For students, it is important to stay warm and comfortable while walking around campus to classes. Additionally, it is better to have a pair of boots when sloshing through snow compared to any other type of shoe.
6. Thick socks
Having a thick pair of socks goes hand-in-hand with wearing warm boots. A good option are wool socks, although it is imperative to make sure they are not so thick that they don't fit in the boot.
7. Sweaters/layers
Even if somebody has all of the above, a T-shirt under that thick coat is still not going to cut it. It is essential to have sweaters and layers on hand to actively combat the cold weather. These layers could come in the form of thermal shirts, leggings or long underwear.
8. Hand warmers
Hand warmers are air-activated heat packs that can fit inside pockets. For anyone who spends a significant amount of time outside, these are a great way of having a safe and concentrated heat source.