Column: Protect yourself with a helmet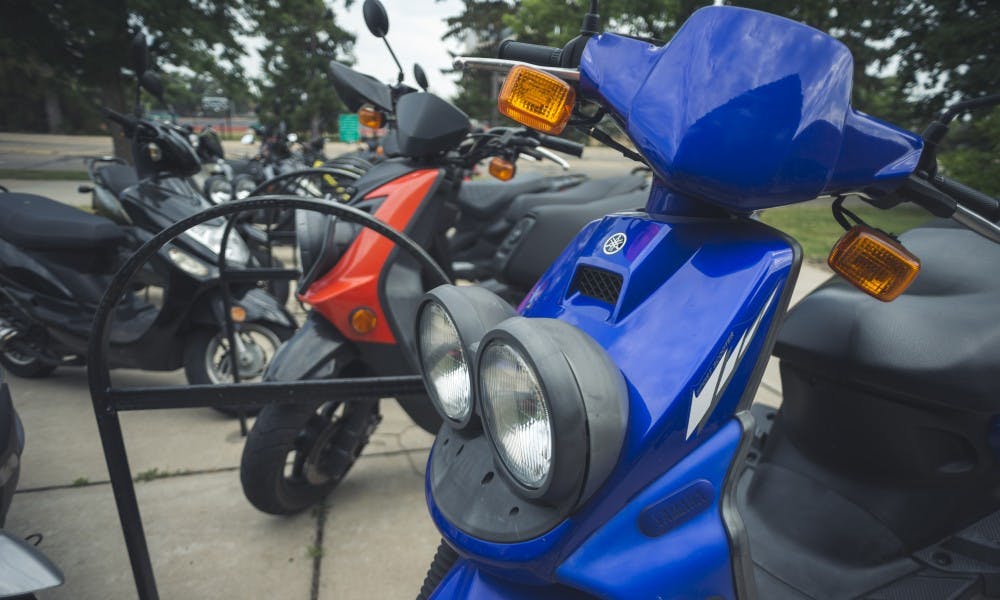 Helmets make sense. Really?
Imagine if the NCAA approved a rule change to permit football and hockey players to not wear helmets while playing in games. Some people would be outraged, likely including coaches, noting that an injury might occur as a result of not wearing a helmet.
Such an injury would not only affect the health of the player but also impact the other players and the institution by possibly affecting the team quality and performance. Should one player's underestimation of the risk impose costs on the entire team?
With the increased attention to the potential for Traumatic Brain Injury, everyone seems to understand the value and importance of appropriate head protection in sports. Yet many folks, mostly students or young people, have no problem riding on a scooter or moped without helmets going 25 mph on busy streets in East Lansing, Lansing, or the MSU campus.
This mode has become especially popular among MSU students, including student-athletes. Most of these folks would not think of being sacked by J. J. Watt or checked by Niklas Kronwall without wearing helmets and equipment.
Sadly, there is no shortage of cases to make the point. The Gainesville Sun reported, "A University of Florida student was not wearing a helmet when the scooter she was driving crashed into a ... car Wednesday along a congested street. ... (the rider) was critically injured ... with a head injury and broken femur."
A report from the University of Georgia College of Public Health noted "Scooter safety has been a big discussion topic for Bulldogs fans lately after a string of injuries – some very serious – to UGA athletes. Baseball recruit ... was paralyzed in a 2009 scooter wreck ... A scooter injury sidelined baseball pitcher ... for six weeks this spring, and this summer, Bulldog football players missed practice time because of scooter injuries."
From the Post and Courier: "Clemson University football coach Dabo Swinney ... recently urged that the state require everyone who rides a moped or motorcycle to wear a helmet. His call came after freshman defensive end ... was hit and injured ... while riding a moped without a helmet."
All of us can learn a lesson for our everyday lives from sports. Football, hockey, baseball, softball, car, bicycle and horse racing, lacrosse, polo, cricket, fencing and skiing among others, all are sports in which participants wear helmets. Scooter and moped riders (and bicycle riders, especially on roads) should too.
And by the way, the Michigan moped rules state "operators under age 19 must wear an approved and properly fastened safety helmet when riding a moped on a public road."
Be safe out there. Please.
---
Ronald Fisher
Professor of Economics, Michigan State University September 2017