No. 14 MSU Volleyball takes down No. 3 Minnesota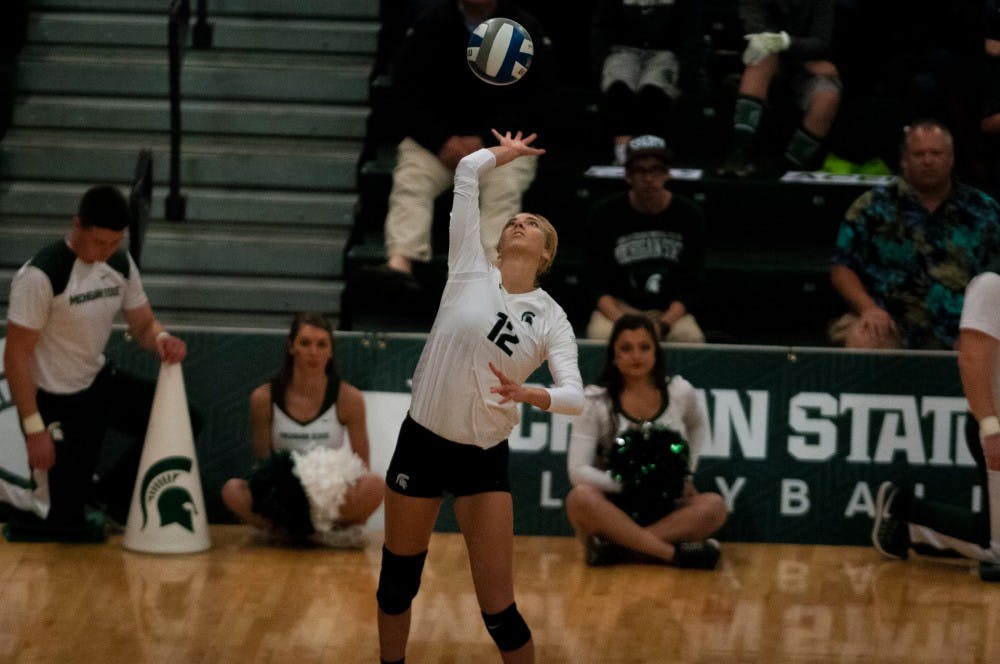 ---
The No. 14 MSU volleyball team played No. 3 University of Minnesota Saturday night at Jenison Field House, for their second Big Ten game of the week. The Spartans beat Minnesota in five sets, 12-25, 25-20, 25-21,18-25 , allowing them to end their week of conference play with a win.
In the first set, Minnesota came out heavy, causing the Spartans to make plenty of mistakes and miss many open opportunities. At the end of the first set the Gophers had a hitting percentage 48.3%, with 16 kills, 15 assists, 14 digs and 19 points scored.
The Spartans only had 9 kills and 11 points in the first set, leaving the rest of their points from errors made by Minnesota. Usual heavy hitter, redshirt junior Autumn Bailey left the first set without a kill or point scored.
The following set was very reminiscent of the Spartans who swept Ohio State. MSU has the largest lead over an opponent in game, with 8 points (17-9). MSU started to some successful kills on the board with senior outside hitter, Alyssa Fitterer. Fitterer got 3 kills and scored 4.5 points, while also having some presence blocking with four in total during this set. The Spartans came out on top, 25-20, tying the game 1-1.
The third set was very much a back-and-forth battle. MSU started the set trailing Minnesota, but the closer to match point they got, the more momentum the Spartans built. There were a total of six tied scores in that match, as well as three lead changes. Bailey began showing her strong presence on the court again, getting 4 kills, 5 digs and scoring 4.5 points.
The Spartan crowd was very supportive throughout all the sets, and it worked in favor of the home team. The final set, seemed to be a replica of third; MSU came from behind to win it all in the last minutes.
Bailey pulled her night together getting a double-double from her 11 kills and 11 digs. Senior out hitter, Chloe Reinig had 14 kills, with 2 digs and 4 blocks. Alyssa Garvelink was the leading scorer of the night with 23.5 points, she other strong suits by being reliable on the block, as she had 9 against the Gophers with 18 kills.
MSU Volleyball gets to rest, and prepare for their next game against Rutgers back in East Lansing.