MSU Volleyball Sweeps No. 14 Ohio State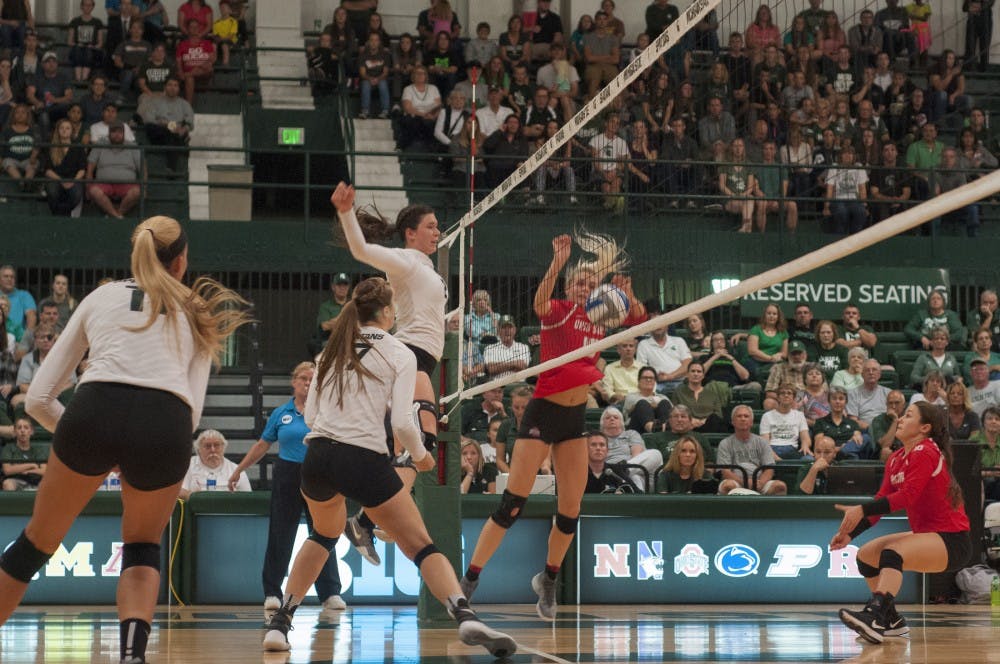 ---
For the second year in a row, MSU swept then-No. 14 Ohio State University on Friday, 25-18, 25-20, 25-23. From the beginning of the game the Spartans led, and in certain plays they made Ohio State looked confused on the floor. MSU held Ohio State to a 19.8 percent success rate at the end of the night.
MSU head coach Cathy George said the win was caused by big plays from different people who stepped up.
"I liked that they really followed the game plan and they were really heads up for a lot of things," George said. "I thought they did a good job of coaching themselves, which believe it, you have to be playing like a team in order to be successful. ... They did a really nice job with adjusting, and game three we came out slow, we did not maintain that intensity right out the get go, but then we kind of pulled it back after half the game."
The upperclassmen controlled every aspect on the court Friday night. They saved balls on the far end of the court and blocked every ball that came to the net.
Autumn Bailey had 14 kills against Ohio State and scored 15.5 points. Bailey was the leading scorer of the night, right behind her with 10 points was Alyssa Fritterer. Bailey said she just wanted to go for it out on the court, she's been improving and working on her recovery as a player.
"(Bailey) was very good," George said. "I thought she was really aggressive as an attacker, she was taking really good shots and she was really heads up with what she wanted to do. I know she's been working on her game, all the different shots that she has, so I think she has such a range when she hits and it was really good to see that she was taking what she was given and didn't try to overdo anything."
MSU leads the Big Ten in services aces, with an average of 2.08 a set. Holly Toliver and Bailey are tied for 2nd in the Big Ten with a .40 average. Brooke Kranda average .52 services aces per set, but since she's just short of the match requirement, after the OSU game she'll be #1 in the conference. Kranda has an all-around successful night with 5 kills, 3 services aces and 1 dig. She said that during the game her team was really about serving tough and keeping them from effectively running their offense.
The only person ahead of the Spartans in services aces in the Big Ten was OSU's Taylor Hughes. However, Hughes was held to only one service ace the entire game.
"My serve has come a long way from when I started here," Kranda said. "I did develop a couple years ago, the weird hybrid serve that does, I don't even know what it does sometimes. It's a really cool this to be at the top of the Big Ten for services aces."
Junior Alyssa Garvelink had 7 kills, 4 blocking assists and 9 points and junior Rachel Minarick before the OSU game had a total of 2,738 career assists and during the game she had 32 more assists and 7 digs.
MSU is back on the court on the court on Saturday to play in their second Big Ten game of the weekend, against Maryland.