Senior Spartans left it all on the court in season-ending loss to Arizona
---
It was all about redemption for the No. 15 MSU volleyball team when playing Pac-12 opponent, the University of Arizona. The past two seasons, MSU had lost during the second round of the NCAA Tournament to No. 1 seeds, Washington in 2015 and Stanford 2014. It was a five-set match that went down to the wire, but the Spartans couldn't pull out the win (25-17, 16-25, 19-25, 26-24 and 10-15), and were upset by the Wildcats on Saturday.
The loss was especially tough for seniors Chloe Reinig and Allyssah Fitterer, it was evident the locker room was full of tears. Both athletes put up solid numbers against the Wildcats. Middle blocker Fitterer had 10 kills, 1 solo block, 3 blocking assists and 12.5 points. Reinig, one of the captains along with junior Rachel Minarick, had 15 kills, 2 digs and 15.5 points.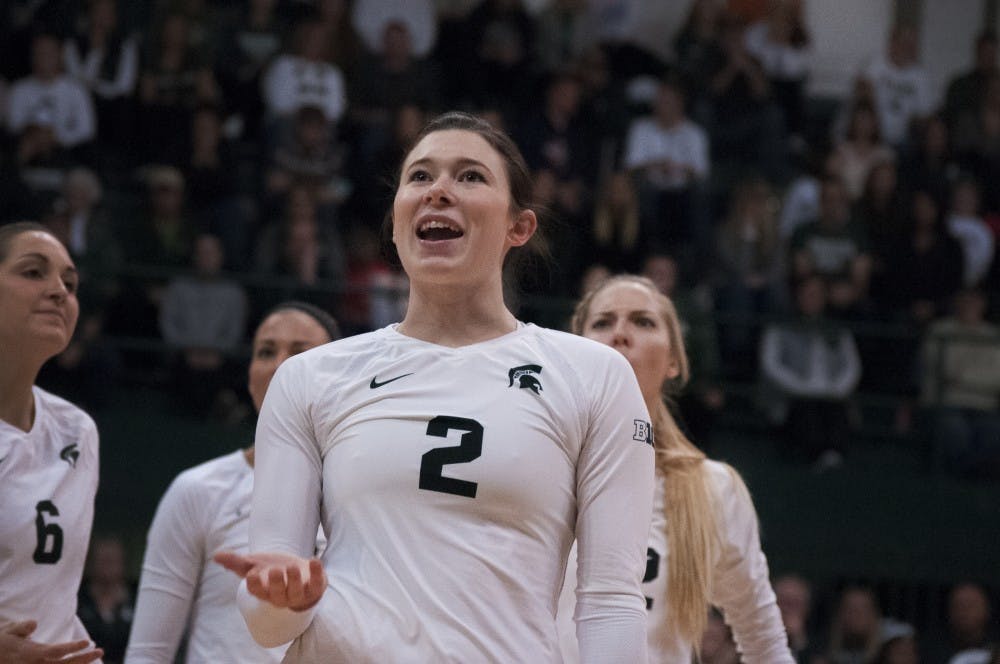 "It just really doesn't even feel real, sitting here still doesn't feel real," Reinig said. "In the locker room afterward, I just told the girls that I love them. I honestly was not thinking that this was going to be our last night together. ... It sucks and there's nothing that you can say to make it better."
MSU controlled the first set and took the 1-0 advantage against the Wildcats, but the second set would prove to be more difficult. In the second set, the Wildcats improved their hitting percentage from .207 to .357. Arizona sophomore Kendra Dahlke registered seven kills while senior Kalei Mau had five kills in the second set.
Also in the second set for U-A, senior Laura Larson served three services aces in the first two sets, and contributed to the team's seven total.
"Our serving really got them out of system it brought our block into play, which helped out defense," Larson said. "Also, we kind of got out of our own heads, played our game, focused on the next ball and that's what really helped us."
The Spartans made multiple errors in the fourth set. Reinig said it was reminiscent of some earlier matches this season where they "stepped off the gas," Reinig said she and her teammates didn't realize they were fighting for their lives Saturday night.
"We got comfortable I think after that first set, and Arizona is too good to get comfortable with," Fitterer said. "No team in the NCAA Tournament is just going to roll over and they didn't and they kept punching back."
Head coach Cathy George said this upset loss will serve as a learning experience for the team moving forward. George also said she was grateful for her seniors and the energy they brought to the team dynamic this year.
"These seniors have made a huge impact on our program as they've gone through (it), but this senior year for them it really brought this group together," George said. "And there's a chemistry and culture that's different, just different. They've really made sure that they took care of each other, invested in each other, and that hopefully will carry on for future years."
The Spartans ended the 2016 season with a 25-9 overall record and a home record of 15-3. Even though MSU loses four contributing seniors this season, the junior class will be there to pick up the pieces, George said. MSU's 13-7 Big Ten record was a new best for the program.