Revised abortion bill passes in House of Representatives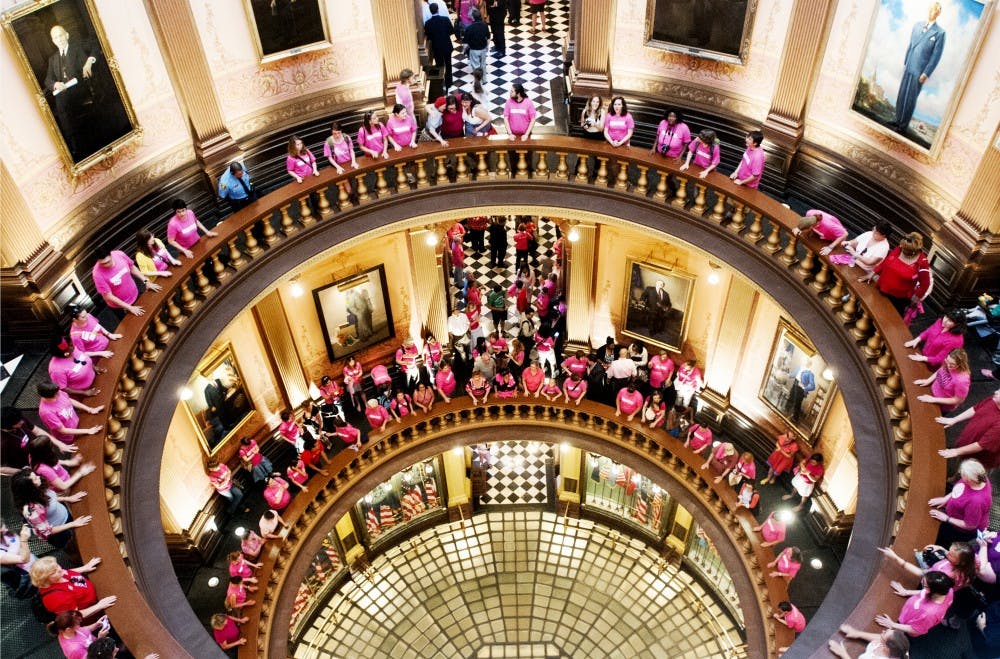 ---
Editor's note: This story has been changed to reflect the views of Rep. Lesia Liss, D-Warren, and to reflect the abstention from an absent representative who did not vote on this bill.
The Michigan House of Representatives was filled with tension Wednesday afternoon when members divisively passed a controversial bill that would place new regulations on abortions in the state.
A day after hundreds of Planned Parenthood supporters gathered on the Capitol lawn to protest the bill's imminent passage, debate took to the House floor, with the representatives ultimately passing the bill 70-39, with one representative abstaining due to not being in attendance.
The bill requires physicians to adhere to stricter requirements for granting abortions and determining that a woman was not coerced into terminating a pregnancy. It also prohibits treating fetal remains as medical waste and bans abortions after 20 weeks.
Rep. Bruce Rendon, R-Lake City, the bill's main sponsor, said the bill has been misinterpreted to appear as an attack on women, when it intends to improve women's health and bring accountability to abortions.
"If a woman does decide to seek an abortion, she has every right to expect quality care," he said.
Although the House was quick to pass the bill within a few weeks, the Senate likely won't bring it to the floor until September.
Several women's health groups have called the bill among the most extreme anti-abortion bills in the country for its reach over the women's health field.
Lori Lamerand, president and chief executive officer of Planned Parenthood of Mid and South Michigan, said the scope of the bill's reach into public health is "unheard of," and no other state is discussing abortion in the same way.
Regulating abortions is a complicated issue that cannot be solved through legislation, despite politicians using it as an election-year topic, she said.
"This bill purports to be about supporting women and making things safer for women, but if that was really their goal, there's a plethora of things they could be doing that really would support women," she said.
At several occasions during the House debate, speakers were called out of order or asked to remain on topic discussing the bill.
"I've heard it said that this set of bills is a war on women. I reject that notion," Rep. Margaret O'Brien, R-Portage, said.
Although O'Brien said an abortion certainly is an invasive procedure, she said the bill provides better medical practices for abortions similar to the way other surgical procedures are treated.
The proposed regulations would require abortion clinics to adhere to stricter surgical codes, which some abortion rights supporters said could force them out of business.
MSU Students for Life President Lisa Jankowski said abortions can be a traumatic experience to begin with, and regulating health practices at clinics will provide better care to women who do seek abortions.
But Rep. Lisa Brown, D-West Bloomfield, said many women's voices have gone unheard in the abortion debate, and the Legislature should not require all women to adhere to only some legislators' beliefs.
Brown, who is Jewish, said Jewish law allows a "therapeutic abortion" for pregnant women if the mother's life is at stake, and passing this legislation does not take everyone's religious freedoms into account.
"I'm flattered you're all so interested in my vagina, but no means no," she said.
Rep. Lesia Liss, D-Warren, supported the bill but said there are more than two sides.
"Nobody wants to have an abortion," she said. "We should be doing more on the prevention front for the purposes of humanity."