Engineering student wins Hertz Foundation Graduate Fellowship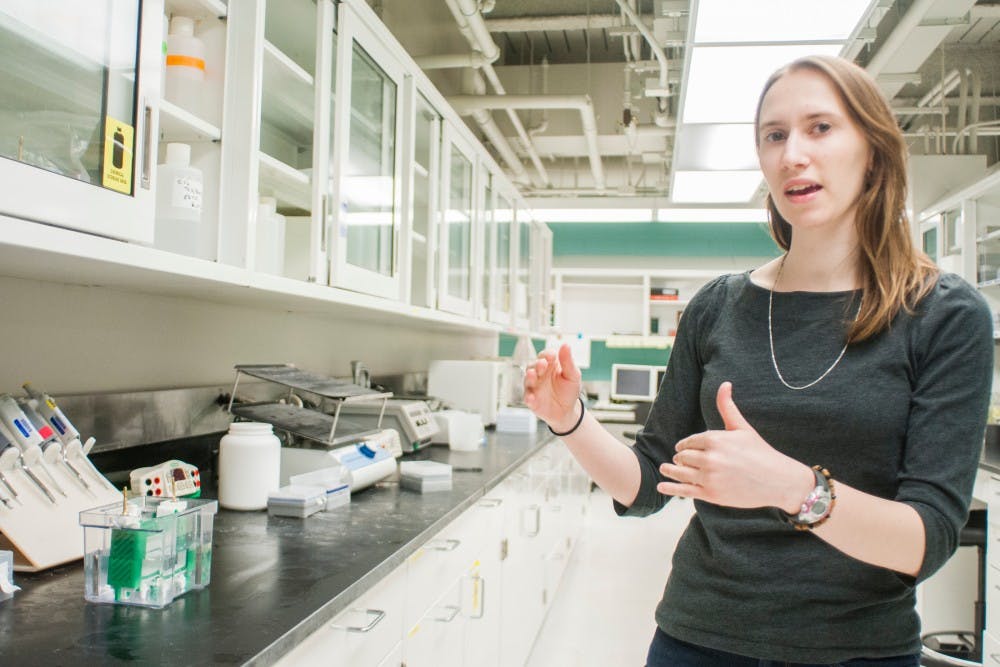 ---
The Hertz Foundation Graduate Fellowship Award received more than 700 applications from students across the country. Among the names in the pile of applications was chemical engineering senior Rebecca Carlson.
Carlson is a chemical engineering student who has recently been awarded the fellowship. She is among the 12 people nationwide to receive it.
The fellowship is awarded to students pursuing an advanced degree in engineering and physical sciences. Her tuition and cost-of-living is covered by the award, giving her the opportunity to research in her field and connect with other Hertz fellows.
Carlson said she is currently studying RNA molecules and siRNAs. She is working to determine how RNA can be engineered to silence genes more effectively.
"I really like the combination of the engineering approach and the biology, so what we are doing at the lab is trying to design an RNA to be more active and so looking at what sequences are the best," Carlson said.
Carlson is working as a research assistant for associate professor Patrick Walton in his bioengineering lab. Carlson said her passion for chemical engineering stems from her love for math and science.
"I didn't know that much about my major going into undergrad, so I really liked chemistry and calculus and math problem solving so I thought chemical engineering was a good major to pick," Carlson said.
Carlson grew up in Italy. She said after living there for 14 years she developed a love for languages. Her love inspired her to pursue a minor in Chinese.
Carlson said she would like to incorporate her love for languages in her future. Her goal is to become a professor at MSU or another large college and she would like to start a research center in West Africa.
"I really like the honors college at MSU and also just the size of the College of Engineering," Carlson said. "The fact that we are at this big school with so many different resources and so many different clubs and things to join, but also that within engineering, I have class with maybe 120 people but we take so many classes together that I know almost everyone in my year. I think MSU is great because it is a big school but it also feels small."
Chemical engineering senior Laura Azouz said she met Carlson through her chemical engineering classes and through the club Bridges International. Azouz and Carlson are currently roommates.
Azouz said she shares Carlson's passion for engineering but said it was a struggle to grasp at first.
"It is definitely a learning curve especially sophomore year when I first started to take the pure chemical engineering classes because they are unlike anything I have taken in high school," Azouz said. "It is a whole different approach to things, and you have to be able to deal with a lot of variables ... and not be intimidated by that. Sort of take it step-by-step until you get to the solution."
Ariel Rose graduated in 2016 with a major in engineering. Rose and Carlson were partners in labs and the two worked on a senior design project in a 30-day process.
"It is rare to find an individual who has both a drive for an achievement of excellence to the level that she does while still possessing a deep sense of humility," Rose said.
Rose currently works at the north Chicago site of Procter and Gamble. She said Carlson helped prepare her for her current position at the company.
"Becca was a big part of my preparation," Rose said. "My work with her did help me to gain another angle on the way to approach some of the questions I encounter and also to give me inspiration for the possibilities of becoming excellent ... seeing her drive in that definitely encouraged me to look for those things more."