Spartan alumni sail to preserve the Great Lakes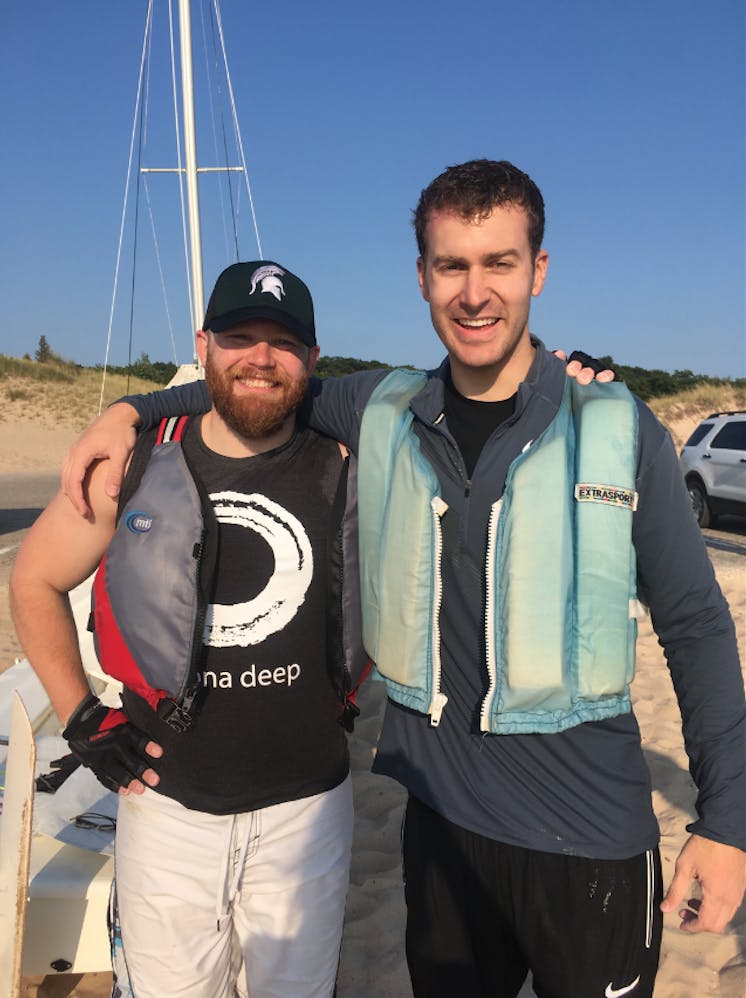 ---
Drew Fries and his roommate J.T. Bohland took the saying, "Go Green" to a whole new level. The two sailors planned a 65-mile journey across open freshwater from the Wisconsin east coast to the Michigan west coast to raise money and awareness for fresh water preservation and research.
The Spartan alumnus dreamt of sailing the Great Lakes for the past three years and now it's a memory.
"When I was out there, I underestimated how intense it was going to be," said Fries, who graduated from MSU in 2013. "It was blowing and we had 5 foot waves and we were surrounded by white caps. In a journey that could have taken 6 to 20 hours, I'm so glad we did it in 8 hours."
On Sept. 15 at 6:30 a.m., Fries and Bohland set sail towards the horizon with the help of Derrick Fries, Drew's father. Mr. Fries was an MSU All-American sailor on the sailing team in 1973. Mr. Fries helped prepared his son and Bohland for their Great Lakes voyage.
After Fries and Bohland sailed away, Mr. Fries stayed behind for two hours with the trailer for the boat. The young men had a two-hour window to turn around, however, Mr. Fries said after a few hours they vanished under the sunrise and he knew they were off to a good start.
"I'm just so proud of him doing it for a noble cause and to do something so environmentally friendly and yet a pretty remarkable achievement to sail across Lake Michigan," said Mr. Fries. "It's bittersweet because one, you're glad he's out sailing and doing something that is so environmentally friendly but on the other hand, he is unassisted and he's out in the middle of Lake Michigan on a very tiny boat."
Though Fries has been sailing all of his life with his father, it was a fish out of water experience for Bohland, where the last time he was on a sailboat was in 9th grade. Once Bohland realized the voyage across Lake Michigan was now a reality, he had second thoughts about the trip. Being the only child, his mother wasn't too thrilled about the voyage either.
However, after having a set in stone plan and a few practice runs with Fries and his father, Bohland knew it was now or never for the once and life time sail.
"From my end, Drew was honestly the captain for sure," said Bohland, who graduated from MSU in 2012. "He managed the rudder and the main sail the entire trip. I was sitting at the front of the boat and I was managing the front sail."
The morning of the trip, Bohland looked to Mr. Fries for reassurance about the weather forecast and the estimated time for when they would finish. However, the response he received from his mentor was more tough love than Bohland expected.
"Mr. Fries said to me, 'Well, you have to do it in a day. That's what needs to happen.' it was great," said Bohland. "He didn't say nothing else, it was just the facts of life and we headed off."
Capsized
With a few hours into the journey on Lake Michigan, the wind and weather was in the young sailors favor. Though they started planning the trip in the beginning of the year, Bohland forgot that the temperature on the boat is a lot cooler than it is on the shore. After shuffling through some storage units, Bohland found a Curious George styled poncho to help keep him warm during the remainder of the trip.
As Fries hands began to clinch up from gripping onto the stirring, his head locked over his shoulder looking towards the blue sky, he found himself in peace and pure awe of the natural beauty he was taking in. A picture perfect day with his best friend is a funny Curious George poncho smiling across the boat, it was a memory Fries would never forget.
Half way through, the waves began to pick up and Bohland jumped into the middle of the lake to use the restroom, not thinking about the strength of Lake Michigan 6-foot waves and whitecaps. Bohland found himself drifting quickly away from the sailboat, but as Fries frantically tried to turn around to pick him up, the boat capsized.
"In my mind while this is happening I was like, 'Okay this is what needs to happen, but what out of our gear is in the water right now? What is gone from the cockpit? What does and does not float?' I was sure that GPS device was gone," said Fries.
Before the boat capsized, their compass stopped working, leaving them with the GPS device as their only source of navigation.
"I think that is when my duties came into play the most," said Bohland, who was stranded in the water at the time of the capsize. "Out of the corner of my eye I saw this bright yellow thing floating in the water I was able to swim and mind you it's like 6-foot waves, so I'm floating over and swallowing water. It was a sponge that we were using to clean water off the boat and when I picked it up, the GPS was literally floating right next to it."
Immediately out of excitement, Bohland screams, "Drew! I got it! I got the GPS!"
"The GPS somehow floated 120 yards to him, just so lucky. We had 360 degrees of these huge waves, J.T. just like chilling in his funny yellow jacket and it somehow floated to him," said Fries. "Again, so our compass doesn't work and we have the wind and we have the sun to kind of guide us where we are going but it helped so much to have that device. So that was huge."
Home Sweet Home
After a long 8-hours of battling a rollercoaster ride sail through Lake Michigan, Fries and Bohland shared a brotherly hug and cheered to finally have made it the the Michigan shoreline – or so they thought.
"In our heads our family is over the hill waiting for use, but in fact they were like 5 miles away," said Fries.
The two young men had planned on meeting their families at the lighthouse on the shore, however, there are two lighthouse on the shore. While they were at the state park, they're family was in the opposite direction.
"It was like another scene out of a movie because I'm like super tired and eager to connect with my dad. Meanwhile, J.T. is laughing with the state park volunteer ladies and they're giving him stickers, taking pictures of him and giving him candy bars from the gift shop and he's just having the time of his life. It was just hilarious."
After realizing where their families were located, they said bon voyage to the nice older ladies that let them use their landline phone and headed back out to Lake Michigan. This time around, it was not so smooth sailing, and they had to work against the wind for 2 miles south of where they were able to beach their boat and be reunited with their loved ones.
As they finally made it to the right Michigan shoreline, not only were their families waiting for them, but the volunteer women from the other shoreline made the trip over with their husbands to celebrate them finishing their voyage.
"Without our families, we couldn't have done it at all," said Fries. "It was cool to take this passion and manifest it into an action and yea it was super intense but it was kind of therapeutic at the same time."
When Fries and his father saw one another, they started cheering and jumping up and down, as his mother was proud and happy he made it back safe. All of the proceeds Bohland and Fries raised went towards Cooperative Institute for Great Lakes Research to preserve freshwater in the Great Lakes. To donate, visit Fries gofundme page here.
"In the spirit of what MSU stands for about leadership and fellowship and setting goals, it's a true Spartan kid that would do this," said Mr. Fries, after his son completed the Lake Michigan voyage. "It focuses in on the green of MSU for being so environmentally friendly. The money they raised can help perpetuate the Great Lakes. It is a very noble cause."