Comedians visit business college, give tips to aspiring comedians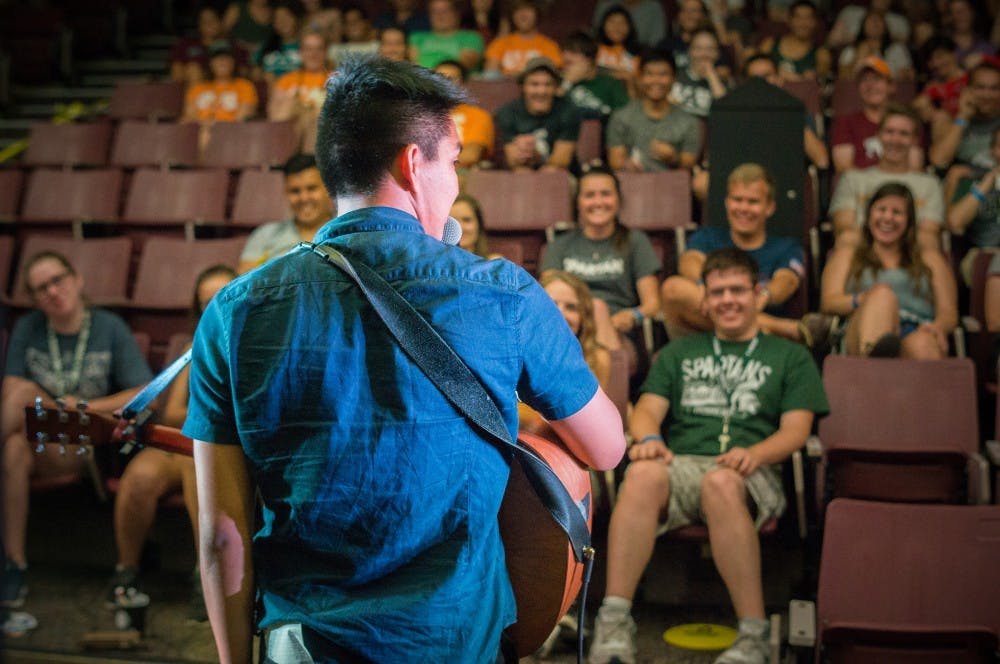 ---
Once aspiring comics, JR De Guzman and Ismael Loutfi know the struggles of a college student.
At the University of California, Davis, De Guzman was looking for a place to fit in — and found so at an open mic night his junior year. Years later, he is touring the country telling jokes with a guitar in hand. Loutfi, a former University of Florida student, also troubled before finding his niche.
De Guzman was selected in February as the winner of "StandUp NBC," a nationwide talent contest that inks comedians to land a year-long contract with NBCUniversal find potential acting gigs — the same fate as prior winners like Eric Andre and Hannibal Buress. He and Loutfi, who named a finalist in the search, visited campus last Friday in an event hosted by the University Activities Board at the business college, and discussed after the show some of the hardships of getting started in the industry.
After their show, The State News caught up with De Guzman and Loutfi. Here's what they had to say about the industry and life in general:
Q: What's the best advice for anyone who wants to become an aspiring comedian?
De Guzman: "Get on stage as much as you can and figure out your voice, what you want to do. But the biggest thing is to get on stage. Nothing can teach you stand up as much as a crowd."
Loutfi: "Don't want to be an aspiring comic. Just do it. Just be it. Just become an aspiring comic. It's easy, you just do an open mic and you bomb and it hurts so badly, but if you keep doing it you're either going to be a good comic or deranged. And then you have to figure that out for yourself, but it takes a few years."
Q: What's the hardest part about being a comedian?
De Guzman: "It's not even the shows or anything comedy related. It's the lifestyle. The lifestyle is really hard. Like today, for example, I didn't get any sleep at all and then I flew here, I slept a little bit on the plane, maybe two hours and then drove straight here and finally slept. That's such a normal thing when you're on the road: not sleeping, traveling, trying to stay in touch with your friends through phone calls. Like my girlfriend is in Sacramento and we never see each other. It's more of the wear and tear of the road."
Loutfi: "A lot of that stuff is internal. Self-doubt and things like that. Comedy — it's a very hands on thing. You just do it. You go to an open mic, you bomb, you cry, it's hard and you just keep doing it until you feel like you're getting better. I did it for two years before I decided I was going to try and do it as my job, but for those first two years I was like, 'this isn't going to work.' It's painful. Really painful to start."
Q: Where do you find time to write jokes? Do you just do it in the little spare time you have?
De Guzman: "For me it's seasonal. I used to sit down every day and do one page of jokes and then pull out the best from those, but lately it's been more writing on stage — I come up with stuff on stage and see if an idea gets a laugh, then I'll keep the idea for the next show and see if it can get a bigger laugh and keep growing it. Developing a joke is like watering a plant."
Q: Where do you usually find most of your inspiration from?
De Guzman: "You have to really connect to it. One it has to be funny, but if you can connect to it and like you have some kind of emotional attachment to it, I think that helps. Like, this is something I'm mad about, this is something I'm stressed about, it comes from a place you can connect with."
Q: Any upcoming projects?
De Guzman: "I am pitching this digital show right now/sitcom. It's like a topical musical-comedy show, kinda like Flight of the Conchords meets Masters of None or something. … There's some interest. There are some places that already want to buy it, but we're trying to see if someone else wants to buy it too."
Loutfi: "I have a digital series for Comedy Central that I'm working on and I've got other stuff that I can't talk about, but you'll see. Be on your toes."