MSU's water meeting requirements, but some feel more should be done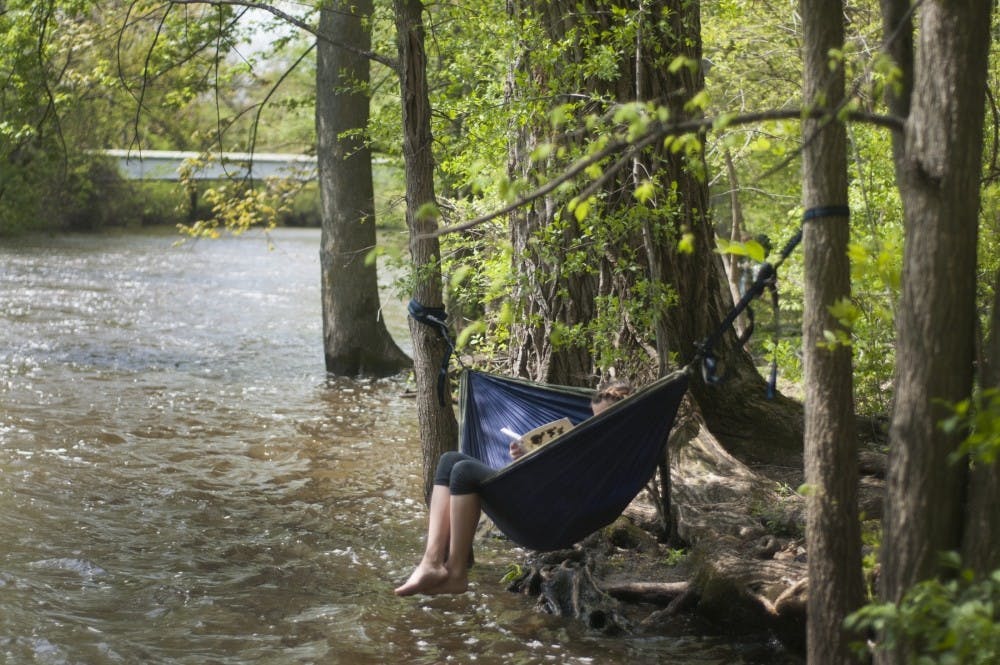 ---
Right now, someone on campus is turning on their tap and pouring themselves a nice, cold cup of radium, haloacetic acid and chlorine.
Even though MSU's water supply truly does contain trace amounts of these chemicals, there is no cause for alarm. According to MSU's annual Water Quality Report, throughout 2016, on-campus drinking water met or exceeded all federal and state safety requirements.
At the Board of Trustees meeting on Sept. 8, board chairman Brian Breslin congratulated the university's Infrastructure and Planning Facilities Department on the achievement.
"That water report you sent out can reassure all of us that we've got clean water, we're monitoring it all the time, and it's living up to our expectations," Breslin said. "All the students and people who use that water should take great confidence in that."
Although she doesn't see any reason for concern based on her knowledge of the source water, Dr. Susan Masten of MSU's College of Engineering doesn't think it's fair to claim following government safety standards is the same thing as "absolute assurance" of complete cleanliness.
"I will never make the statement that meeting regulatory criteria equates to safety," Masten said.
The report found no contaminants in the water supply that were higher than an established "action level," at which regulations find a contaminant to be above a safe amount and require action to be taken to reduce it. Masten said that technology developments have allowed utilities to measure contaminants like lead at smaller and smaller concentrations, but that data can never be interpreted to mean a complete lack of a certain contaminant.
"We're talking about parts per billion," Masten said. "Think about that as one drop in a billion drops. It's very hard to see that, so we can't accurately measure zero. We can only say that the concentration is below whatever the instrument can detect."
These improvements in detection methods come as citizens are asking more questions about what comes out of the tap, Masten added. At a time when Flint, only 50 miles away, remains in the headlines over its lead-poisoned water, some Spartans feel anxious about MSU's testing regimen. Since the drinking water is tested for lead once every three years, the lead data referenced in the newest report is from 2014.
Biochemistry and molecular biology major John Kim was particularly unsettled to hear about the three-year gap between lead tests.
"Are you serious?" Kim said. "Can it be possible to use that water? If you find out the water has lead, do you want to use that? No, I don't think so ... that is a really bad thing."
Although senior urban planning major Sara Yoko doesn't worry about water safety on a day-to-day basis, she doesn't think MSU's current testing timeline is enough.
"I think it should be tested more often, especially with what happened in Flint," Yoko said. "I don't know if it'll cost more money or what, but I think just for the safety of the amount of students that are on campus and the residents living here, it's really important to do more often."
Masten said the process of testing for lead is incredibly complicated, and that regulations only require this three-year period. She added that the water crisis in Flint has changed the way nearly every entity handles water treatment and protection, from operators to the EPA to educators like herself.
"With regard to Flint, I think it's a rude awakening for a lot of utilities," Masten said. "It's an awakening in terms of education. ... It's changed what I teach; I've added a lot more on corrosion control to my lectures on water treatment, and I've talked to other faculty. They've said the same thing."
As part of their efforts to educate its community on water quality, IPF sends students "red water alerts" in their email inbox, a notification that is sometimes misunderstood. Yoko said when she has received these emails, she had always assumed they were telling students not to drink the water. However, red water is safe to drink, and is simply a discoloration caused by sediment.
Although a recent red water alert dismissed the discoloration as "harmless" in terms of safety, not all students find that to be true. Kim, who lived in Case Hall last year, said that his allergies to metals like nickel started to act up after drinking discolored water in that dorm.
"When I used that water, I felt a reaction of the allergies," Kim said. "I don't think we can drink that water. That smells really bad and it doesn't look good."