Detailed overview of MSU's new Grand Rapids Research Center, set to open Sept. 22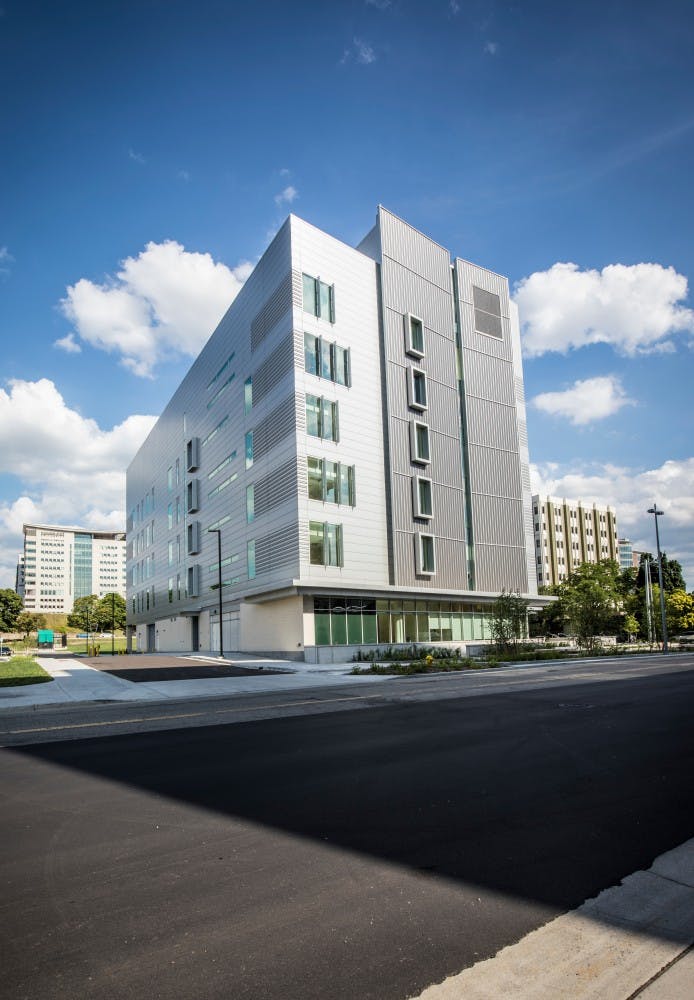 ---
Now two years in the making, MSU is gearing up for the grand opening of its newest Human Medicine research facility, the MSU Grand Rapids Research Center. The newest addition to Grand Rapids Medical Mile will officially open Sept. 22, offering the public free tours from 11 a.m. to 2 p.m.
Located at Michigan Street and Monroe Avenue, MSU Grand Rapids Research Center is a gateway to the city's Medical Mile. It is a block west of the city's Secchia Center and close to the Van Andel Institute, Spectrum Health, Grand Valley State University's Cook-DeVos Center for Health Sciences and other medical buildings.
The six-story, 162,800 square-foot facility is built out for 33 principal investigators and their research teams, with space eventually to house 44 research teams. By the end of 2017, 25 principal investigators, along with their research teams and support staff, will amount to nearly 150 new jobs.
With emphasis on research to combat progressive disorders, researcher's hope to delve further into early prevention of conditions such as, Alzheimer's and Parkinson's disease. An $88 million project, the new facility will redefine the study of Human Medicine in West Michigan.
Norman J. Beauchamp, Human Medicine Dean, could not be more excited for its opening. His deep involvement in the development of the center is extensive, providing background on its construction.
"Some of the history of the Grand Rapids craft predates a bit in terms of the decision to tear that building down, the sky-rise, in the fall of last year," Beauchamp said. "What had been decided was that the building had been vacated by the Grand Rapids craft, and it sat vacant. There was a desire to demolish it. What MSU saw was an opportunity to expand on that building that is there dedicated for publication, to build a research center. The opportunity to do that made a great deal of sense because what you ultimately want to do is to bring the clinical care to your education."
Liz Lawrence, senior associate dean for finance and strategy at Human Medicine, also played a role in creating the concept for the facility. She believes what sets this new facility apart from the rest of the competition is the work that is conducted within.
"What's state-of-the-art are the partnerships and the science that go into this new facility," Lawrence said. "It's less about the four walls and more about the partnerships of the scientists and the folks that deliver health care in the Medical Mile, our partners such as St. Mary's."
Development for the center began after the old Grand Rapids Press building was torn down on the same site in 2015.
Ellenzweig, a Cambridge, MA, architectural firm specializing in medical education and research facilities, designed the research center, as well as the Secchia Center, the college's Grand Rapids headquarters. SmithGroupJJR of Detroit provided engineering services and Clark Construction Co. of Lansing and Rockford Construction of Grand Rapids co-managed the construction.
Each floor will specialize in different research studies. Thirty-three principal investigators will work with teams focusing on neuroscience, women's health science, children's health science and cancer research.
Walter J. Esselman, senior associate dean for research in Human Medicine was able to provide an overview of the actual research and studies that would be conducted within the facility.
"We have about 25 investigators. The largest research areas are in Parkinson's disease, Alzheimer's disease, Pediatric Neurodevelopment, such as Autism and in women's health," Esselman said. "Women's health would be fertility like issues all the way through cancer's associated with women like ovarian cancer and such."
MSU Grand Rapids Research Center architectural style is designed with a modern look that complements the appearance of the Secchia Center. It is clad with insulated metal panels similar in color as the Secchia Center's stone exterior. The entrance on Michigan Street and Monroe Avenue features a plaza, a rain garden and low seating walls.
The lobby includes an interior garden and copper sheeting recycled from the roof of the former Grand Rapids Press covering one wall near the stairway. A large meeting room, conference rooms and break out spaces are designed to encourage scientists to meet informally and share ideas.
Most windows face south to absorb solar heat in the winter and have horizontal shades to keep it out in the summer. The roof is designed to reflect heat and reduce summer cooling costs. Heating and cooling equipment is outfitted with high-efficiency, variable speed motors.
The building is reinforced to minimize vibration, which could interfere with sensitive equipment, such as highly advanced microscopes. Air in the labs will turn over four times every hour to carry away fumes and reduce the risk of contamination.
US Secretary of Education Betsy DeVos has been invited to speak at the opening ceremony of the MSU Grand Rapids Research Center on Sept. 20, MSU spokesman Jason Cody confirmed Aug. 31.
MSU Grand Rapids Research Center holds promise as it nears its grand opening. With much built-up anticipation, it is likely to break boundaries in the study of medical sciences.