5 things to watch: MSU vs. Notre Dame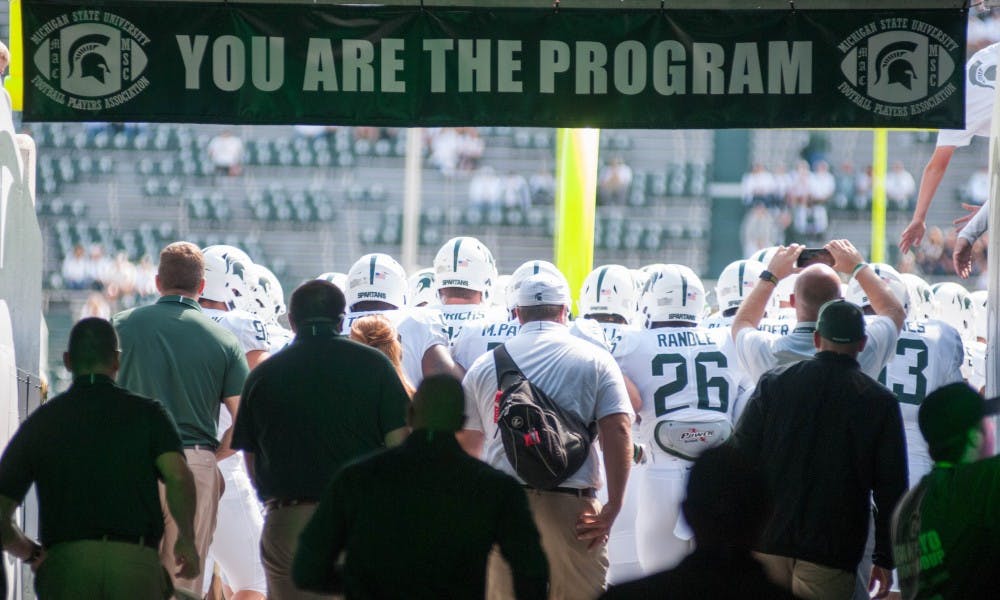 ---
MSU football comes out of its bye week 2-0 and eager to face rival Notre Dame Saturday night.
With the Megaphone Trophy on the line, here are five things to watch for in the 79th meeting between the two teams:
The first true test: Saturday's game will be the first time the Spartans will play under their new lights and the first time all year that they will play before a national audience.
The Spartans did what they were expected to do in defeating two subordinate MAC teams in their first two games of the season. Now, they will face the Fighting Irish in what has been deemed by most as the first true test for MSU.
How MSU responds to a high-caliber team like the Irish will be an important tool in showing the Spartans what they need to improve upon before conference play.
Continuing red-zone efficiency: MSU has scored on 7 of 8 trips to the red zone this season.
If it wasn't for junior running back L.J. Scott's fumble at the 1 on MSU's first possession of the season against Bowling Green, MSU will be perfect inside the 20.
Notre Dame, however, is a flawless 15 of 15 in the red zone after three games this season.
Quarterback Brian Lewerke has had a solid season so far. If he can help lead the offense to another strong outing in the red zone against a team that was just two weeks ago ranked in the AP Top 25 poll, you can certainly project this year's team as a force to be reckoned with.
Containing Wimbush: Notre Dame quarterback Brandon Wimbush, similar to Lewerke, has the ability to use his legs when a play collapses.
Wimbush has 314 yards rushing and six rushing touchdowns this season. 207 of those yards came last weekend against the Irish's win over Boston College, when the junior signal-caller also recorded four rushing touchdowns.
Entering Saturday, Wimbush has completed 48 of 94 passes for 490 yards and two touchdowns.
Playmakers like Wimbush have the ability to wreak havoc on defenses, so the Spartans have a heavy workload ahead of them if they want to leave Saturday's game 3-0.
Defense looks to stay strong: Yes, MSU played two MAC teams for its first two wins of the season, but that is no means to justify that the Spartans' defense has yet to allow its opponents to score a touchdown.
That is an impressive feat for a team that is one season removed from a 3-9 season that was marred with injuries and featured a dismal defense.
The Spartans head into Saturday's matchup fourth in the FBS in total defense, allowing just 407 yards in total offense, and their 204 yards per game allowed is third in the FBS.
This defense can live up to its hype with an impactful showing Saturday night.
Stopping Adams: The Irish's Josh Adam has punished opposing defenses this season, as the junior running back is averaging 147.7 rushing yards per game.
Adams's 443 yards rushing this season place him fifth in the FBS.
MSU's defense hasn't faced a running back with the stat line that Adams holds, so a big test on Saturday will be how co-defensive coordinators Harlon Barnett and Mike Tressel will try to shut down Adam's productivity.