3 backs in running for MSU's top spot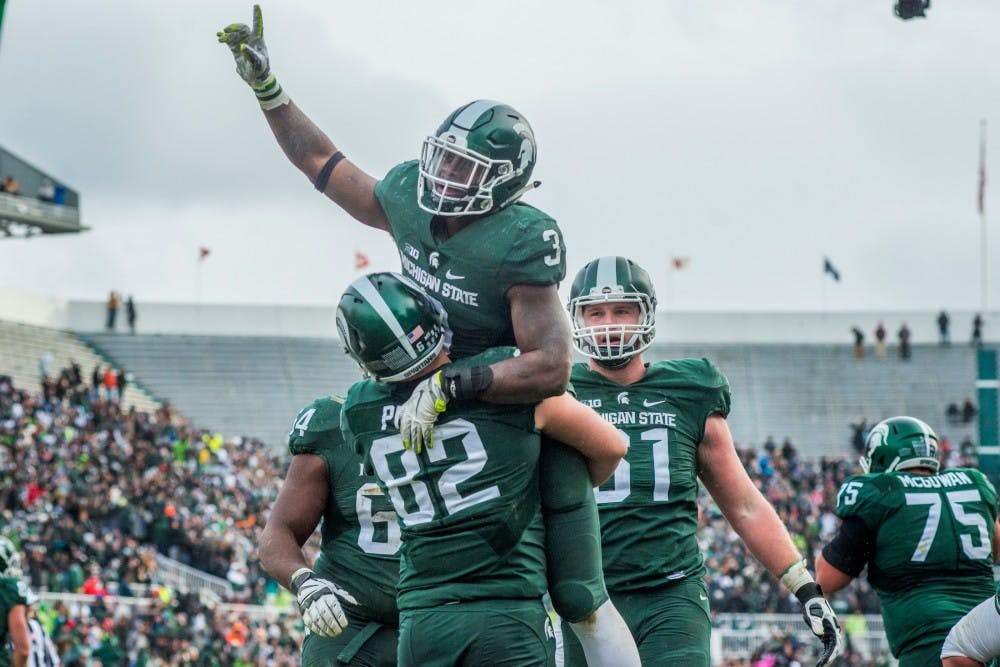 ---
Depth at running back should not be an issue for MSU football this season.
After the Spartans' lackluster 3-9 season, fullback Prescott Line was the only player to depart, leaving veterans Gerald Holmes, Madre London and LJ Scott to continue to compete for carries and develop as players.
"They've all been the bell cow before," head coach Mark Dantonio said Monday at MSU media day. "They've all been the guy that's gotten the majority of carries in a particular game, so that's a positive. They've all run the ball for positive yardage and have had big plays."
Over the past two seasons, the three tailbacks have combined for nearly 3,300 yards and recorded a total of 35 touchdowns.
For a team with an abundance of youth, the running backs and other positions replete with veterans will need to hold a valuable leadership role on the team.
"The fact that we know that we have experience, we are just trying to take more leadership on the field as off the field," Scott said. "As a group you know, we are just trying to keep doing what we do, pick each other up, are always there for each other, and keep working hard."
A two-year letterwinner, Scott led the team last season in rushing yards (994), carries (184), total touchdowns (7) and rushing touchdowns (6).
Scott's 994 rushing yards in his sophomore campaign were the seventh most by a Spartan sophomore in a current season, while his total career 1,693 rushing yards are the fifth most by a Spartan through their sophomore season.
In 2016, Scott rushed for over 100 yards in five of the Spartans' 12 total games.
Scott said being the one to lead the running back corps and get the bulk of carries is not just an easily achievable task, but yet something that takes time.
"It would take a lot of hard work and dedication," he said. "Also, it would take the little things to separate myself. We have a long practice — go in the weight room, get 15 minutes on the bike, 15 minutes doing abs, anything just to take a step to separate myself from those guys."
Holmes said he feels having all three running backs on the field at the same time would be more productive than constantly rotating in players, and it is something they have been discussing with their coaches for a while.
Whatever the game plan for this season is going to be, the amiable competition is only going to make the players better.
"It helps you get better because you can build with guys who have something you might not have," Holmes said. "I might not have a certain burst like (L.J. Scott) or with this ability like Madre (London), so we can share each other's skills and teach each other certain things to make each other better, and with that friendship and that bond, we can allow that to happen."
Holmes netted just 431 yards last season, but he isn't concerned with the three-way competition limiting the amount of carries he may get.
"Now, it's all about if you give me five carries, I'm going to make that the best five carries you'll ever see," Holmes said. "If you give me 10, I'll do the same thing. I feel like each and every one of us, we see it that way. So if it's 20, if it's five, it doesn't really matter to us because (it's) kind of the running backs we are."
London stressed that despite the competition, becoming selfish will do nothing beneficial for the team.
"We still push each other," London said. "When somebody is doing something wrong, we're going to get onto each other, but it's never a hatred completion. Everything our running backs do … we praise them all, we teach them all. That's what's going to make us better in the long run... Nothing really comes from selfish people, so we try not to be selfish, just (keep) helping each other and staying humble with each other."
Co-offensive coordinator and running backs coach Dave Warner said that the continual battle among the three players to get the majority of the carries has fueled the player's competition level and is a good situation to have.
Whoever the lead running back will be, Coach Warner is confident in the ability of all three players.
"It's a blessing to have those guys, to have that talent," he said. "It's also challenging to try and find enough footballs to spread it around, so that's a positive. But with our running back situation, obviously we feel good about all three of those guys, and whoever the main guy becomes or the second guy, we feel good about all three of those guys getting in there."