MSU men's soccer starts strong in opening weekend, sweeps foes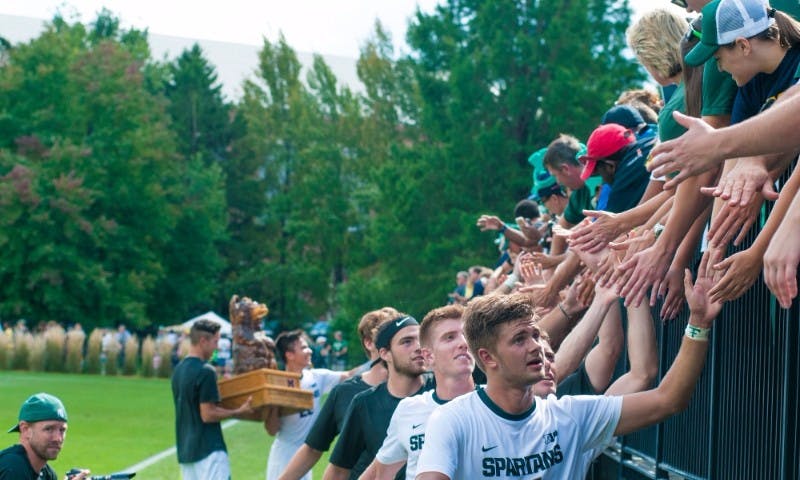 ---
While the football team is still waiting to get its first game underway, several other MSU teams have already begun its quest for a national championship this past weekend.
The MSU men's soccer team kicked off its season this past weekend with a sweep against the SIUE Cougars, who ended the Spartans season last year in the first round of the NCAA Tournament, and the Saint Louis University Billikens.
The No. 22 Spartans led off this weekend against the unranked Cougars on Friday night, beating them, 1-0. Midfielder Giuseppe Barone gave MSU its lone goal with just over 13 minutes into the game, with last year's point leader forward Ryan Sierakowski being credited with the assist.
After the goal by Barone, the defense on both sides of the field showed up for the rest of the first half, with MSU limiting the Cougars to one shot and two corner kicks and the Cougars limiting the Spartans attack to one corner kick.
The defensive battle continued into the second half with MSU only getting off three shots, compared to the Cougars getting off five shots.
In the end, MSU's defense prevailed and avenged the loss that ended its season last year, giving the Spartans a 1-0 start to the 2017 season.
On Sunday night, the Spartans took on the Billikens of Saint Louis University, in which they also celebrated the 50th anniversary of SLU and MSU being Co-National Champions in 1967.
Unlike the 1967 National Championship, there wasn't a shortage of offense as MSU put pressure early on in the first half, outshooting the Billikens, 4-1.
The Spartans didn't stop there, and after the halftime celebration, they scored two goals off the feet of Hunter Barone and Ryan Scott, marking the duo's first individual goals of the season. Sierakowski assisted Barone's goal, while forward DeJuan Jones assisted on Scott's goal.
The Billikens didn't go down without a fight, however, as they had 10 shots in the second half along with seven corner kicks compared to the Spartans' five.
SLU's efforts were flattened, though, as MSU's defense held on, giving the Spartans their second shutout win of the season.
After sweeping SLU and SIUE this weekend, the Spartans will make their home debut this Friday, Sept. 1, against Dartmouth at 6:30 p.m. They'll conclude their weekend on Labor Day with a home match against Cleveland State at 1 p.m.