Former MSU gymnastics coach Klages working at gymnastics club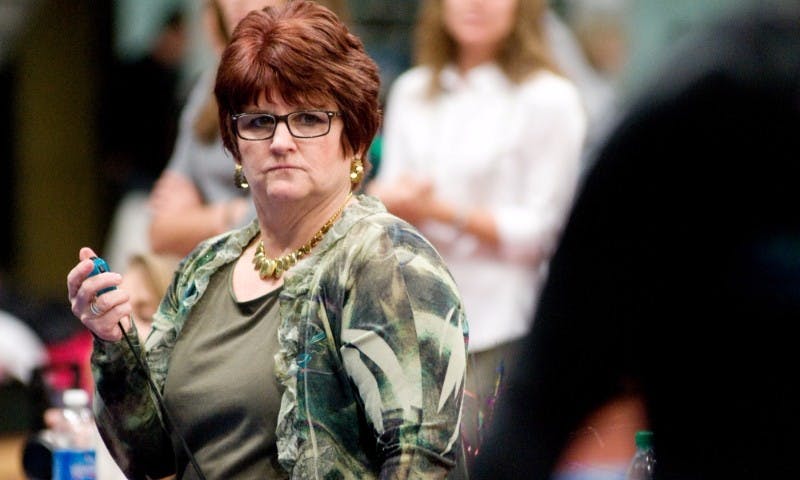 ---
Update 2:45 p.m.:
Ex-MSU gymnastics head coach Kathie Klages subbed for an absent Twistars Gymnastics Club employee for two days, Twistars confirmed Monday.
Previous articles from WILX Channel 10 and WLNS Channel 6 reported Klages had started working at Twistars in a temporary position. According to the gym, Klages was simply "helping John (Geddert) out for two days and she won't be back."
Klages' time at Twistars was not as an employee, Twistars said, and she is not on the gym's payroll.
---
Former MSU gymnastics head coach Kathie Klages is now working for Twistars Gymnastics Club, according to reports.
Klages is accused of defending ex-MSU doctor Larry Nassar and discouraging athletes from reporting sexual abuse. According to court documents, Klages was reported to have been aware of allegations of Nassar's sexual abuse as early as 1997.
Klages was suspended by MSU on Feb. 13. She retired the next day.
According to a report by WILX Channel 10, Klages is filling in during an employee absence and her work with Twistars could be temporary.
Twistars Gymnastics Club has been in hot water for nearly a year. Nassar previously treated young athletes at the gym, and some young girls allege it was the setting of his abuse. Twistars is also a defendant in a number of civil suits, many alongside MSU.
Twistars could not be reached at the time of publication.
Since Klages' retirement, MSU has named its new gymnastics head coach — Mike Rowe, previously MSU gymnastics' interim head coach.
Nassar is accused of sexually abusing patients under the guise of medical treatment. He was arrested in December 2016 on charges of possessing "at least 37,000" images of child pornography to which he has pleaded guilty. His sentencing for these charges is set for November.
Nassar additionally faces criminal sexual assault charges in Ingham County and Eaton County. Trials for these charges will begin in early 2018. He is also a defendant in a number of civil cases, many alongside MSU.
Stay with The State News for updates.
Editor's note: The WILX Channel 10 article linked features an error in the spelling of "Kathie".