I'm right: I was skeptical, but joining a frat and Greek life changed me for the better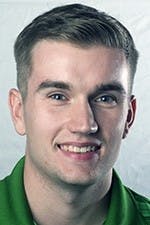 Editor's note: This is one part of a dueling column written by State News reporters. The other column can be read here.
---
Ah, welcome week. A time where returning students buy books only to not use them all semester, sit through professors preaching their syllabuses and the police handing out MIPs like they're Blaze Pizza coupons.
For incoming freshmen or transfer students, however, it's a time for adjustment. It's your first time living on your own or being a part of MSU's illustrious campus.
Some take the transition in stride, making college just another part of the puzzle called life. For others, it may be a challenge leaving the comfort of your close ones.
While there's no place like home, there're alternatives on MSU's vast campus to make you feel right at home.
One of those possibilities — Greek life.
Now, hold on. I know your first reaction is to call us every derogatory name associated with students in a fraternity or sorority.
I know because I said the same exact thing before I decided to join the Greek community. I hated the way people in Greek life acted, I hated they were so exclusive at parties and I hated how they thought they were better than everybody else.
But all of that was just at the surface. Once you dig deeper, you see how fun joining a fraternity or sorority is.
I didn't discover this joy until fall of 2016, when I first started as a reporter for The State News.
My editor at the time, who later became my "big," Connor Clark, was nagging me to rush his fraternity, Tau Kappa Epsilon.
While I thought of it as a joke, on the last day of rush I decided to go and see what all the fuss was about. Clark is a good guy, so I thought maybe the rest of the brothers of TKE would also be decent.
And boy, was I right.
These group of lovable degenerates were not only welcoming to me, but to everybody else rushing, no matter who they were.
Even with this, I was still skeptical and questioning myself if I really wanted to be a part of this. I still wasn't sure if they actually wanted to be friends or if they just needed another body to grow as a fraternity.
However, I knew I made the right choice to join the bond after I almost drowned at Delta Gamma's main philanthropy event of the year, Anchor Splash — which we got third place, no big deal.
All of the brothers in attendance asked me if I was okay and why I didn't tell them I could barely swim. They said if I simply told them I'm not a good swimmer they wouldn't have let me go because they didn't want to run the risk of me drowning.
As obvious of a response that might have been, I saw the genuine concern from my brothers in their eyes and tone of voice.
From that day on, I knew I made the right choice.
Even with the few negatives of joining, like people not paying their dues, the positives heavily outweigh the negatives.
The bonds you build going through the pledge process, philanthropy events and parties. The memories you make at said events, and the roasts of a fellow brother in the GroupMe when they do or say something stupid. The countless hours spent in chapter yelling at each other and not getting anything accomplished.
I wouldn't trade these moments and lifelong friendships for anything.
To me, you have to take risks not only in college but in life.
I took the risk and it has made me better at time management, social interactions and an overall better human being.
If you take the leap of faith, believe me, your life'll change for the better. Trust me.
This story appears in The State News 2017 Welcome Week Edition. The issue can be found on MSU's campus at various dorms and buildings. To read other Welcome Week stories, click here.