Report: Ex-MSU basketball's Keith Appling sentenced in court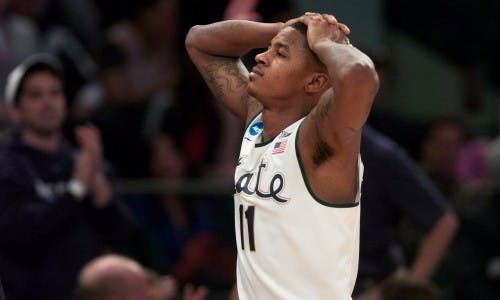 ---
After pleading guilty to multiple charges last month, former MSU basketball star Keith Appling was sentenced Thursday, WDIV reports.
A Wayne County judge followed the sentence agreement and sentenced Appling to one year in Wayne County Jail and five years of probation.
Appling pleaded guilty to one count of attempting to resist and obstruct a police officer and one separate count of carrying a concealed weapon.
According to the plea agreement, Appling must serve his jail time without an early release.
The ruling stems from an incident last August in which Appling was pulled over in Detroit for a traffic citation, and discarded a gun after fleeing from officers during the stop.
Two other charges were dismissed as a part of the plea agreement: third-degree fleeing a police officer and felony firearm possession.
It was the third time Appling faced charges over a four-month period last year.
WDIV reported Appling was arrested and charged with carrying a concealed weapon in a motor vehicle in June, after police allege he tried hiding a .40-caliber Smith & Wesson under a car seat.
Appling was again arrested in May in the parking lot of a strip club outside Detroit. Police allegedly found a handgun, a loaded AK-47 and a small amount of suspected marijuana in Appling's car, WDIV reports.
Appling played under Tom Izzo and the Spartans from 2010-2014 and went undrafted in the 2014 NBA draft. Appling appeared in 5 games with the Orlando Magic in 2016.