MSU refuses request from white supremacist organization to host speaker on campus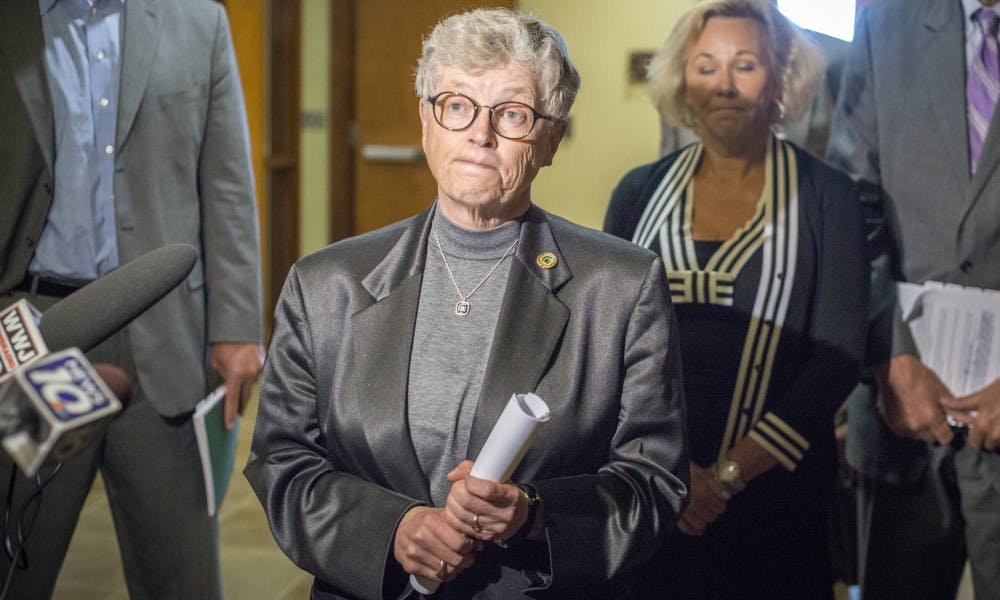 ---
Update; 10:10 p.m. — National Policy Institute President and Director Richard Spencer indicated in a reply tweet that the organization might challenge MSU's decision not to let a member from the organization speak on campus.
When asked by a Detroit News reporter on Twitter for comment on MSU's decision, Spencer said, "A clear precedent was set in the federal decision against Auburn."
In terms of whether Spencer plans to challenge MSU's decision, Spencer replied, "You'll have to wait and see."
The "clear precedent set" refers to Spencer's win in federal court in April, where a federal judge ruled that Auburn must allow Spencer to speak, citing no evidence he advocates violence, according to The Washington Post. Auburn University had previously denied a similar request.
ASMSU President Lorenzo Santavicca said MSU will have to be prepared for the possibility Spencer challenges the decision.
"It's something where we're going to have to see if they'll take it to court and they very well could take it to court — who knows what will happen," Santavicca said.
The State News has made requests for comment from the National Policy Institute throughout the day, but requests have not yet been answered.
---
Update; 7:50 p.m. — Statement from the MSU College Democrats:
"Free speech and constructive dialogue is absolutely essential for a productive university environment. But, when that speech has the potential to physically harm, as it did last weekend in Virginia, the university has a responsibility to protect its students. The MSU College Democrats thanks the university for taking action to protect its students and to condemn bigotry and racism. We hope that the university continues to provide a safe, constructive environment for all its students in the future."
---
Update; 7:30 p.m. — Statement from the MSU College Republicans:
"The MSU College Republicans (CR's) support Michigan State University's decision to deny the National Policy Institute's request for public space in order to hold their speech. The MSU CRs strongly defend the first amendment rights of all Americans as long as the opinions expressed remain peaceful and respectful. The National Policy Institute's views do not reflect those of the MSU CRs and we detest all forms of racism, bigotry, white supremacy, and Nazism. Hateful and violent rhetoric has no place on the campus of Michigan State University. The MSU College Republicans will defy any attempts to bring these groups to our beloved school. The first amendment grants many freedoms to the American people, but when those freedoms lead to a clear and present danger then there must be protections in place to ensure the safety of all people, races, religions, and creeds."
---
Update; 7:00 p.m. — ASMSU President Lorenzo Santavicca said MSU administration made the right decision in refusing a request from the National Policy Institute, headed by white supremacist Richard Spencer, to bring a speaker to campus.
"I think this demonstrates that we put the values of our community, meaning our Spartan values of inclusion, but certainly are talking about safety and security for students on this campus at the forefront," Santavicca said. "I think Michigan State knew deep down that this has been something that was at the forefront of every student's mind in light of what happened in Charlottesville this past weekend."
Santavicca said the campus community will more or less understand MSU's decision.
"We are promoting a campus of safety and security," Santavicca said. "Violence does not have a place on this campus because these messages of extremism and whatnot are certainly ones to promote violence. And that doesn't have a place on this campus."
Several students created petitions against allowing a speaker from the National Policy Institute on MSU's campus, including Jason Porter, graduate student and former ASMSU vice president for internal administration.
"I wish our university would have taken a stance yesterday and said this would not be allowed to take place, but ultimately, I'm satisfied with the fact that they did respond somewhat quickly to this crisis and it was great to see he will not be speaking on this campus because he does not deserve a platform on this campus," Porter said. "There's a fine line between free speech and hate speech and this group is clearly portraying hate speech and that does not have a place on Michigan State's campus."
---
After a consultation with law enforcement officials, MSU refused a request from the National Policy Institute to rent space on campus for a speaker, a statement released Thursday afternoon confirms.
The NPI is an organization headed by white nationalist Richard Spencer, who is known for coining the term "alt-right".
Texas A&M University and the University of Florida have also refused requests from the NPI.

"This decision was made due to significant concerns about public safety in the wake of the tragic violence in Charlottesville last weekend," the statement reads. "While we remain firm in our commitment to freedom of expression, our first obligation is to the safety and security of our students and our community."

The full statement can be read here. Stay with The State News for more information as it becomes available.