10 tips every Spartan should know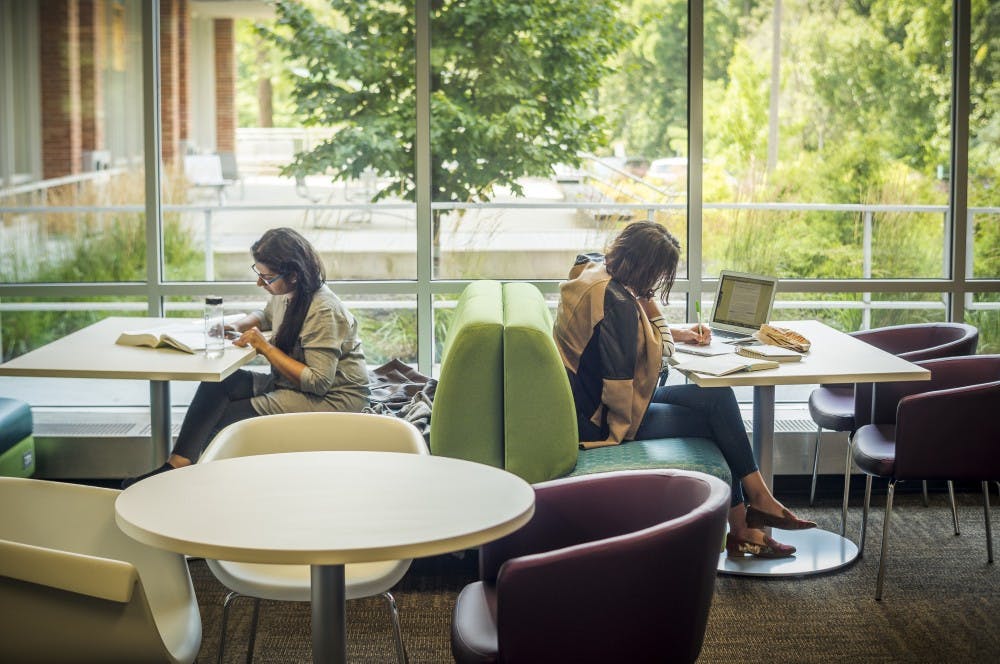 ---
As college students, we're always looking for ways to make our time at MSU better, and sometimes these "college hacks" can be simple. Here are 10 tips to help you make the most of your experience here at MSU.
1. Know how to use your Combo-X-Change
There are tons of different ways to use your Combo-X-Change. The obvious place to use it is at a Sparty's, but your daily "combo" can also be used in the dining halls, the MSU Union and more.
One way to use your combo is to get a to-go box at the entrance of any dining hall. Fill up the box however you'd like — and no, no one will judge you for filling your box with 40 cookies, I promise.
In the Union, there's even more of a variety. Serrano's, Union Pizzeria and Union Deli all have Combo-X-Change menus. By using your combo at these stations, you can good a meal complete with a drink and a side. The Union also has a Sparty's.
Eat at State ON-THE-GO is the food truck at MSU. While anyone can buy something from the truck, you can use your combo at the truck as well. Your combo will get you an entree and a drink. The truck serves burgers, wraps, tacos, sliders and more. Find out the truck's daily location by following @EatatState on Twitter.
2. Take advantage of ASMSU resources
The Associated Students of Michigan State University, or ASMSU, offers tons of resources for students. Borrow resources like iClickers and graphing calculators or pick up a free blue book for your classes. Print for free from ASMSU's office to avoid pesky printing costs that can drain your Spartan Cash account.
For an alternative form of transportation, take advantage of ASMSU's bike share program. ASMSU's readership program allows students to pick up a free copy of national and regional newspapers daily and includes digital subscriptions.
ASMSU recently developed a Safe Ride program to take students home from get home safely. Similar to Uber and Lyft, the Safe Ride program will take students home, but for no up-front cost — the tax proposal for Safe Ride passed in April.
To use the Safe Ride program, students can either download the "TransLoc Rider" app and select MSU, call Safe Ride at 517-884-8069 or go to ondemand.transloc.com.
3. Football games don't have to be about football
At MSU, football game days are a big deal. People travel from all over the state to come to the games, but the day doesn't have to be all about football if you don't want it to be.
A lot of students pack Spartan Stadium for the camaraderie and unity it brings, not the sport itself. Thankfully, you don't have to know much about football to have a good time. It can be more of a social event and less of a game if you want it to be.
If you're not a sports nut and didn't spring for tickets, you can still get involved in the many things to do around campus and around East Lansing on game day.
Many members of the Spartan community tailgate across campus. If you're from the area like I am, you're bound to run into family friends and teachers with their kids, but there are student tailgates too. Often, different campus student groups will put on tailgates and pump the music.
In East Lansing, many people watch the game from restaurants or bars. If that's of interest, just be aware that the restaurant you want to go to may only let you in if you're 21 or older.
4. Join MSU Facebook groups
During your time at MSU, you're bound to end up in a number of Facebook groups for clubs, work or events. Facebook groups can be a great way to find out about upcoming campus events, ask questions or even buy and sell things.
Some Facebook groups you'll definitely want to join — your graduating class's group, local buying and selling groups, groups specific to your major or your college and groups for clubs or activities you're involved in. You'll get important updates, learn about new opportunities and maybe find the perfect futon for a fraction of its face value.
Keep an eye on upcoming campus and East Lansing events. Most of the time, you can find out about little-known events to go to in the area.
5. Get creative with your meal plan
Get the most for your money by using your meal plan to its full potential. One of the easiest ways? Dining hall hacks.
There are tons of ways to create your own snacks and meals that will make you excited to go to the caf and help you avoid spending extra money off-campus. Make yourself food that isn't normally on the menu, like a root beer float, peanut butter and jelly or an ice cream sandwich.
Creating different food combinations is another good way to add some variety to your meal plan. Put cereal on ice cream, add ice to your coffee or make yourself a yogurt parfait.
MSU has dining halls across all parts of campus, so don't feel limited in your options! Each dining hall is a little different, so try each to find your favorite. MSU also posts daily menus online at eatatstate.com.
6. Take advantage of bike store resources
MSU Bikes Service Center is the go-to spot on campus for bike troubles. The center offers bike sales, rentals and repair, but MSU Bikes also provides free resources to students.
MSU Bikes has free, do-it-yourself bike repair stations around campus. Air pumps around campus are also free.
Learn how to fix simple bike problems and learn some quick fix methods from the service center's Bikes Quick Tips Clinics. For $10, students and MSU community members can attend a 1 hour session that will teach you how to change a flat, adjust brakes and shifters, emergency wheel repair and more. So the next time you run into bike trouble, you'll know what to do!
7. Explore Lansing
One thing MSU students should take advantage of is MSU's close proximity to the state capital, Lansing. Sure, East Lansing has its own share of entertainment, but Lansing has its own charm.
You don't necessarily have to have a car to get to Lansing. The CATA bus system runs from campus to Lansing and back each day.
Lansing isn't just home to Michigan's Capitol building, it's home to a slew of coffee shops, parks, museums, music venues, restaurants and bars. If you're planning on venturing out to Lansing, you won't regret it.
Some of my favorite attractions? Biking the Lansing River Trail, taking a tour of the Capitol, walking around Old Town and visiting the Michigan History Center.
8. Set a timer when doing laundry
No one wants their laundry to end up on a table because someone needed to use the dryer. No one wants to be the person who has to move someone else's clothes. And let's be honest, it can get pretty stressful if you're "caught" moving someone's stuff — or vice versa.
Avoid the hassle by simply setting a timer on your phone when you're doing laundry. Setting a phone timer will help you make sure you don't forget about your clothes for hours and will let others use the washers and dryers.
It's all about keeping it civil out there.
9. Prep for whatever weather Michigan throws at you
One of the smartest moves you can make as a student is checking the weather every day. It may look nice and sunny outside your dorm room, but the second you step outside, it could start pouring — it is Michigan, after all.
Always, always, always carry an umbrella. There will be a day when it saves you, I promise.
Invest in some good rain boots and snow boots. You might not want to spend the money on buying expensive boots, but they will keep you warm and dry on your hike across campus (and when you're walking from North campus to South in the pouring rain, the last thing you'll be thinking is that you spent too much on rain boots).
I've also found multiple coats to be a necessity. Different temperatures and weather conditions will require different coats, and you don't want to wear a coat that's not going to keep you warm in sub-zero temperatures.
As for hats, scarves, gloves and thick socks, pile 'em on. Winter can be ruthless.
10. Pay attention to campus news
I realize I'm a little predisposed here, but I do think paying attention to campus news is important to making the most of your MSU experience.
Keeping up with what's going on across campus, East Lansing, Michigan and the world is essential. It helps keep you well-rounded and informed.
As college students at MSU, we're exposed to a wide range of different opinions, viewpoints and backgrounds, and talking with other students about campus and other news topics can help broaden your horizons.
Here comes the shameless plug — Keep up with The State News throughout the year as we cover campus and East Lansing news, sports and features via print, online and social media!
This story appears in The State News 2017 Welcome Week Edition. The issue can be found on MSU's campus at various dorms and buildings. To read other Welcome Week stories, click here.