Sanctions reveal King, Corley, Vance dismissed from MSU for violating RVSM policy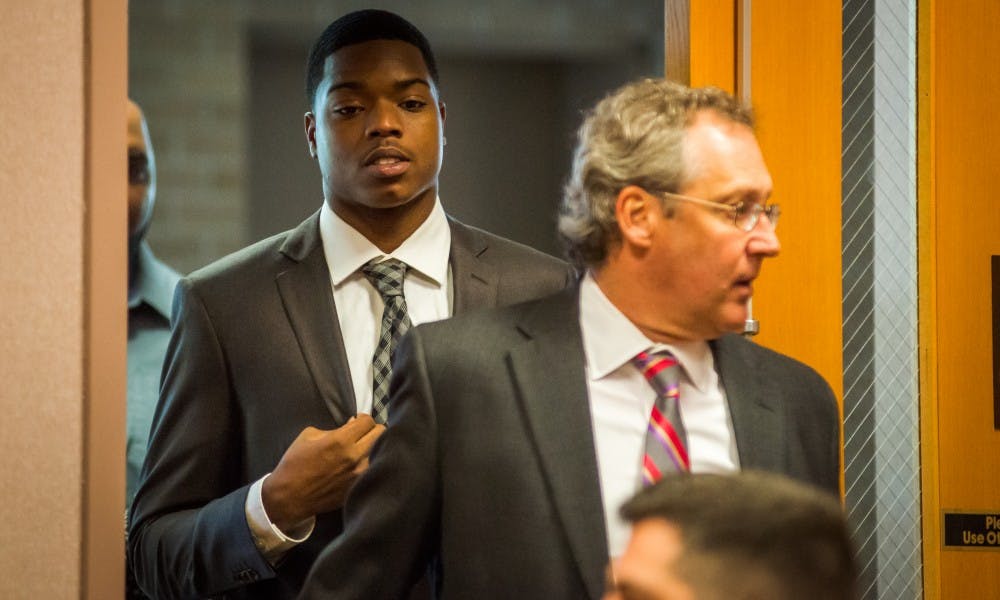 ---
Three former MSU football players have been officially dismissed from MSU for violating the university's Relationship Violence and Sexual Misconduct policy, documents obtained by The State News confirm.
The former players — Josh King, Demetric Vance and Donnie Corley — are also facing criminal charges for their connection with the alleged rape that took place at an on-campus apartment party in January. All three players have been arraigned and await a preliminary hearing in September.
University spokesperson Jason Cody said on Wednesday the Title IX process for the former players has been completed. The Title IX investigation was completed by Rebecca Veidlinger, an Ann Arbor-based attorney who was hired by the university to conduct the probe.
According to court documents, MSU Police believe King asked the alleged victim to speak with him somewhere quiet at the party, and "pulled" her into a bathroom and forcefully had sex with her. MSUPD also believes the alleged victim was later forced to perform oral sex on King, Vance and Corley.
Both Vance's and Corley's attorneys claim their clients are innocent, while King's attorney said there is a "very strong defense" that the alleged incident was completely consensual.
Corley and Vance have been charged with one count each of third-degree criminal sexual conduct, and King faces one count of first-degree criminal sexual conduct, one count of third-degree criminal sexual conduct and one count of capturing and/or distributing pictures of an unclothed person.
If convicted, King could face life in prison for the first-degree criminal sexual conduct charge, and up to 15 years for each additional charge.
Shannon Smith, Mary Chartier and John Shea — the attorneys representing King, Vance and Corley, respectively — were unavailable for comment at the time of publication.
"I think the investigation speaks for itself," Karen Truszkowski, the attorney representing the alleged victim said.
MSU football head coach Mark Dantonio removed the trio from the team on June 6 after charges were sought by the Ingham County Prosecutor's Office.
Both the university's Title IX investigation and a report from Jones Day law firm confirmed Dantonio had acted in a timely manner and cleared him of any wrongdoing, but found that former staff member Curtis Blackwell violated the university's Title IX policy after he "took it upon himself to investigate."
Blackwell was suspended with pay Feb. 9 and received two separate one-month extensions of his contract. Dantonio and MSU decided not to renew his contract at the end of May.