Nassar pleads guilty to three counts of child porn in federal court, awaits sentencing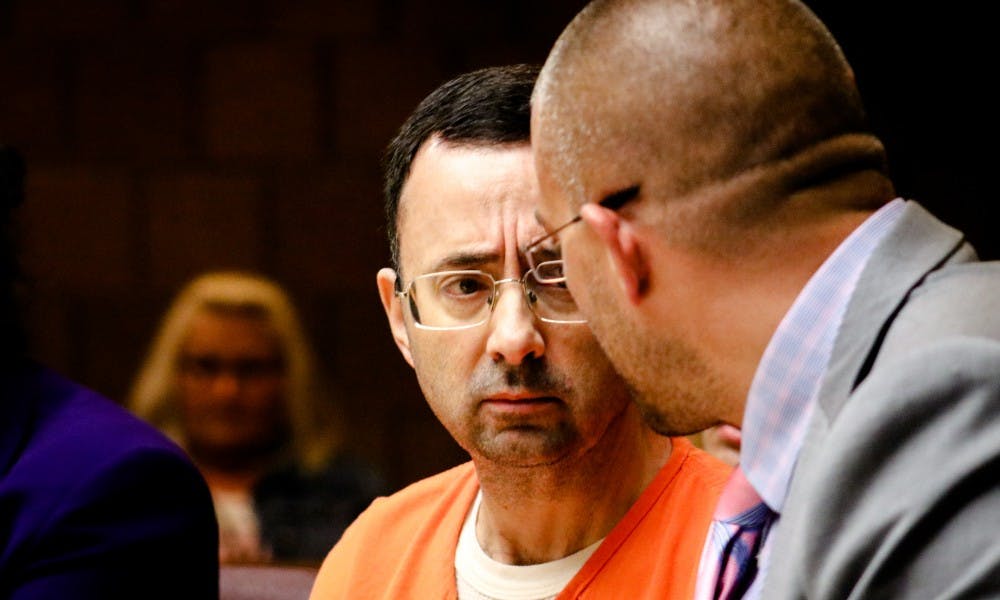 ---
GRAND RAPIDS, Mich. — Larry Nassar, the former MSU and USA Gymnastics doctor accused of sexual assault by 119 women, pleaded guilty to three counts of child pornography charges in federal court Tuesday and will await sentencing.
Nassar signed a plea agreement admitting guilt to counts of acquiring and possessing more than 37,000 images of child pornography, charges that were indicted against him in December.
One count of the destruction of said files was added in February.
"With Dr. Nassar's admissions of guilt on federal charges today, victims and the public can be assured that a day of reckoning is indeed in Dr. Nassar's future," acting U.S. Attorney Andrew Birge said in a release by the Department of Justice. "No one, no matter his station in life, is above the law. Those who exploit children will be found out and they will be held accountable.
"Today's guilty plea resolves the currently pending charges and it resolves specific charges with respect to the four individuals referenced in the plea agreement in accordance with their wishes as expressed directly to us. In addition, it ensures that all of Dr. Nassar's victims, including those who are not victims of the current charges or referenced in the plea agreement, will have an opportunity for vindication through the broad federal sentencing process. My office will be aggressively pursuing a sentence that accounts for all of Dr. Nassar's conduct."
Under the agreement, Nassar could face a combined prison sentence of 22 to 27 years, despite 20 years maximum imprisonment for each count — served consecutively — will be forced to register as a sex offender for life and could possibly be forced to pay restitution to each alleged victim involved in the deal. A sentencing hearing is scheduled for sometime likely in November.
Documents leaked to the media this past weekend first indicated Nassar, 53, of Holt, would plead guilty to each of the federal charges.
Federal prosecutors in the plea deal agreed to not charge Nassar for alleged sexual exploitation or attempted sexual exploitation of children, including an alleged incident in 2015 in a swimming pool at his home.
Further, prosecutors will not pursue other charges related to, "interstate/international travel with intent and engaging in illicit sexual conduct in foreign places," that allegedly occurred between 2006 and 2013 while serving as Team USA physician, according to a copy of the plea agreement.
Despite the deal made by prosecutors, U.S. District Judge Janet N. Neff, who will sentence Nassar, "may consider the full scope of Nassar's misconduct when determining the appropriate sentence, including uncharged misconduct," according to the DOJ release.
Even though the plea made at the federal level, his cases in county courts remain ongoing.
"We have been asked how the federal plea affects the state cases," Shannon Smith and Matt Newburg said in a joint statement via text message. Newburg and Smith both represent Nassar. "Dr. Nassar's position on the state cases has not changed and we intend to proceed to trial. The plea today was negotiated only to resolve the federal charges."
MSU Chief of Police Jim Dunlap, confirmed the joint statement made by Nassar's attorneys in the release from the DOJ and applauded MSU Police's work with the cases.
"I am very pleased with the outstanding investigative efforts of the MSU Police Department's Special Victims Unit and the Digital Forensics and Cyber Crime Unit, who recovered and analyzed the evidence in these cases," Dunlap said in a release. "It is important to note that today's federal plea does not impact the pending criminal sexual conduct cases in Michigan, which are currently being prosecuted by the Michigan Attorney General."
An FBI Agent testified in December the hard drives found in trash cans on Nassar's property contained the thousands of images and videos of child pornography. The plea deal shows Nassar paid a computer store in September to have his work laptop's data and operating system erased.
"The sexual exploitation of minors is a reoccurring menace in this country and has been lasting damaging impacts on its victims," David P. Gelios, Special Agent in Charge in Detroit's FBI Division, said in the DOJ release. "The investigation that resulted in today's guilty plea by Dr. Nassar demonstrates the FBI's commitment to protect our youth from anyone who sexually exploits kids. The safety and security of our children will always be paramount importance to the FBI and our law enforcement."
The plea agreement indicates Nassar first downloaded child pornography from a program called NewsRover back in September 2004. The agreement also states Nassar knowingly possessed thousands of images and videos of child pornography from 2003 to 2016, and included images involving a minor who was not yet 12 years of age.
Tuesday's ruling marked Nassar's first conviction in the criminal cases against him. He'll also face three criminal counts in the Ingham and Eaton County courts that could each land Nassar life sentences. The count of former patients suing Nassar over sexual abuse claims has grown to 119.
Nassar worked for MSU for nearly 20 years before he was fired by the university on Sept. 20, 2016, and worked for USA Gymnastics for 29 years before he left in August 2015. Both the university, USA Gymnastics and Twistars — a gymnastics club in Dimondale, Michigan in which Nassar worked as a physician — are all named as co-defendants in various lawsuits.
After the hearing MSU spokesman Jason Cody released a statement.
"As the plea agreement reached July 11 on the federal charges facing former MSU doctor Larry Nassar shows, his behavior was deeply disturbing and repugnant," university spokesman Cody said the release. "It was through the hard and diligent work of the MSU Police Department that led to Nassar's arrest and conviction on the federal charges. We are grateful for all of the law enforcement efforts put forth by the United States Attorney's Office for the Western District of Michigan and the FBI. This cooperation was vital to this investigation."
Nassar will return to Ingham and Eaton County court later this month.
Editor's Note: This story has been updated multiple times throughout the day.