Nassar in the News: more ex-patients claim abuse, additional counts bound over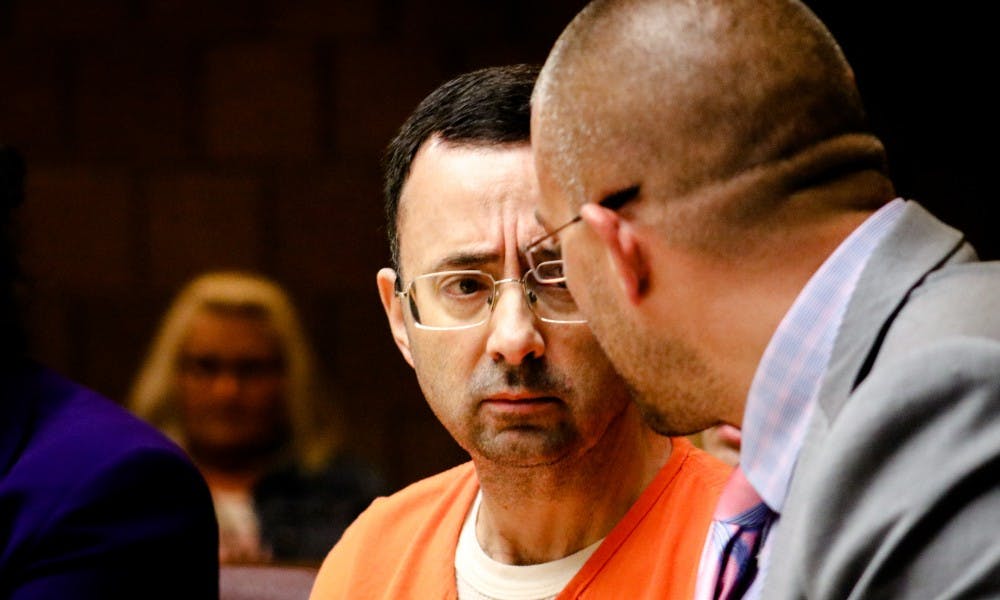 ---
Number of ex-patients claiming abuse by Dr. Larry Nassar up to 119 | MLive | July 5, 2017
The count of former patients who are suing Nassar over claims of sexual abuse is up to 119 after 23 more plaintiffs were added to a lawsuit last week.
Thus far, nine lawsuits have been filed by Michigan law firms and one has been filed in California.
The women involved in the lawsuits allege Nassar abused them between 1994 and 2016. The lawsuits also list the alleged abuse occurred at MSU in Nassar's office and Jenison Field House, as well as at Twistars Gymnastics Club in Dimondale, Michigan, Nassar's home in Holt, Michigan, the Karolyi ranch in Texas and at USA Gymnastics events.
Report vindicates Dominique Moceanu's complaints about abuse of young gymnasts | The Houston Chronicle | July 1, 2017
1996 gold medalist Dominique Moceanu, a gymnast who trained with the Karolyis in the 1990s, commented on the report put out by USA Gymnastics last week. The report outlined 70 ways USA Gymnastics can change its policies to ensure allegations of abuse are reported quickly.
The report was compiled by former federal prosecutor Deborah Daniels. It did not explicitly name Nassar or the Karolyis in the report.
"There is pending litigation, and there will be a lot of depositions, so you see the board members distancing themselves from Dr. Nassar," Moceanu told the Houston Chronicle. "There is no mention of him (in the Daniels report). This was done strategically because they want to distance themselves from it."
Moceanu also told the Houston Chronicle the 70 recommendations are "no-brainers" and some of them could have been implemented years ago.
13 counts against Nassar bound over to Eaton County Circuit Court | The State News | June 30, 2017
Following a preliminary examination hearing Friday in the Eaton County 56A District Court, 13 charges of criminal sexual conduct against Nassar were bound over to the Eaton County Circuit Court.
The preliminary examination hearing was held to determine whether or not there was enough evidence against Nassar to move forward with the case.
The 13 counts came from three alleged victims, who each testified during the hearing. Of these 13 charges, seven are criminal sexual conduct of the first degree and six are criminal sexual conduct of the third degree.
Nassar is currently being held without bond. It will be up to Nassar and his attorneys to determine whether or not he will stand trial against these charges.
MSU's legal costs for Nassar top $1 million after $575K bill for February | Lansing State Journal | June 29, 2017
The legal cost for lawsuits and internal investigations jumped to over $1 million after MSU was billed $575,000 in May. The bill will continue to rise as multiple lawsuits against the university move forward.
It's largely unclear what the university is being billed for since much of it was redacted through the public records request.