Troop, Hughes among five ex-Spartans to ink MLB contracts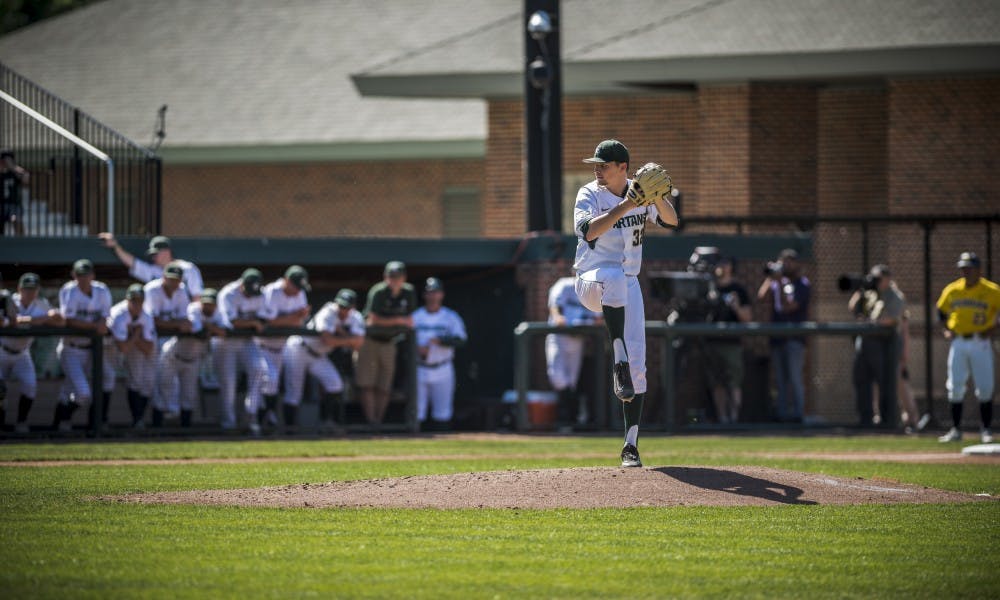 ---
Five former MSU baseball players who played with the Spartans in 2017 signed contracts with Major League Baseball clubs over the weekend, MSU Athletic Communications announced Monday.
The deadline for drafted players to sign contracts was over the weekend, according to the release.
Pitcher Alex Troop was the highest Spartan picked in the draft, selected by the Washington Nationals in the ninth round — No. 283 overall. Outfielder Brandon Hughes was the 16th round pick (No. 495 overall) of the Chicago Cubs. Relief pitcher Nathan Witt went to the Los Angeles Dodgers in the 17th round (No. 520 overall) and fellow reliever Joe Mockbee was selected in the 29th round (No. 867 overall) by the Chicago White Sox.
Pitcher Walter Borkovich signed a non-drafted free agent contract with the Atlanta Braves.
Troop is currently playing for the Single-A Short-Season affiliate of the Nationals — the Auburn Doubledays of the New York-Penn League. Troop hurled three hitless innings with three strikeouts in his debut on July 7. Troop, a Batavia, Ill. native, earned second team All-Big Ten honors after finishing the season with an 8-3 record and 2.47 ERA through 83.2 innings, while hitting .321 with an .975 OPS in 81 at-bats.
Hughes, a native of Sterling Heights, Mich., has been placed in the Northwest League with the Eugene Emeralds, the Single-A Short-Season affiliate of the Cubs. Hughes is 3-for-6 with a home run and a stolen base through two games since his debut on July 8. After stealing a Big-Ten best 30 bases this season — Hughes set MSU's single-season stolen base record — and joined Troop on the second-team All-Big Ten squad and finished the season with a .330 average.
Mockbee joined the Great Falls Voyagers in the Pioneer League, the Advanced Rookie affiliate of the White Sox. Originally from Akron, Ohio, Mockbee picked up his first professional save on July 8 and has struck out eight through 8.0 IP. Through his Spartan career, Mockbee posted a 3.24 ERA through 93 overall appearances, most of which coming from the bullpen.
Borkovich is with the Braves' rookie-level affiliate in the Coast League, the GCL Braves, and has not allowed a run through four innings of work. Through 58.1 innings for the Spartans this season, Borkovich — from Traverse City, Mich. — led the conference with a 0.64 ERA in Big Ten games.
Witt signed his contract with the Dodgers on Friday and is awaiting assignment.
This season's four draft selections give head coach Jake Boss Jr. 30 draft selections in his tenure with MSU, including four or more in the last three years.