After 30 years with ELPD, Chief Jeff Murphy moves on to position with MSU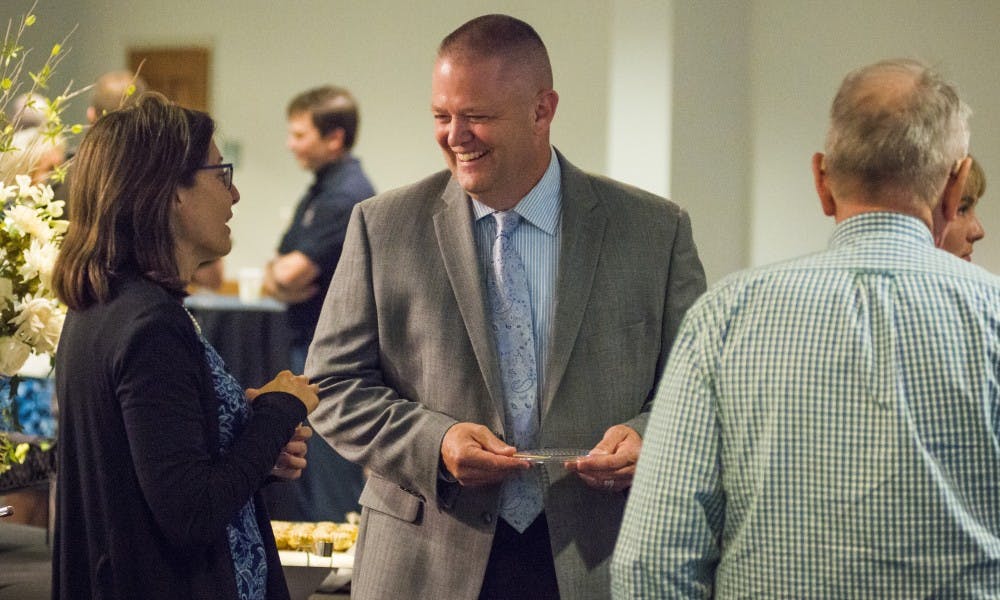 ---
Over 30 years ago, Jeff Murphy arrived at the East Lansing Police Department, eager for his first job in law enforcement. He was unaware he would eventually climb the ranks to become the city's Chief of Police.
Originally, he thought ELPD was just a temporary gig so he could move back to his hometown of Grand Rapids. After leaving the force, that's just what he did - albeit three decades later than anticipated.
Ending his tenure in celebration earlier this month, Murphy has taken a new job back in Grand Rapids as the Director of Security for MSU's College of Human Medicine research facility.
Climbing the ladder
Looking back at his time with ELPD, Murphy said he quickly learned how cut-throat policing could really be. On his first day, Murphy and another officer responded to a call regarding a troubled student at East Lansing High School who was holding a knife up to the principal's neck.
Murphy worked his way up from a patrol officer to multiple supervisor positions with East Lansing Jail, the Special Response Team and the Crime Scene Investigation Unit while climbing the ranks from sergeant, lieutenant, captain, and deputy chief all the way to the top.
Now that he's retired from police work, Murphy will no longer have to direct police operations on welcome weekend, big game days or riots with burning couches.
Instead, he'll trade it all in for the leisures of kayak rides with his wife of 10 years, Danielle, and vacations with his family.
"I'm excited," Danielle Murphy said. "I'm excited for him to do something different. He's had a wonderful career with East Lansing Police, but it will be a challenge and a nice change of pace for him to do something with MSU. It seems like he hasn't even started, but MSU is really excited to have him on board."
Accomplishments
Murphy claims he still loves the daily vigor of police administration and what he called a "contact sport-type job," but wanted new challenges to keep him on his feet. But retiring as chief two years into the job wasn't something that Murphy said crossed his mind when he first took the job. Rather, the opportunity to work with MSU seemed to be the best route for him, despite throwing a wrench in what he called his, "five-year plan."
"It is hard to leave just in the respect of, there's more that I planned on doing," Murphy said. "Instead of two years, I planned on being here three, four, maybe five years. So you kind of have that five year plan and then all of a sudden something's in the middle of it and then it makes sense to leave.
However, what Murphy was able to accomplish in his two years as Chief of Police will long have an impact, according to members of the East Lansing City Council. Murphy strived to expand ELPD's transparency protocols in an era where Murphy says the public is holding officers increasingly accountable.
"He really set a culture of professionalism and fairness and how we do our jobs," East Lansing City Manager George Lahanas said at Murphy's retirement ceremony. "I think that those are things that (will) serve us well for years to come, that set us on the right course."
Expanded mandates for officer body cameras, along with community outreach programs like public forums and neighborhood meetings to gauge and enhance the public's perception of the police were all initiatives emphasized by Murphy.
"You can drive around East Lansing (for) 30 years in a police car and if you don't work hard to not do it, you can end up being totally isolated from the public and never know what they expect," Murphy said. "You're not seeing them the way they normally would be, so you get very cynical. Everybody you deal with is having a bad day and they have a bunch of problems you can't necessarily fix."
Successor
These are all programs Murphy would like to see expanded in the future, but it is still uncertain who will step into Murphy's role. ELPD Cpt. Larry Sparkes has been serving as the interim Chief of Police, but he is still being considered along with other applicants.
Murphy said he hopes Sparkes gets the job, in part because he supports community outreach programs Murphy started. Murphy said Sparkes is the best candidate to hire from within and he believes hiring from within is the best choice, as an outside hire may not know the ins-and outs of city operations.
"(Sparkes) has been the behind the scenes guy," Murphy said. "But the good part about that is he's been in on most every decision. He makes recommendations, he understands why we do community outreach, like (for example) we have a new 'social media unit' group of officers. He knows why we do that. He knows why it works and what the risks are. Someone from outside the department may not have any idea, and they don't know the history and they don't know the people."
Apart from police transparency, many of Murphy's peers said his legacy will be remembered for his upstanding character.
Ingham County Sheriff, former ELPD officer and longtime friend of Murphy Scott Wriggelsworth described Murphy as "a pretty matter-of-fact guy" because of his sound decision-making abilities.
"If it makes sense we do it, and if it doesn't then we don't," Wriggelsworth said.
"He's probably one of the most calm, collected law enforcement officers I've ever met and had the pleasure to work with. Not just in his role as chief, but as an officer as well. I can't think of one time ever in 23 years that I've ever seen this man upset either at work, as the chief, to a citizen, to somebody in jail, never seen the guy get riled up and I think that says a lot about Jeff's character."