Lights, artwork look to transform "blight" of Michigan Avenue overpass, draw students to Lansing
---
A years-long project to improve the appearance of the US-127 overpass bridge crossing Michigan Avenue near Frandor Shopping Center is nearing completion.
The Under the Bridge project calls for multi-colored lights to be installed under the overpass, with murals decorating its sides. The Lansing Economic Area Partnership, or LEAP, worked to crowdfund $57,000 of the funds and received a matching $50,000 from the Michigan Economic Development Corporation, based in Lansing.
The lights were lit for the first time during a June 27 night press conference held by the City of Lansing, LEAP and the Lansing Board of Water and Light.
The goal is to increase traffic between Lansing and East Lansing, with a special eye toward drawing more MSU students to Lansing, said Josh Holliday, the tri-county development and placemaking manager at LEAP. An inquiry from the Michigan Avenue Improvement Authority found a few years ago that many students do not typically travel past Frandor, and identified the overpass as a potential barrier.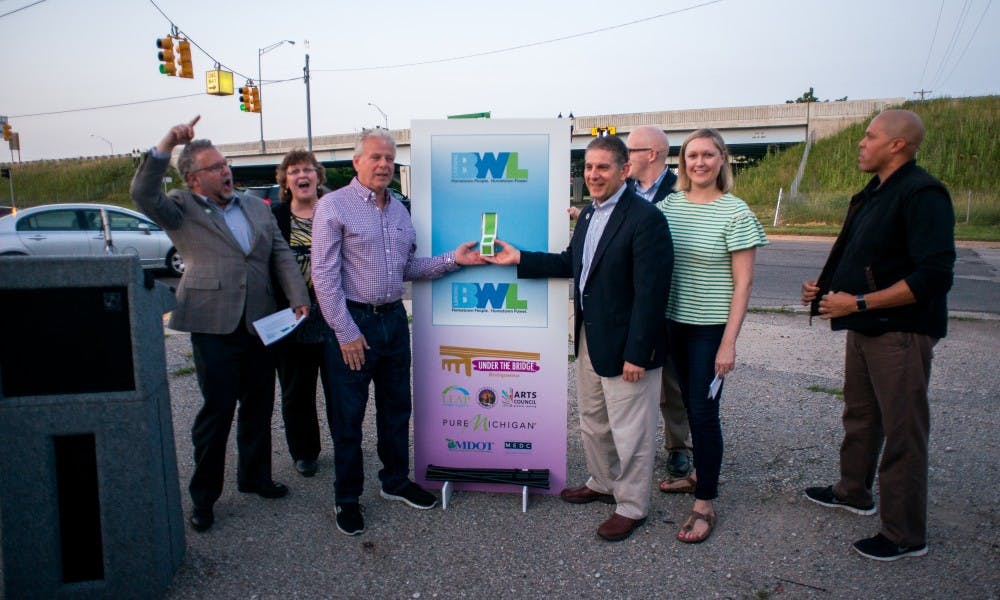 "Connecting Michigan State University to the capital is essential for us to succeed as a region," Holliday said. "And so we found that the bridge was kind of the blight that was restricting of not allowing our students to want to explore beyond that."
Local artist Brian Whitfield has begun work on the murals, which are expected to be completed before summer's end, he said. LEAP has reached an agreement with the City of Lansing for upkeep of the lights, artwork and eventual landscaping that will be installed.
The hope is that the project will turn the barrier into a gateway, said Lori Mullins, the community and economic development administrator for the City of East Lansing. The improved image will hopefully draw further investment to the region.
Mullins made a personal contribution to fund the project.
Other parties are also looking to make improvements along the Michigan Avenue corridor, which stretches from downtown East Lansing west to the capital. The is developing its master plan, looking to install better boat access points and decks looking out along the river as well as outdoor fireplaces and patios, said Laurie Baumer, the foundation's executive vice president. They are also considering plans for a new urban marketplace that would take inspiration from those found in Flint and Grand Rapids.
The goal is to make Lansing attractive to talent, Baumer said.
"We have some of the brightest talent coming from Michigan State, and if they don't understand what a great community we have here ... then they're going to leave, and they do leave," Baumer said.
"Perhaps we have not promoted what we've got to offer, but maybe more likely, they are unaware of the improvements that have already been made to the downtown area and the corridor."
The foundation works to implement the improvements that the public wants to see, Baumer said. She encourages members of the community to reach out with suggestions for making a more vibrant community.