New on-campus moped parking policy to be rolled out in two phases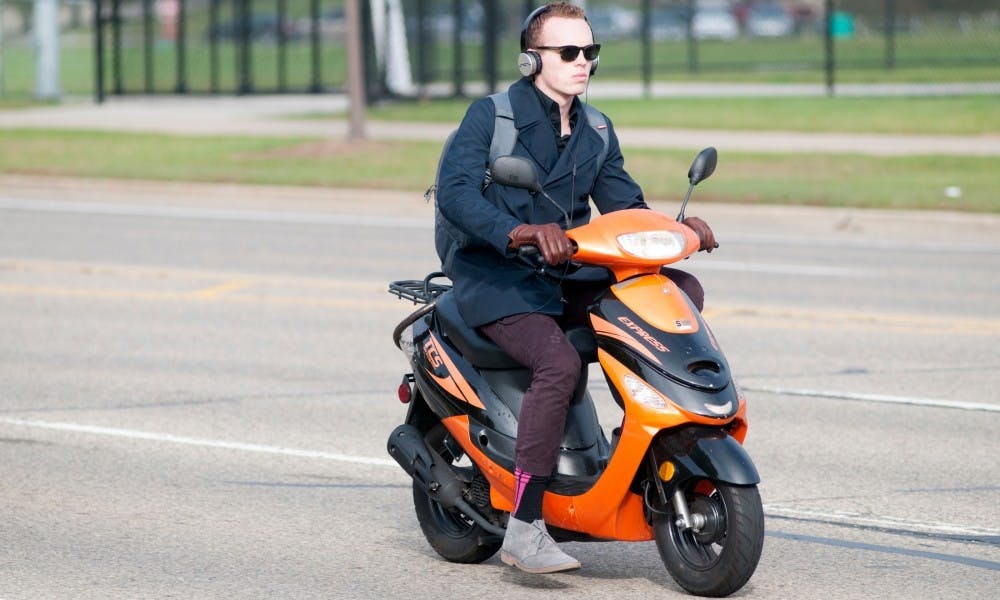 ---
Changes have been made to the university's new moped parking policy, which will now require the policy to be implemented in two year-long phases before it's in full effect, MSU Police announced Wednesday.
Phase one will require all students to purchase a $50 moped permit from the MSU Parking Office. Phase two will require mopeds to be parked in designated areas, which will take effect during the 2018-2019 academic year, according to a release by MSUPD.
When the policy is in full effect, mopeds will be prohibited to park at bike racks on campus. Rather, there will be designated parking areas for mopeds located around campus.
Starting in the fall semester, moped operators are recommended to walk their mopeds to bicycle racks, as they are not permitted to drive on sidewalks.
Requiring the moped permits is phase one of the transition to prohibit mopeds from being allowed to park at the bike racks on campus due to the dangers of mopeds driving on the sidewalks," MSUPD Public Information Officer Cpt. Doug Monette said. "The transition of requiring mopeds to park in the designated moped parking areas on campus is expected to take effect during the 2018-2019 academic year."
According to the release, drivers that choose to park in a metered or pay-by-plate parking area are not required to register their moped.
Monette said the new regulation is part of the Move Safe campaign, which focuses on informing motorists and pedestrians about different safety measures while walking, biking or operating a motor vehicle.
Monette also said come the beginning of the fall semester, mopeds will first have to be registered with the Secretary of State before they can be given permits by the university.
After phase one has been in effect for a whole month, Monette said tickets will be issued to unregistered mopeds that are parked at bike racks.
"Warning tickets will be written to unregistered mopeds for the first month of the Fall 2017 (semester) which is August 30, 2017 - October 1, 2017," Monette said. "Starting October 2, tickets can be written to unregistered mopeds and mopeds can be towed for outstanding six unpaid parking tickets, or more."
The new regulation is in response to the recommendation made by the All University Transportation Committee and feedback received from students who submitted a proposal at the summer AUTTC meeting, according to the release.
Some students believe the new policy is just another way for MSU Parking Services to generate more revenue. A petition on change.org has received over 5,100 signatures to repeal the policy in its entirety. The petition has not been updated to address the new two-phase rollout.
"MSU police will not allow students to park their mopeds at bike racks," Jacob Viazanko, the creator of the petition, wrote on the petition's description. "Instead, they will have limited moped parking lots in which owners will be required to purchase a permit, just another way to squeeze a dollar out of MSU students. The main advantage of having a moped is the ability to park it at a bike rack, and that right should not be taken away from students."
ASMSU President Lorenzo Santavicca told The State News the policy was able to be rolled out in two separate phases because of student government's negotiations with administrators.
According to Santavicca, not all administrators were even aware of the issue.
Regardless of what students think, Monette said change is needed to match similar policies of other Big Ten institutions.
"The change is necessary to promote pedestrian safety and provide needed bike parking space at the bike racks," Monette said. "One of the things that we try to do is make campus is a safe place and part of that area is to make sure the sidewalks (are) a safe place for the pedestrians to walk on."
Whether or not future change is on the horizon is still unknown, according to Santavicca, but the most important thing he said to come out of the two-phase compromise was that students and administrators were able to find a common ground.
"We found a compromise, and I think that's really what is the most important piece of all of this," Santavicca said. "We need to be able to find a middle ground as both students and administrators make this a very well functioning arena for everybody."