MSU raises tuition for eighth straight year, announces 'Go Green, Go 15' plan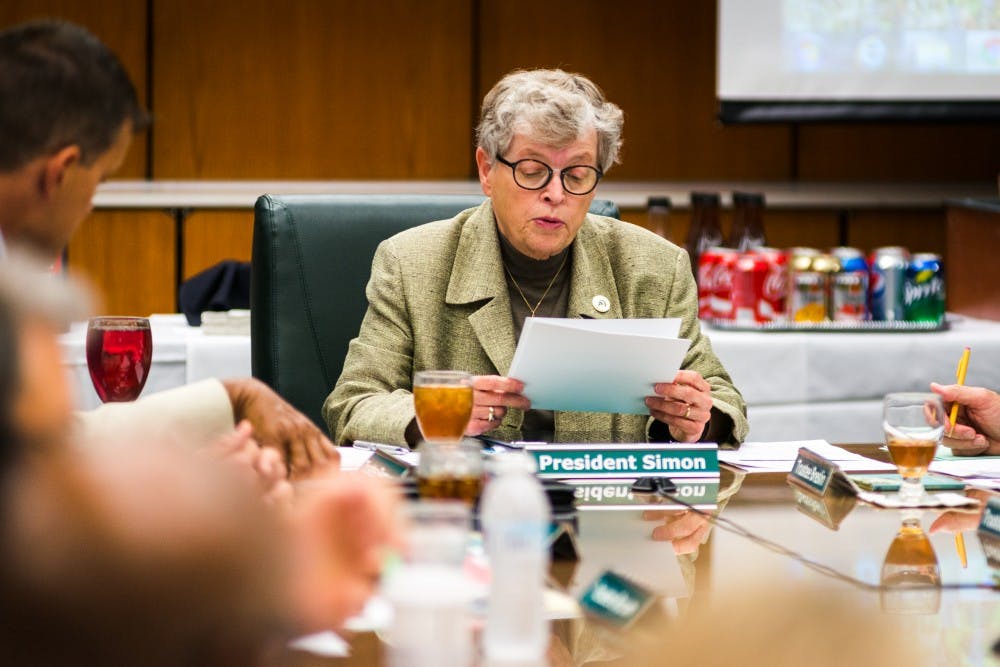 ---
The MSU Board of Trustees raised tuition by an average of 3.3 percent for in-state students for the 2017-18 year at the meeting Wednesday. The increase in tuition marks the eighth consecutive tuition increase. Administration also announced a proposed tuition freeze for MSU freshmen for the 2018-19 year.
The proposed freeze is part of MSU's new "Go Green, Go 15" initiative. The new program, which will go into effect 2018-19, will encourage students to take 15 credits per semester to reduce the college costs.
According to the 2017-18 budget proposal, in-state lower division students, or freshmen and sophomores, will see a 2.8 percent increase in tuition for the upcoming year. Cost per credit hour will go up $13.25.
In-state upper division students, or juniors and seniors, will see a 3.8 percent increase and cost per credit hour will go up $19.75.
Out-of-state undergraduates will see a 4 percent tuition increase, which means out-of-state freshmen and sophomores will pay $50.50 more per credit hour and out-of-state juniors and seniors will pay $52 more per credit hour.
In-state and out-of state graduate students will both see a 4 percent increase in tuition. In-state graduate students will pay $28 more per credit hour and out-of-state graduate students will pay $55 more per credit hour.
In June 2016, the board voted to raise tuition by 3.7 percent for in-state undergraduates.
The MSU Board of Trustees meeting comes just days after the University of Michigan announced its "Go Blue Guarantee." Through this, U-M guarantees free tuition for in-state Ann Arbor campus students who have family incomes of $65,000 and below, according to the Go Blue Guarantee website. U-M plans to begin this initiative for new and current students January 2018.
MSU's new "Go Green, Go 15" program, launched through MSU's Student Success Initiative, does not seek to rival the "Go Blue Guarantee." MSU's Spartan Advantage program, launched in 2007, is more along these lines.
"We already did that eight years ago with the Spartan Advantage," Simon said. "Which is producing debt numbers with an average family income of $73,000 for our students. ... They modeled their program after our Spartan Advantage, they just have a little bit of benefit of socioeconomic class that we do not. And it's terrific to provide more opportunities for students. They did a great job."
ASMSU president Lorenzo Santavicca believes MSU is doing more than U-M when it comes to helping students coming from families of low socioeconomic status.
"I actually think we're doing more than the University of Michigan," Santavicca said. "I think if the University of Michigan was doing it right, they would include Dearborn and Flint. But I'm not representing those as well. But I think one of the things we're seeing is the 'Go Green, Go 15' as a step in the right direction."
Santavicca is also asking students to voice their frustrations and opinions to the state government.
"The frustration is our state government is devaluing education at this level, and what that leaves is the trustees and the administration to figure out a way to continually operate the university at levels that are consistent with our performance," Santavicca said.
Santavicca said the devaluing of and decrease in funding for higher education in Michigan is an issue students should become actively involved in. He said it is on students to voice frustrations to state legislators.
"Quite frankly, it's been difficult to sit through conversations with administrators and folks from that level of government to talk about what this means," Santavicca said. "I do genuinely believe that there is a responsibility on the student as much as there is on administration to keep our state legislature held accountable."