MSU Trustee Mitch Lyons faces criticism, regrets Robertson comments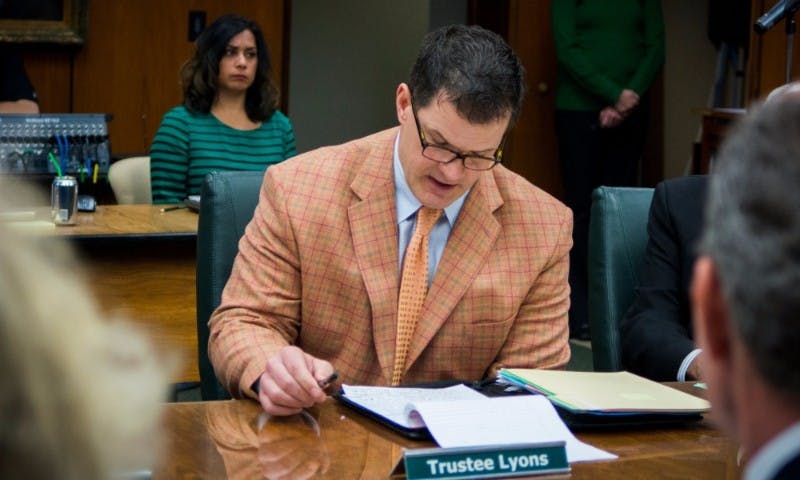 ---
After criticism from fellow trustees on Wednesday, MSU Trustee Mitch Lyons said he "deeply regrets" naming ex-MSU football player Auston Robertson as the student-athlete who reported alleged sexual assaults to head coach Mark Dantonio.
Earlier this month, Lyons told Grand Rapids WBBL 107.3 FM that Robertson was the unnamed player in the Jones Day report who told Dantonio of the alleged sexual assault that involved three other members of the football program, which led Dantonio to report his findings to MSU's Title IX office.
Following this interview, Lyons publicly said he "misspoke" and "confused the cases." Lyons revoked his statement.
Wednesday, during the MSU Board of Trustees meeting, trustees Brian Mosallam and Dianne Byrum as well as Associated Students of Michigan State University President Lorenzo Santavicca criticized Lyons for naming Robertson to the media.
Mosallam asked Lyons to publicly clarify his comments about how he "misspoke" to the media. Byrum asked Lyons to publicly apologize for his behavior.
Mosallam publicly criticized Lyons on Twitter earlier this month, stating Lyons damaged the university through his words and actions. Lyons has been the subject of controversy for his Twitter use in the past.
"This is plainly unacceptable, period. No excuse for or about it," Santavicca said regarding Lyon's decision to reveal Robertson's name.
Lyons said he accidentally "cross-pollinated" one name in one case with another case.
"I absolutely, 100 percent agree that we need to protect reporting individuals of sexual assault and I deeply regret having said any name in that situation," Lyons said. "Again, it wasn't even relative to what I was doing, which was standing up for Coach D and how he handled the assault, or, what he learned of the assault."
Lyons also responded to Mosallam's criticisms during the meeting.
"You and I have had personal conversations previously about some issues I have had with your behavior and I chose not to go public. And I don't intend to now," Lyons said to Mosallam. "So while I may find it personally satisfying to do so, out of respect for those that live under your glass house as well, I'm going to refrain from doing that."
During his commentary, Vice Chairperson of the Board Joel I. Ferguson said he did not think the issue between Lyons and Mosallam needed to be taken public and encouraged all trustees to settle disputes through private dialogue.
"I've been on this board for three decades and we've opened up new grounds today," Ferguson said. "I've served with a number of individuals and sometimes, we haven't always agreed. But we've never been disagreeable with each other."
MSU President Lou Anna K. Simon responded to the issue following the meeting.
"This is a family, and every once in a while, families have squabbles, right?" Simon said. "Every once in a while, those squabbles become more public... We have to sort of reset some things, and you do that by publicly saying you reset. Because, quite frankly, I don't know any organization that isn't very human, and these are really emotions."