Hollis, Dantonio speak after warrant for 3 football players sought in alleged sexual assault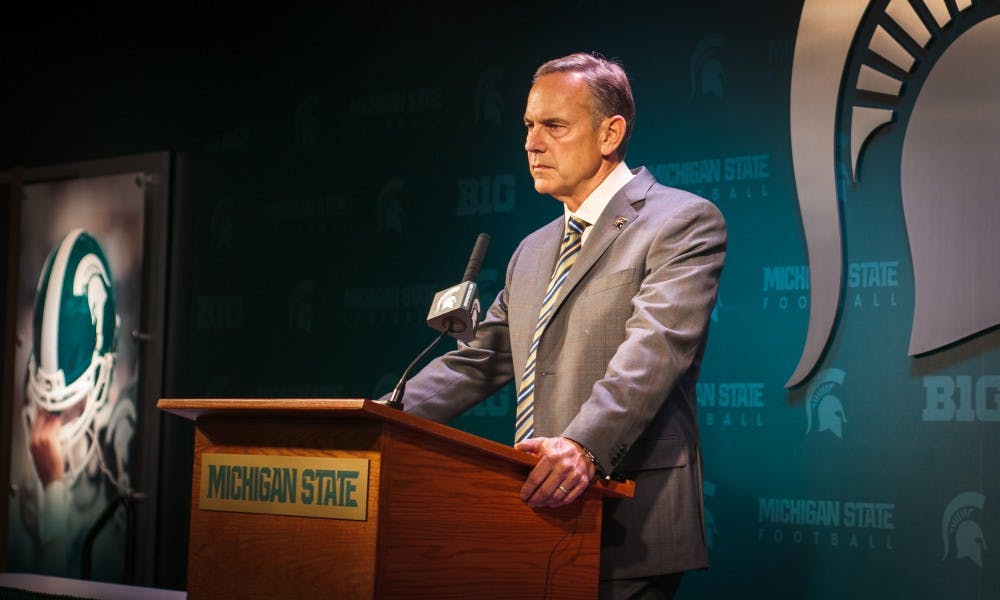 ---
Hours after Judge Richard Ball ordered arrest warrants for three MSU football players for an alleged sexual assault dating back to January on Tuesday, MSU football head coach Mark Dantonio announced Josh King, Donnie Corley and Demetric Vance were removed from the football team, effective immediately for their alleged involvement in the case.
Dantonio waited to speak until the university's Title IX probe, the external report from Jones Day law firm and the investigation from MSU Police had all been completed.
Tuesday's press conference was the first time Dantonio met with the media since a teleconference call mid-April. With multiple investigations looming, he said he wanted to ensure fairness for everybody involved.
"When we choose student-athletes to come to MSU, we enter into a relationship with them and their families and we welcome them into ours," Dantonio said. "We emphasize that success on the field is not enough. I say oftentimes with success comes great responsibility. I made it clear when all three individuals were suspended four months ago upon learning of these allegations. They also must embrace our core principles which include integrity, as Mark (Hollis) talked about, respect, accountability, trust and communication. The individuals in this case put themselves in a compromising position and did not live up to the standards we have outlined for this program."
According to the Jones Day report, Dantonio asked Ande Durojaiye, the university's director of the Office of Institutional Equity, to make a presentation for the entire team regarding sexual misconduct and relationship violence a week before the alleged rape.
When one reporter asked Dantonio if he felt betrayed because of what happened, he expressed his disappointment with the culture that's been tarnished for another incident of sexual assault under his tenure.
"I don't want to say betrayed," Dantonio said. "I'm angry. I feel like the education was there. I feel like I've talked about the sense of responsibility that our players have — not to be a good football player, but to be a good person, to do their very best."
Athletic Director Mark Hollis preceded Dantonio at the podium stressing the importance of appropriate "social behavior and engagement" and said over the last year, the football program has struggled to meet that, along with supplemental criteria of academic success.
Certain the staff of the football program's accountability has not been damaged, he was adamant behavior like this will not continue.
"This is my home," Hollis said, holding back tears. "It is where my wife and I attended school. Where one son and my daughter have earned their degree and where my other son will enroll this fall. I expect my home to be safe. Safe to all who live here and safe to all who visit. Like any home its safety requires shared responsibility and accountability. As athletic director I am responsible to make tomorrow better than today. ... I offer my deepest compassion to the young women and her family. Sexual assault has no place on our campus, on any college campus. In fact, there is no culture where it is acceptable for one person to abuse another."
Dantonio dismissed Auston Robertson immediately in April after he learned Robertson was charged with third-degree criminal sexual conduct after he allegedly raped a woman earlier that month.
For the most part, however, Dantonio said his players had done "exactly the right thing." Furthermore, he said he has no intentions of redefining how the program vets player talent.
Dantonio agreed with Lansing attorney Karen Truszkowski — who represents the alleged victim — the problem with athletes and those in positions of power come from a culture of entitlement.
"Our principles are not going away, they're being strengthened," Dantonio said. "Sometimes it takes a crisis to bring back, sometimes it takes a crisis to re-center yourself, to make everybody ride between the lines or go the speed limit."
Additionally, former Spartan Keith Mumphery has been banned from campus until Dec. 31, 2018 for his role in an alleged sexual assault. Former team captain Demetrious Cox allegedly assaulted a taxi driver and Demetrius Cooper allegedly spit in the face of an East Lansing PACE Officer.
Dantonio and Hollis said all they can do now to right the ship is give the public their word and added their sincerest apologies to the victim. Both said steps will be taken to increase oversight so incidents like these won't happen again.
Dantonio said going forward the team "will get back to business as usual." Despite the added pressure of these scandals, Dantonio said he can aim his program in a new direction. A fresh start, to aim away from the distractions.
"I feel like today is an end point in some respects for us in some ways. It's a new beginning for some of us," Dantonio said. "But I was hired here to do a job and I believe that the people who hired me have faith in me as a person to do right, to the very best of my ability and I have complete confidence in our coaches and our players and I have a lot of confidence in myself that we can deliver and that's what we'll do."