Judge rules to add additional sexual assault charge to ex-MSU player Robertson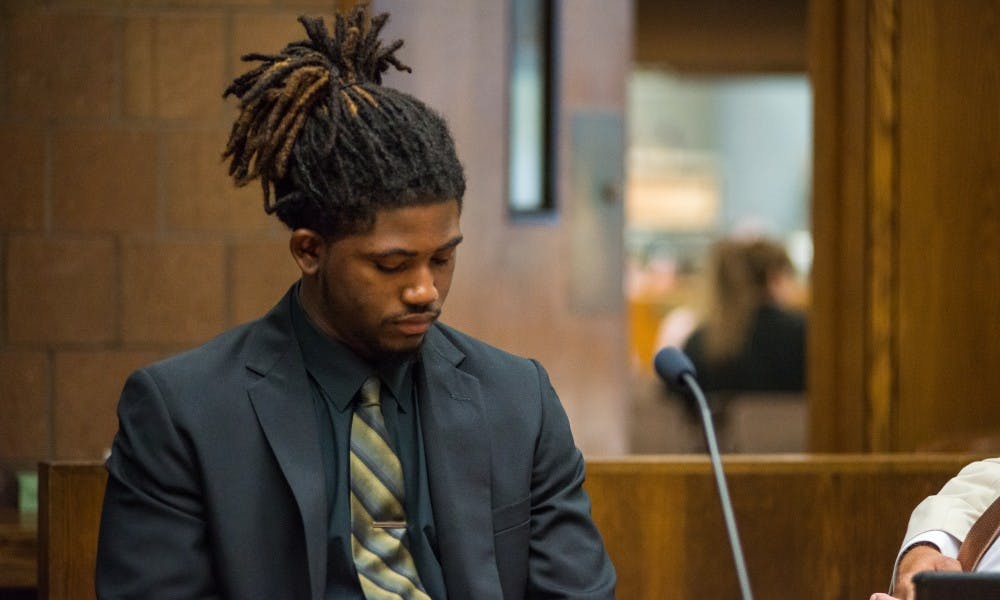 ---
MASON, Michigan — Ex-MSU football player Auston Robertson will face an additional count of third degree criminal sexual conduct after he allegedly raped a woman in her Meridian Township apartment in the early hours of April 9.
Judge Thomas P. Boyd ruled in the 55th District Court during a preliminary examination hearing an additional count of third degree criminal sexual conduct be added after hearing the alleged victim's testimony.
Robertson, 19, could face up to 15 years in prison for each charge if convicted. The alleged victim was the only witness to give a testimony before Boyd came to a decision.
Robertson was arrested in late April with the help of U.S. Marshals in his hometown of Fort Wayne, Indiana. His bond was initially set at $75,000 but was increased to $250,000, and was released after 10 percent of the bond was posted on the condition he wear a GPS tether and have no contact with the alleged victim.
Robertson's defense requested to amend Robertson's bond conditions claiming Robertson is no longer a flight risk and has been living with family in Ohio since the incident. According to the defense, Robertson has also been "afforded the opportunity" to play football at a junior college in Mississippi. Robertson's defense said the college is aware of Robertson's legal situation.
Robertson's attorney, David Rosenberg, did not name the junior college Robertson is seeking to attend.
Robertson's defense also requested to remove his GPS tether and maintained Robertson is innocent of the charges. Boyd denied the defense's request to modify the bond conditions.
After the hearing, Rosenberg claimed the Ingham County Prosecutor's case is weak.
"It's obvious what happened," Rosenberg said. "They're claiming lack of consent, it's obvious to me that that's just not true. … It's a question of fact for a jury to decide. The judge did the right thing in binding it over, but their case is real weak. It just is."
Boyd referred the case to Ingham County Circuit Court, where an arraignment has been scheduled for July 5.
Robertson's alleged incident is separate from another sexual assault trial that involves ex-MSU football players Donnie Corley, Demetric Vance and Josh King. MSU Board of Trustees member Mitch Lyons told WBBL 107.3 FM in Grand Rapids that Robertson was the player who reported the incident in January involving three players to head coach Mark Dantonio, which led to investigations from MSU's Office of Institutional Equity and MSU Police.
Lyons has since revoked his statement, but Rosenberg hinted that Robertson was being set up.
"I'm not necessarily a conspiracy theorist, (but) there's a whole lot going on here than meets the eye," Rosenberg said. "Whole lot going on here. I mean, this incident occurred with these other fellas in January. My client reported that event, according to (Mitch Lyons). He outs Mr. Robertson as the person who reported this to coach and then within a few days my client gets arrested for a sexual assaultive crime. It seems a little convenient."
Stay with The State News for further developments.