East Lansing Farmer's Market returns for the season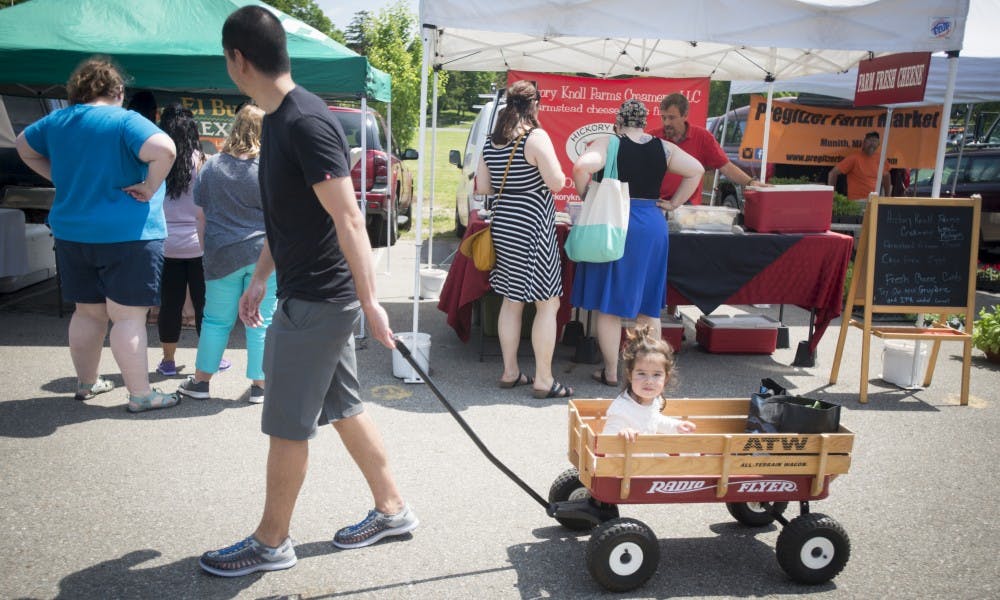 ---
Opening day of the 2017 East Lansing Farmer's Market, or ELFM, was on Sunday, June 4.
Each Sunday until Oct. 29, the market will host multiple vendors at Valley Court Park from 10 a.m. to 2 p.m. Since 2009, thousands of visitors have flocked to the market each week to purchase fresh, handmade goods from local companies.
The application process for vendors begins each year in January, when Michigan companies interested in setting up shop at the market apply online. At the end of March, the Farmer's Market Committee chooses more than 25 vendors for the upcoming season. This year, with 32 total vendors, customers can find a new variety of products each week.
Heather Surface, the market manager, said the companies chosen each year are what sets the ELFM apart from others.
"Our tagline is '100 percent Homegrown,' it's what makes us different" Surface said. "I think that's really true. We make sure that our vendors have their food either grown in Michigan, they grow it themselves, they catch it themselves, they raise it themselves, or they add value to it."
Surface also loves that the market provides a fun, outdoor social space for the community. Throughout the day, customers can enjoy live performances from local musicians, as well as outdoor yoga beginning at 9:30 a.m.
"I love that (the ELFM) brings the community out," Surface said. "It gives everyone in the opportunity to connect with their friends, especially in the summer. It gives people an excuse to get out in the sun."
Keefer Przeworski, who was at the market with The Local Epicurean in Grand Rapids, says that the size of the ELFM makes it a friendlier space and attracts more business for each vendor.
"This is really small and cute and close-knit," Przeworski said. "Everyone's stopping at every tent because there's not a million of them. People are talking to you, this is a more interactive vibe."
Elise Thorp, a farmer at Trillium Wood Farm in Williamston, Michigan, agrees the focal points of the market are its friendly atmosphere and location. She's been attending the ELFM as a vendor for three years.
"I think that it's in a really accessible location, and I think that they do a good job of advertising it," Thorp said. "They also do a really good job of keeping the market diverse in terms of the vendors. At least in terms of a customer, you could come here and get pretty much anything you wanted."