Three alleged Nassar victims testify at preliminary examination hearing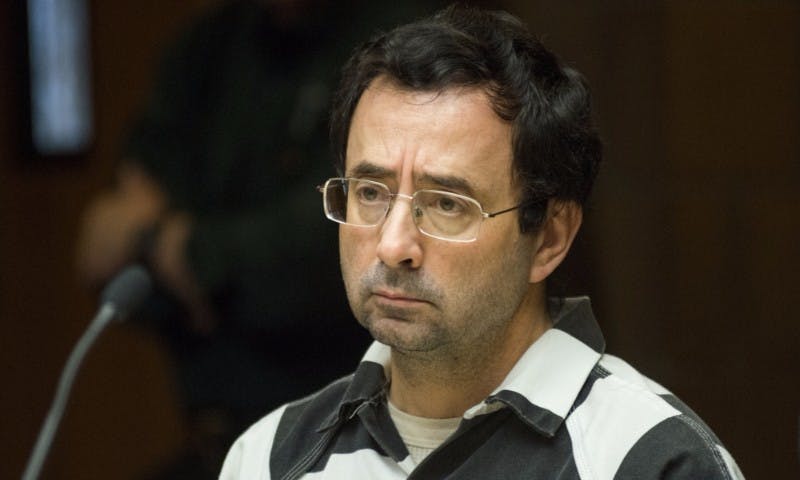 ---
After the first of three preliminary examination hearings on Friday, it is still unclear as to whether or not ex-MSU doctor Larry Nassar will stand trial on charges of criminal sexual assault at the 55th District Court in Ingham County. Nassar currently faces 15 first-degree criminal sexual conduct charges at the 55th District Court.
The preliminary examination is being held to determine if there is enough evidence for Nassar to stand on trial for these charges. Testimonies will continue May 26 and likely June 23 as only three alleged victims testified Friday.
The final determination will come on one of the two additional dates that have been scheduled for the preliminary hearing. These two additional dates were added to accommodate the length of the testimonies from the alleged victims.
is accused of sexually abusing patients and other young women with whom he came into contact. He was arrested in December 2016 on charges of possessing "at least 37,000" images of child pornography. He currently faces 25 sexual assault charges in Michigan in Ingham County and in Eaton County.
Three women have testified so far during the preliminary examination hearing.
One of the women who testified was Rachael Denhollander, a 32-year-old woman of Louisville, Ky., who previously filed a criminal complaint against Nassar with MSU Police. After reading an investigative report by the Indianapolis Star on sexual abuse by coaches within USA Gymnastics, Denhollander informed the Indianapolis Star of her alleged assault and was featured in the article that brought Nassar into the limelight for the first time.
According to the lawsuit she is involved in, Denhollander, 15 years old at the time, was sexually abused while receiving treatment from Nassar for lower back pain at MSU. At the time, Nassar was a faculty member at MSU.
During the preliminary examination, Denhollander testified that Nassar had sexually assaulted her under the guise of medical treatment on five different occasions. She testified that these actions comprised of vaginal and anal penetration as well as actions of massaging genitalia and a breast.
Denhollander said she knew Nassar's actions were sexual assault when he massaged her breast and saw he was sexually aroused.
These treatments took place in 2000, and 17 years later, Denhollander is still affected.
"There's not an area of my life that is not affected by what Larry Nassar chose to do," Denhollander said during her testimony. "It destroyed my ability to trust."
She said in her testimony she had a difficult time putting trust in others and in physical contact. She continues to have nightmares and has described coming forward publicly as "excruciating" and "hellish."
However, Denhollander said she made the decision to go public and include her name on court records to reach other victims and to combat institutional dynamics that make sexual assault possible.
"This is so much bigger than Larry Nassar," she said. "There are institutional dynamics that are at work that allowed him to continue abusing for decades."
The second woman testifying is now 22 years old, but was around 13 years old at the time of the alleged abuse. "Victim G," as she is identified in court records, was a gymnast treated by Nassar at Twistars USA Gymnastics Club and in the basement of his home in Holt, Mich.
"Victim G" testified she was digitally penetrated in roughly half of her visits with Nassar. She said she went to see Nassar in his basement around 20 to 30 times.
She said seeing Denhollander's courage in coming forward encouraged her to do the same.
The final plaintiff who testified is identified in court records as "Victim D." She is still a minor and is 16 now, but started seeing Nassar through MSU when she was 13 years old as a gymnast. She testified that Nassar digitally penetrated her during their appointments.
She was treated by Nassar up until he was discharged from the university in September.
During the time "Victim D" received treatment, Nassar was required to have a chaperone in the room from MSU, as determined after a Title IX investigation through MSU's Office of Institutional Equity in 2014.
However, "Victim D" testifies there was no chaperone in the room during her treatment sessions with Nassar, saying only Nassar, her mother and herself were present.
In each of these testimonies, the alleged victims wore athletic clothing, often loose-fitting. Each of the alleged victims testified that her parent was in the room during one or more of the alleged acts of abuse. The alleged acts of abuse were never performed with gloves on, according to the plaintiffs who testified. Each alleged victim testified that Nassar was highly-respected in the gymnastics community.
The preliminary examination hearing will pick up with the cross-examination of Victim D on May 26 at 9 a.m. it is expected that four other witnesses will testify at that time. If time runs out on May 26, June 28 has been set aside as an additional day for the preliminary examination.