FINAL: MSU baseball throttles Central Michigan in blowout, 7-0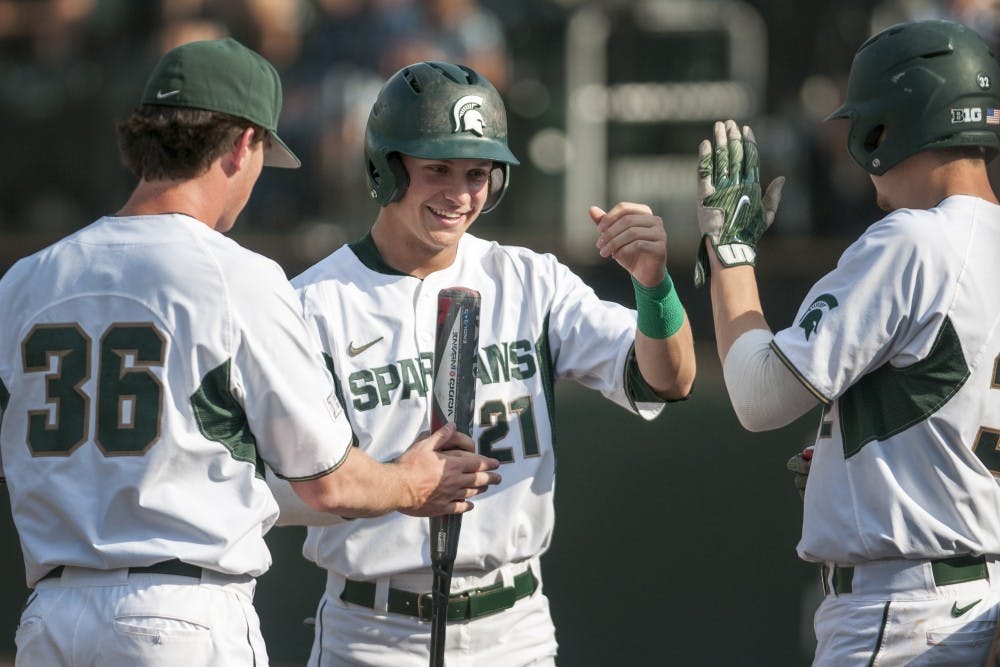 ---
The MSU baseball team traveled to Mount Pleasant, Michigan Tuesday to take on the Central Michigan University Chippewas and walked away with a 7-0 victory.
The game was the second showdown between the Spartans and Chippewas this season. To open up the home slate of 2017, MSU downed visiting Central Michigan 11-2 in a blowout.
MSU would continue the dominance over its in-state rival, setting the tone early. The Spartans jumped out to a 3-0 lead within the first inning. A barrage of four hits coupled with steals and timely hitting had the Spartans up early.
In the fifth, the MSU offense would continue to tack on a couple of runs. The Spartans used a pair of Central Michigan errors to their advantage, with both runs of the unearned variety.
The Spartans broke it open in the sixth, scoring another two runs to further distance themselves from the Chippewas.
All in all, the Spartan offense shined. MSU was led by junior first baseman Zack McGuire, who went 3-for-5 at the plate. Help came from senior second baseman Dan Durkin, among others, as part of a 14-hit effort.
Junior outfielder Brandon Hughes had himself a historic day, becoming MSU's all-time single-season steals leader. He had three swipes on the day, bringing his stolen base total to a record 30, passing former Spartan Anthony Cheky's 29 in 2014.
But the real story of the day was MSU's pitching. Three different Spartans combined for the shutout.
Mokma gave up six hits, tacking on two strikeouts without yielding a run. Following Mokma's impressive pitching performance was redshirt-sophomore pitcher Nathan Witt, who provided 2.2 innings of relief work.
Finally, redshirt-sophomore pitcher Ethan Landon gave the Spartans one inning in relief.
With the victory, the Spartans picked up a much-needed win heading into their final regular season series against the University of Michigan.
MSU and U-M are set to duel for three games from May 18-20. Thursday and Saturday's games are set to be played in East Lansing. Friday's game will see MSU travel to Ann Arbor.