Construction of solar carports begins on campus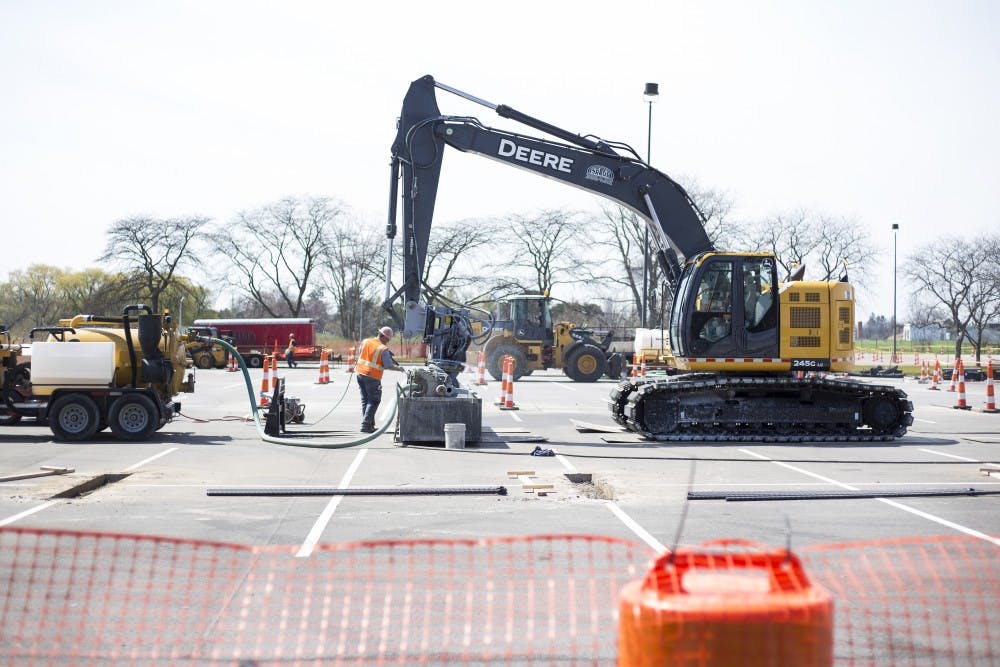 ---
MSU has begun installing solar carports for five parking lots on campus and updating the parking lots with covered parking, which will save the university approximately $10 million dollars during the course of 25 years.
"This is big," MSU police Deputy Director John Prush said. "This is really big for us. It's covered parking."
Lots 83, 89, 91, 92 and 100 will all receive solar panels.
The project is part of a larger plan to make MSU a greener university, said Wolfgang Bauer, who is a university distinguished professor of physics and is assisting on the project .
"We have this energy transition plan," Bauer said. "It was approved by the Board of Trustees in April 2012 and it guides us towards reduction in our CO2 emissions, greenhouse gas and increase in use of renewable energy."
There are two companies, Inovateus Solar LLC and Alterra Power Corp., partnered with MSU for project.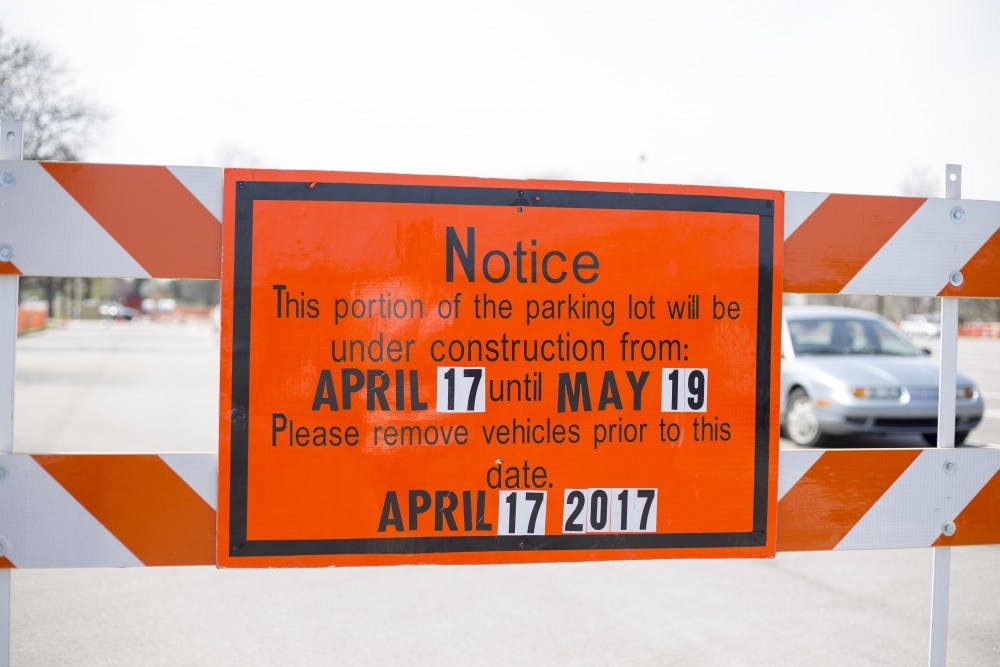 MSU is not paying for the construction, instead the university signed a power purchase agreement, Bauer said.
"(There is) an outside company that builds everything, maintains everything, pays for everything, but then sells us all the energy back to MSU," Bauer said.
The solar carports will also save the university a lot of money, but the amount is not public information, Bauer said.
"I know this figure, but unfortunately we have signed a nondisclosure agreement so we cannot say (how much MSU will pay for the electricity)," Bauer said. "I can tell you the following: over the 25-year lifetime that we have contracted, MSU will save a total of $10 million in electricity costs, relative to buying it off the electricity grid, even at our preferred rates."
Part of the reason for the project is to help reduce the rising cost of tuition, Bauer said.
"We're going to save money and that's (an) equally good reason, maybe better because that goes back to general funds and helps keep tuition rises in check," Bauer said.
The amount of electricity generated will vary depending on the day, Bauer said.
"When the sun is shining in the middle of summer, we're calculating right now, it will be 11 megawatts," Bauer said. "For comparison, the average consumption of the university is about 35 megawatts. ... There's a difference between average and peak. The averages in the university (are) not the best measure because at night we're falling down to about 24 (megawatts) at the lowest and the all-time peak that we've consumed is maybe 65 (megawatts). So you see there's a huge range for it."
Bauer said overall the solar carports should account for 5-7 percent of the electricity used.
The construction on the lots will rotate, so no lot will be completely closed, Bauer said.
"We will not lose any parking spaces," Prush said.
The construction is scheduled to be completed by the end of December, but there is a good chance it will be done sooner, Bauer said.
Bauer said MSU chose to put the solar panels over the parking lots because it would create covered parking and not destroy farmland.
"These are actually more expensive, and we're paying a higher price for the electricity than doing it just on the ground. This is a huge area that is going to be covered," Bauer said. "It's about 50 to 60 acres. Now we have enough farmland, we have much more, we could have put the solar arrays there but then you're sort of destroying the original purpose of the land to raise animals or to raise crops or to do research on that land, you couldn't do that anymore. So we decided to the parking lots."
After the project is completed, MSU will still focus on becoming a greener university, Bauer said.
"We're going to keep working, make this place greener and more affordable and take international leadership ensuring that the green revolution works, not just by tree huggers but by real businessmen that can be green and save money at the same time," Bauer said. "That's what one of the top 100 universities in the world, like we are, should do."