President Simon pens letter regarding Nassar, other controversies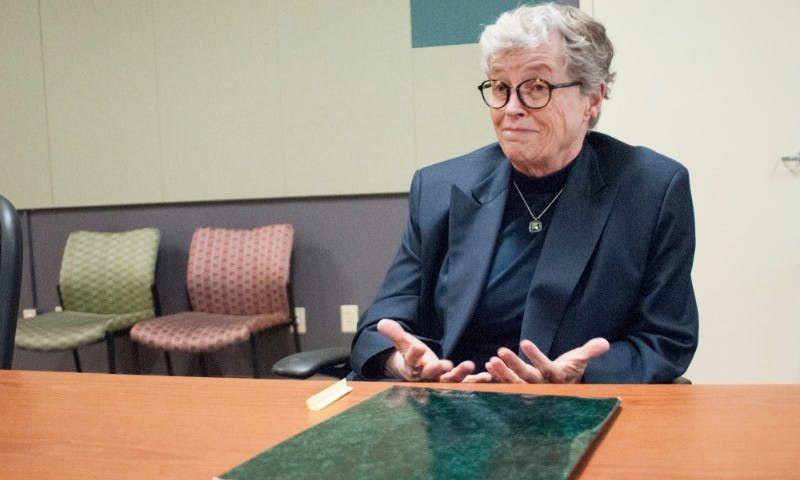 ---
In light of campus and national media stories and controversies surrounding ex-MSU doctor Larry Nassar, allegations of sexual assault made against members of the MSU football team and other issues of sexual assault on campus, MSU President Lou Anna K. Simon sent a campus-wide email to provide an update about how MSU is addressing these concerns.
This letter follows an update given during the most recent MSU Board of Trustees meeting in April, when Simon and the trustees first informed the public of the university's plans to implement new policies for MSU HealthTeams, which will engage independent experts to review MSU's Title IX policy in fall 2017 and roll out an enhanced youth protection policy.
Simon's letter serves to inform the campus community of these initiatives.
In her letter, Simon said she wants to accelerate the process of reviewing the Title IX program at MSU. In 2014, MSU began revamping their Title IX program and planned to review the program in "a couple off years" once it had been established.
"I feel it is prudent to accelerate the timeline for this review," she wrote. "I will be engaging independent experts to conduct a top-to-bottom review of our Title IX program this fall. The review will allow us to assess our progress and identify opportunities to refine and build on this work for the future."
As of April 15, the new policies for the MSU HealthTeams were implemented. MSU's third-party quality and safety assurance review will start this summer and will look at safety standards across MSU clinics, according to the letter.
In her letter, Simon once again references the enhanced youth protection policy, and said, "Building on a programmatic effort that began in 2013, we are introducing a revised and enhanced youth protection policy and additional education. It is our moral obligation to protect all young people on our campus, in all circumstances."
Details of this policy are still unclear. When asked about this policy at the April Board of Trustees meeting, Simon said, "If you look at our website now, there are a number of policies that have been in place since we reviewed them in 2013. Those (were) reviewed as best practices and those included things like background checks, handbooks, a set of protocols for picking up children and all of those kinds of things you would expect."
Simon's letter references a report by the Association of American Universities, which found its group of 62 universities, including MSU, are "making significant improvements and devoting substantial resources to efforts that address the issue," Simon wrote.
"In the aggregate, this report illustrates that while institutions have varied in their approaches and strategies to prevent, combat, and educate about campus sexual assault and misconduct, all are responding with seriousness and urgency, with the common objective of making campuses safe, respectful places to learn and grow," the report concludes.