Projecting MSU basketball's starting lineup next season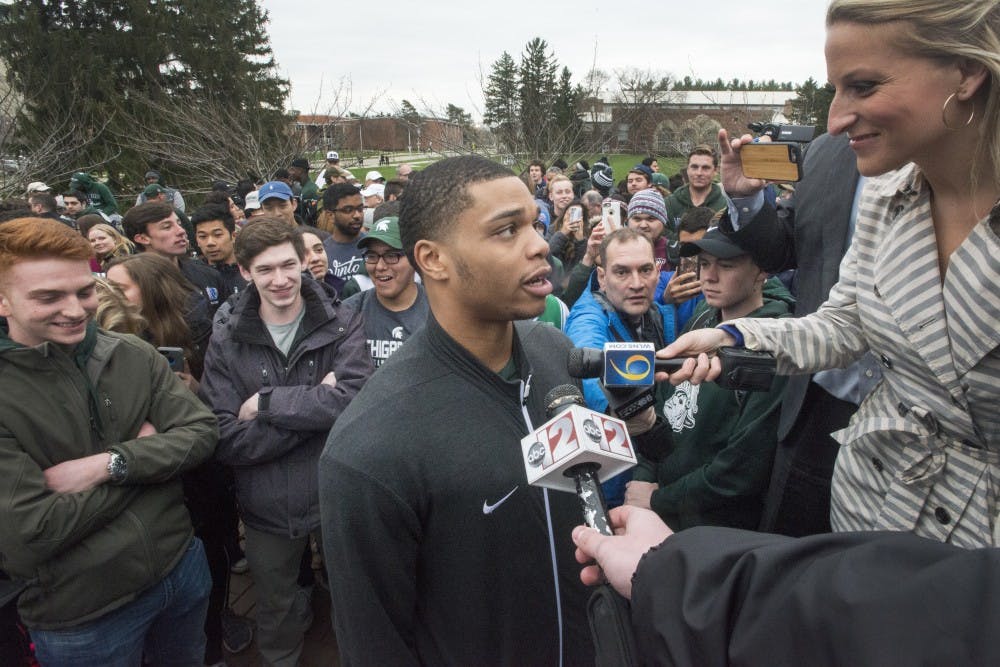 ---
The news surrounding MSU star forward Miles Bridges is finalized, as he will officially return for his sophomore season.
With Bridges' addition back to the team, the Spartans will have a stacked team with hopes on a national championship.

This season the team's glaring weaknesses were youth and lack of size because of injury.

Next season, the Spartans will have a surplus of size and each freshman from last season gains more and more playing experience.
Here is the projected starting lineup for MSU men's basketball next season, as well as what each player needs to work on:

G: Cassius Winston | 6-foot-0, 185 pounds

Pros: Floor general and passing mastermind
Cons: Defensive liability

G: Joshua Langford | 6-foot-5, 210 pounds

Pros: Good mid-range game and athleticism
Cons: Mostly himself, needs to remain aggressive

F: Miles Bridges | 6-foot-7, 230 pounds

Pros: Superstar with top 10 NBA Talent, passionate about basketball and a high active rebounder
Cons: Fine-tune defense

F: Nick Ward | 6-foot-8, 250 pounds

Pros: Footwork specialist with soft touch inside the paint
Cons: Defense and needs to improve right hand

C: Jaren Jackson Jr. | 6-foot-11, 225 pounds

Pros: Quickness and frame allows for a good shot blocker, very mobile and NBA Lottery Pick
Cons: Poor with back to the basket, likes to stretch out his range, but is a streaky shooter

Reserve guards for MSU:
Lourawls "Tum Tum" Nairn Jr., Matt McQuaid and Kyle Ahrens
Reserve forwards for MSU:
Gavin Schilling, Kenny Goins and potentially Ben Carter

These spots could change depending on how head coach Tom Izzo wants to spread around the talent. Also, Izzo could keep Nairn as a starter for defensive purposes instead of Winston, just as he did this season.

The potential addition of Brandon McCoy or Brian "Tugs" Bowen could shake up the lineup a little. McCoy would challenge Jackson for the starting center spot and Bowen would most likely come off the bench in a reserve role, however Izzo could play big with him at Langford's position.

This is less likely because of the development of Langford during the end of the season, since the injury of Eron Harris.