MSU hockey excited for future with new head coach Danton Cole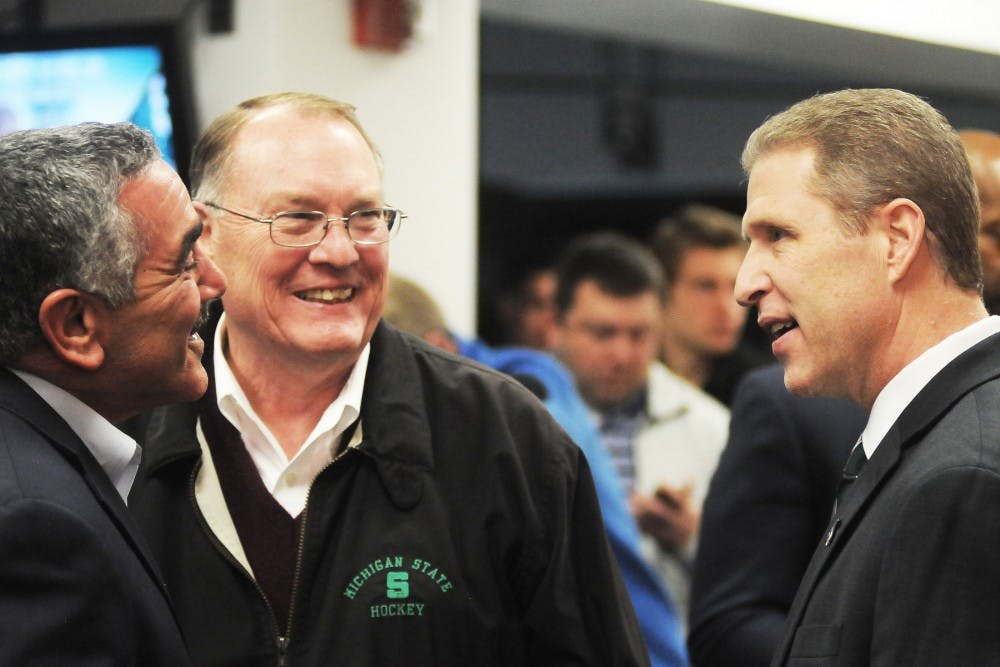 ---
It took 21 days, but the new face of the MSU hockey program has been chosen.
MSU alumnus and Pontiac, Mich. native Danton Cole was announced the seventh head coach in program history in a press conference on Tuesday.
After a dismal, dispiriting 2016-17 season, one where the Spartans won just a mere seven total games, the MSU hockey team is excited for what is to come.
"He's raised the Stanley Cup as a player, understands the obligations of running a Division I hockey program and he's plugged into the country's best young talent from his time with the USA Hockey National Team Development Program," MSU Athletic Director Mark Hollis said. "He has demonstrated the ability to develop young talent into great players. Most importantly, his comprehensive approach to developing men of character goes beyond on-ice instruction and into the classroom with a commitment to education, as evidenced both by his work with the NTDP and his time as a student-athlete during which he captured the Big Ten Medal of Honor."
In 2009, Cole got his first taste of international coaching with the U.S. Under-18 Select Team at the 2009 Ivan Hlinka Memorial Cup as he served as an assistant coach.
In 2013, Cole assumed the same role when the U.S. Men's National Team won bronze in 2013 at the IIHF Men's World Championship.
"Obviously, we're all really excited," rising junior forward Mason Appleton said. "It's a big day for Spartan hockey. Coach (Tom) Anastos, we all wish him the best, but we're really excited about the future and where this program has the potential to go."
Cole has guided Team USA to two gold medals in 2012 and 2014 alongside one bronze medal in 2016 at the International Ice Hockey Federation Men's Under-18 World Championship and coached three top-three finishes at the World Under-17 Hockey Challenge in 2011, 2013 and 2014.
"There's some great things (at MSU), some places that we want to get to, and what needs to be done is going to take a little bit of time," Cole said. "Might not be the least painful thing, but nothing worth achieving never is, and it's a lot of hard work, and I thank Tom for the blood, sweat and tears that he's put into this program since he was a student-athlete here until and into the future."
Cole's teams have also had success in a range of other international tournaments, including capturing two U17 titles at the Four Nations tournament and one title in 2011 at the Vlad Dzurilla tournament.
"I'm pretty excited," rising senior goaltender Ed Minney said. "Coach Cole brings a lot to the table. I think he's a pretty intense guy and he wants to win just like everyone else does, so I think having that kind of fiery attitude and will to want to work hard all the time, I think that will really help a lot and he's not going to accept anything except the best from everybody. So I think that will really get some guys to push some guys and make them have a good offseason this year and come in and everybody is going to be fighting for spots next year, so I think it will be interesting."
Longtime assistant coach Tom Newton said with the disappointing results that have sprouted from the MSU hockey program recently, there has to be a change.
"I think when you have the results that you've had, there has to be change," Newton said. "There has been change. And now, with the change that's happened, the change in the performance of the players has to also happen and that's how you win games. Your players have to get better, you have to play with more confidence, you have to play with more intelligence and that is what Danton will bring hopefully and those things will happen."