MSU bans moped parking at bike racks beginning fall 2017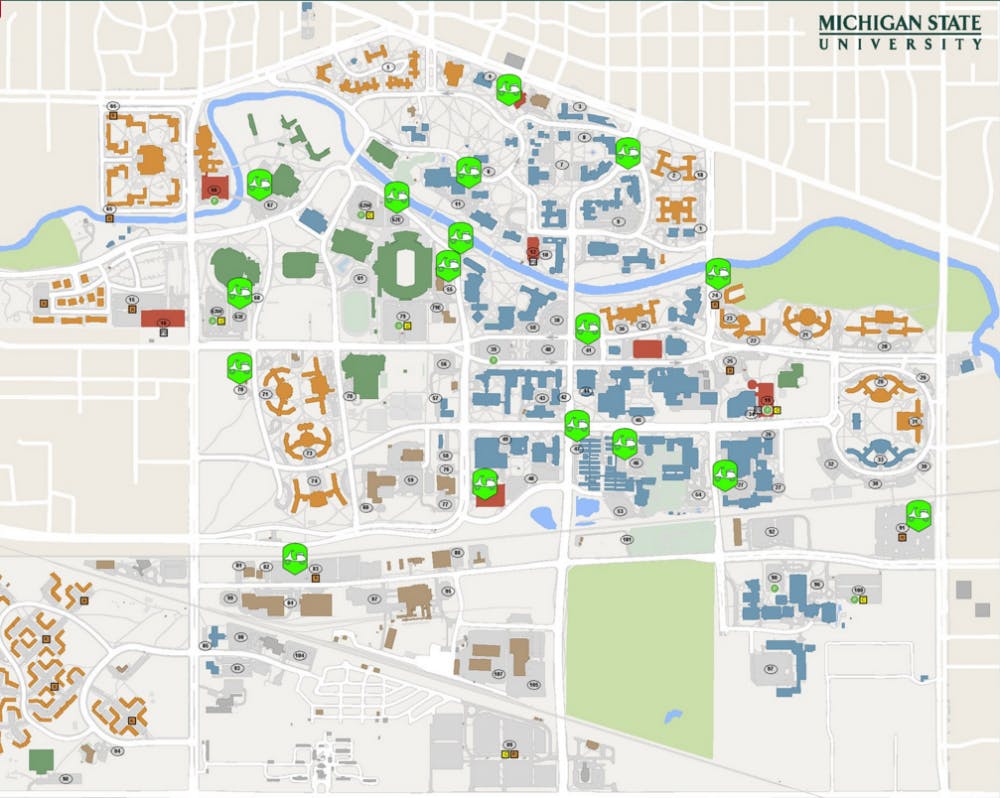 ---
Signs across campus were posted to inform students moped parking changes are taking place this week. Parking at bike racks will no longer be permitted come fall 2017. Moped drivers are required to purchase a $50 permit, valid for one year, and park in designated lots on campus.
The change will become effective on Aug. 30 according to the MSUPD moped website. Unregistered mopeds and those parked at bike racks are subject to University Ordinance 31, which could result in a $25 parking violation. Those who wish not to purchase the permit can utilize meter parking or pay-by-plate parking areas.
The change came per a recommendation of the All University Traffic and Transportation Committee, AUTTC, made in 2016.
"The AUTTC should make recommendations on how to successfully continue the blend of all modes of transportation on campus," according to the annual report and recommendations.
A key point of the parking changes hones in on clearing space for bikers.
Tim Potter serves as the manager of MSU Bikes and sat on the AUTTC sub-committee that made the recommendation.
"Basically, we looked at three different universities and how they approached modifying things to make their campuses safer in regards to mopeds and we modeled the recommendations on what the other universities said," Potter said.
The three universities looked at were University of Wisconsin-Madison, University of Minnesota and University of Maryland.
The next AUTTC meeting is April 27, at 3 p.m. in the MSU Police Community Room. Because it is a standing university committee created by the Board of Trustees, all meetings are open to the public, according to the website.
Within the committee, there was concern about the safety of people.
"There's a problem related to safety of the mopeds being used all over campus, particularly where they're not supposed to be — on sidewalks and pathways," Potter said.
In response to the change, MSU students have publicly voiced their concern.
Jacob Viazanko, finance junior and moped rider, spearheaded the movement against the change. Dismayed by the adjustment, Viazanko wrote a petition around noon on April 26 that he plans to deliver to MSUPD.
The petition has reached 3,301 signatures as of 6:25 p.m. April 26.
"The advantage of having a moped is being able to park it right outside the building at the bike rack," Viazanko said.
Having a moped can save time and money on campus, he said.
Viazanko's main concerns are that there are too many mopeds in use for the "limited" amount of parking lots made available, mopeds don't take up too much room at bike racks and don't pose a large enough threat to pedestrians.
"I do plan on expressing students' support for not doing this and I just wanted to help be the voice for people that, really, are sick of paying for parking on campus," he said. "That's the whole reason behind buying a moped — the ease and (inexpensiveness) of parking on campus. Now, they're trying to take that away."
MSUPD refused to comment. They referred to AUTTC Chair Sarah Nicholls, who could not be reached for comment by the time of publication.
Stay with The State News for updates.