Student documentary premieres at Studio C! in Okemos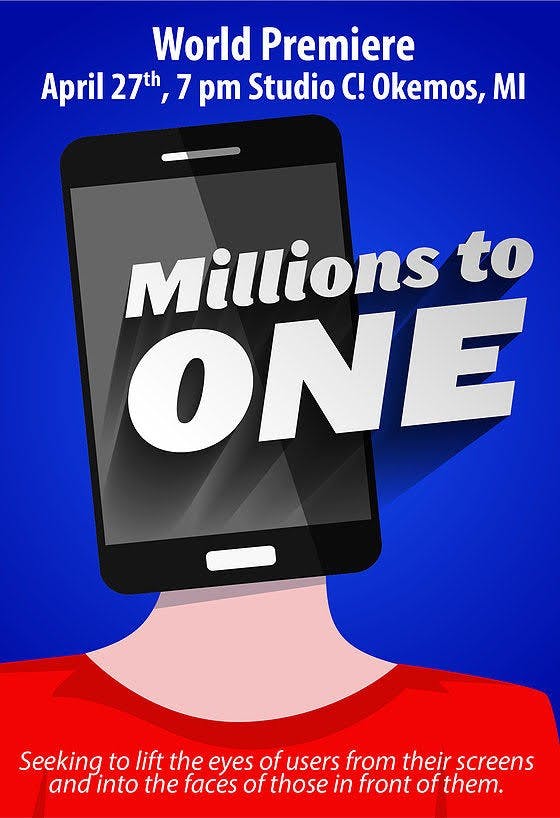 A group of five students spent the past few months filming, editing and working on a documentary that gives an inside look into the use of social media and cellphones.
The group will watch their work on the big screen on April 27 at Studio C! in Okemos. The documentary "Millions to One" follows the stories of famous people who use social media and compares it with people who are lesser known.
The group set out to see if social media, stardom and fame have any effects to having hundreds of thousands of people at their fingertips.
Media and information senior Ian Courtney made his first documentary during a study abroad in Bollywood. "Millions to One" is Courtney's third film. For this film, he is the director.
"It is fun to see the excitement on people's face, and just like you know when you got good stuff," Courtney said. "It's fun for myself and to see people around me growing and learning together and trying to make the best piece or film we can make."
Courtney said he grew up with a love for film. After he graduated from high school, he said he decided to go into the business side of college. He said he realized his true passion and switched to making films.
"I like the nonfiction aspect," Courtney said. "You kind of embark on something with this idea. ... You start with an idea and it's a winding path and you can make tangible connections with real people who have real stories. It's really interesting and gratifying and I think nonfiction is a really powerful way to tell stories."
Media and information senior Hailey Patrick is helping produce the documentary. She said the film is important because people spend hours on their phones and have a hard time socializing with others.
"I would encourage people to see the film because I think we are all on our phones a little bit too much, so I think seeing how that affects us a little bit deeper will be something good for us all," Patrick said.
Patrick said she chose her minor in documentary production because she sees the value film can have.
"I think people are extremely special and everyone has their own individual story, so with me, it's what I want to do, I want to be able to share people's stories," Patrick said. "Documentaries are the way to wrap up a bunch of people's stories in one and kind of intertwine them and show how a lot of us are so similar but we don't really think that at first."
Media and information senior Jessica Lundquist has been helping with the film since the beginning. She said she hopes the documentary will bring an important message to people.
"I feel like it's important because it impacts us every single day," Lundquist said. "I don't think I have gone one day in years without being on the internet or looking on my phone or seeing other people use internet or look at their phone and go on social media. It has become so normal. You wake up in the morning, you brush your teeth. You wake up in the morning, you go on Twitter."
Lundquist encouraged people to go to the "Millions to One" premiere.
"I hope it kind of reminds people that nobody is perfect, not even these Youtube stars, Viner stars, they have their doubts and insecurities and that even though everything might look perfect on the internet, it's not and so not to let that reflect your self-love," Lundquist said.