Member of 1979 championship team reunited with piece of floor he signed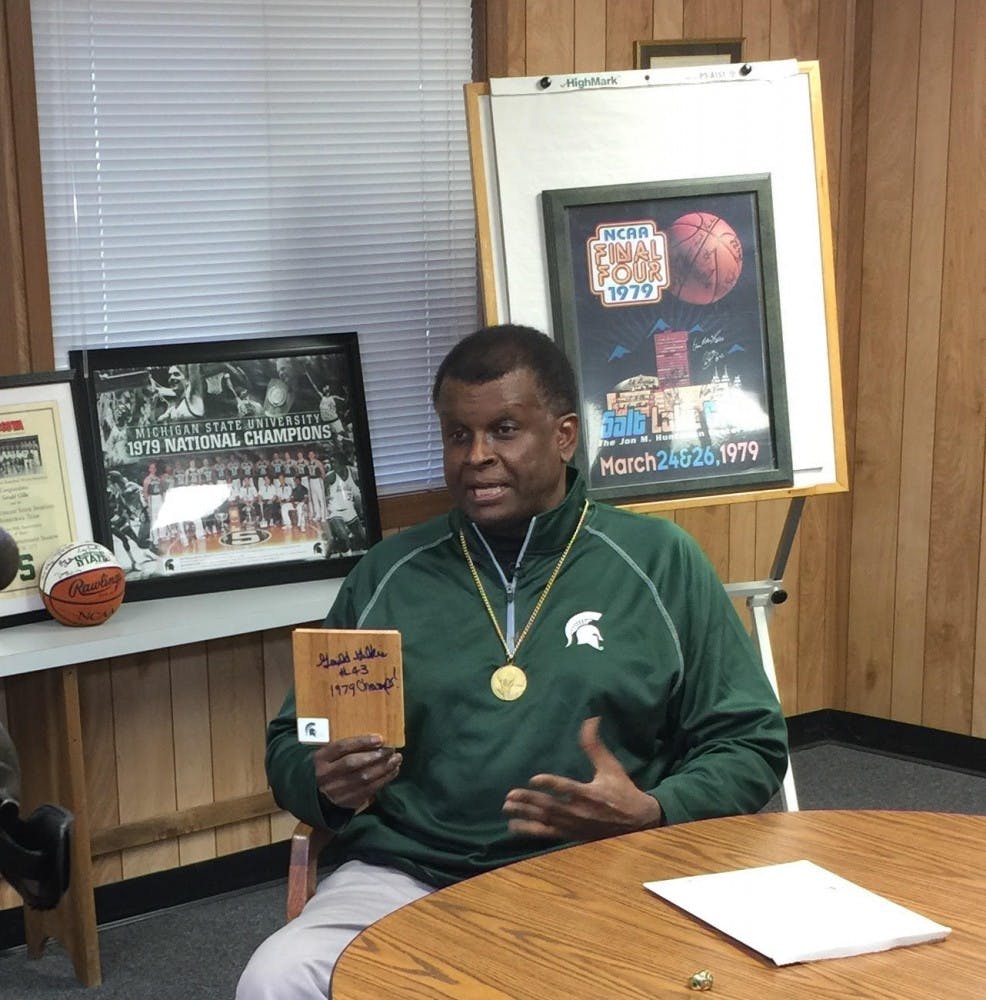 ---
On March 26, 1979, the MSU men's basketball team beat the Indiana State Sycamores 75-64 and brought home the first men's basketball championship in program history.
The Spartans were star-studded with hall of famer Earvin "Magic" Johnson and seven-year NBA pro Greg Kelser, who averaged 17.5 points per game during his career as a Spartan.
After the championship win, the entire team wrote their names on the hardwood floor of the then-home of Spartan basketball, Jenison Field House.
When the floors of Jenison Field House were removed and cut up, they were sold to the public, including the pieces with the signatures of the members of the 1979 championship team.
Gerald Gilkie, a member of the 1979 championship team, was reunited with the piece of the court he wrote his name on 38 years ago.
Gilkie received his piece of history during a staff meeting at Richard A. Handlon Correctional Facility after a co-worker bought it from a sports memorabilia dealer in Pennsylvania.
"It almost brought tears to my eyes," Gilkie said. "It was a feeling of great disbelief that someone would … think enough of me to present me with piece of memorabilia that is very dear to me."
Gilkie said being reunited with the piece of the floor brought back many memories from that 1979 championship team.
"The smiles on our faces, it brings that back, brings back Magic, brings back Larry Bird and all the guys that still carry a lot of the history forward," Gilkie said. "They're the larger stakes that makes this event a lot bigger than it ever was."
Gilkie said he never pursued trying to get his piece of the floor because he wanted other people to have it and wasn't for him.
While working, he said he has to leave some of the history of his time at MSU in the back of his mind.
"A lot of times when you get away from sports, you get wound up in your day-to-day business," Gilkie said. "The way you have to have family — I have two kids — I have a lot more going that takes me away from those type of moments."
Gilkie said back in 1979, he and the team didn't fully appreciate what they had done and have just been happy to go back "to our normal lives."
"When you're kids, you don't have the kind of perspective of about how those type of events are going to affect you for the rest of your life," Gilkie said. "It takes the wise guys, (head coach) Jud Heathcote and Bill Berry and all those guys to tell us, 'You guys don't know what you've done, you really have no clue what you guys have done. Thirty years from now, you'll see what you've done.' They were right."