Danton Cole right at home embarking on journey as MSU hockey head coach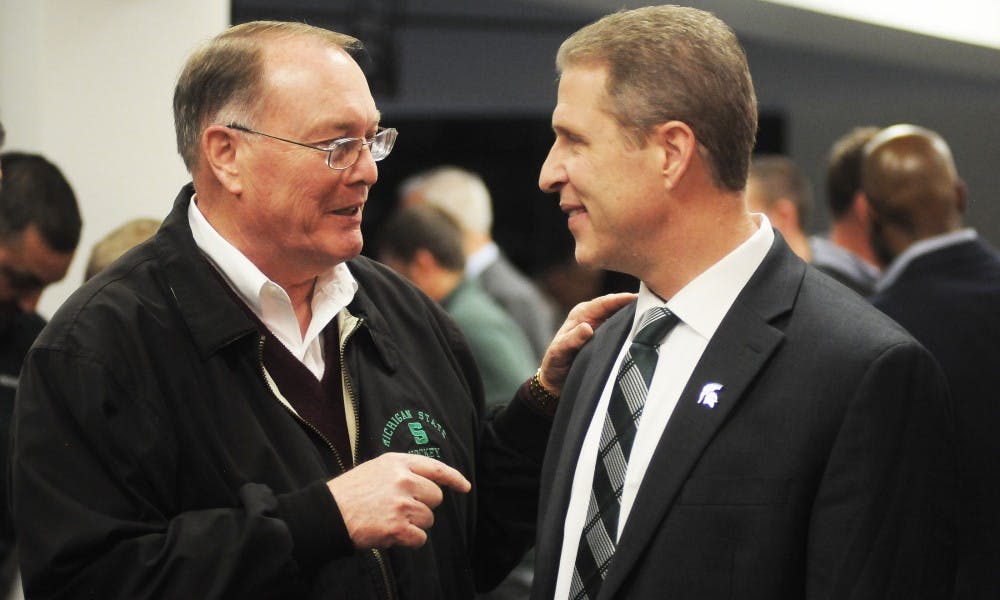 ---
Danton Cole has come home to MSU.
When hockey coaches begin their coaching careers, most set their sights on becoming a head coach of an NHL team, but not Cole.
Cole, who was named the seventh head coach of the MSU hockey program Tuesday, said his dream was to return to his alma mater.
"I think we were in the Western Conference Finals, and (reporter George Sipple) was talking about it, and I think in the minors most guys want to end up coaching in the NHL, and I was in my third or fourth year of coaching, and George asked me about if, 'Hey, maybe you'll coach the Red Wings someday,' and I remember saying it, and I've said it to a lot of people since, 'That would be nice, but I really, really would love to go back' and Coach (Ron) Mason was always — not trying to push him out — but I would love to go back there someday, and it's been on my mind, and certainly the timing has to be right for these things, and sometimes in life it works out, sometimes it doesn't," Cole said. "That's a lesson, and that's things that young men have to learn, and you go through it."
Cole said Tuesday he will take an extensive period of time reevaluating the recruitment process.
"Yeah, going through the recruits and all that, that'll take some time," he said. "I talked with Coach (Tom) Newton and spent a little time and see where they're all at. There's publications. I'd like to know exactly who's where or who's offered what. The current guys I know, the incoming guys I know, but after that I'd like to get a little better read on where all that's at."
Cole added he is evaluating the current staff which served under Tom Anastos.
He went on to say everything should be settled down and finalized in the coming weeks.
"I hope to have things settled down here fairly soon, within the next week and a half or so, and certainly I've got to spend some time with the guys that are on staff now and kind of go through some things," he said. "I don't think it'll be real long, but we'll move through it. I don't want to be in a rush to fail on anything. I think it's important to get things right and do them in the right process. We're moving forward, and it might not be as quick right now, but we'll get there."
Rising senior goaltender Ed Minney said the change at the helm for Spartan hockey is an immense step in reversing the program's bleak past seasons.
"I think it's huge," Minney said. "I think we definitely have the talent to be able to win games and be really successful, and I think that just having a kind of a shock to everybody just itself, whether it was Coach Cole or someone else, can be a huge benefit. And having him here, I think that he has the right tools and everything to develop some players into the players we need them to be."
When longtime assistant coach Tom Newton looks at Cole, he said the first thing he sees is his loyalty and commitment to MSU.
"First thing I see about Danton is a person that loves this place," Newton said. "He grew up here, he established himself in the real hockey world here before he went onto his professional career and that's the thing I see first, is that he loves this place. He's always — I've been here a long time — he's always checked back in. He always — when we talked about the team here — he always talked about, 'we' and that's the most important thing."
The team hopes Cole's hire is the first step MSU needs to contend for conference titles and national championships, but only time will tell. However, Cole said he understands only time will tell.
"And last but not least, I'm just really, really truly looking forward to moving ahead with these guys, everyone on campus, and getting Spartan hockey moving ahead," Cole said. "I can't say enough and can't thank enough people. Appreciate it, and let's get to work."