Documents reveal details of Robertson's alleged rape case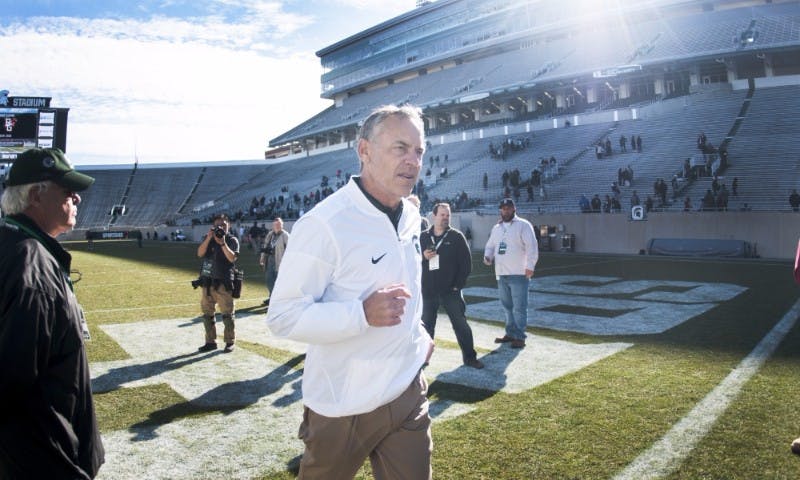 ---
MASON, Mich.— MSU defensive lineman Auston Robertson allegedly raped an acquaintance on April 9 in her apartment while his girlfriend waited outside in the car, according to court documents obtained by The State News.
Robertson joined the team this fall.
The incident was described in detail by Meridian Township Police investigator Rebecca Payne, who leveled the charges in front of 55th District Court Magistrate Mark E. Blumer while seeking a warrant for Robertson's arrest.
According to the documents, the victim attended a party in East Lansing where she ran into Robertson. The victim said she consumed an unknown type of alcohol and was intoxicated at the time of the incident.
The victim, suspect and a male acquaintance walked to Blaze Pizza in East Lansing where the suspect and the male acquaintance ate food. Robertson called his girlfriend to pick him, the victim and the acquaintance up and dropped the victim off first.
Once they arrived at the victim's residence, Robertson said he would walk the victim up to her residence to make sure she got there safely.
Inside her apartment, the victim described Robertson as allegedly raping her despite pleas to stop. Robertson allegedly refused to stop and advised the victim not to tell anybody about the incident.
The victim was advised at a later time Robertson had fled to his home state of Indiana. Payne contacted Robertson on April 13, and he admitted he had requested an attorney and did not give a statement; however, he acknowledged he left for Indiana prior to a meeting with the attorney and was gone for approximately four days.
Payne later obtained surveillance footage from Blaze Pizza, which confirmed the victim's account of her time there with Robertson. Payne also spoke with the male acquaintance who was in the vehicle while Robertson was in the victim's apartment and said he had no knowledge of the incident, but he confirmed Robertson left the state afterwards.
Payne also contacted the victim's boyfriend and friend who she initially disclosed the incident to. Both described the same incident the victim had.
After hearing Payne's testimony, the court said there was probable cause to arrest Robertson and the Ingham County Prosecutor will seek a warrant for criminal sexual conduct in the third degree.
Another investigator, Brad Bach, told the court he was afraid Robertson was a flight risk because he had already left Michigan after the incident and for his prior incidences. The court set his bond at $75,000.
Robertson, a former four-star recruit from Indiana, had legal trouble before arriving to MSU as he was arrested Jan. 13, 2016 in Indiana on misdemeanor criminal battery charge causing him to withhold signing with MSU on National Signing Day.
The charges were later dismissed and Robertson signed his National Letter of Intent with MSU on March 30, 2016.