65th Annual Michigan Antiquarian Book and Paper Show to take place Sunday in Lansing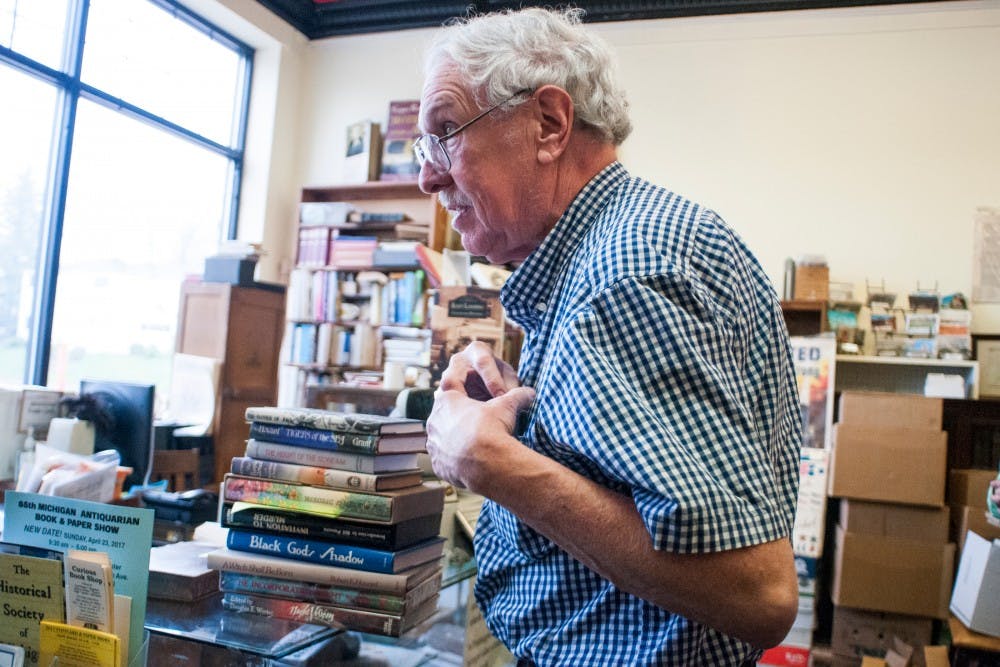 ---
A propaganda poster from World War II, a coloring book created by Andy Warhol and 1920s issues of Harper's Weekly are among the many items for sale at the 65th Annual Michigan Antiquarian Book and Paper Show, which will take place Sunday at the Lansing Center.
Ray Walsh, the owner of Curious Book Shop and Archives Bookshop, who is in charge of the event, said the event will host dealers selling material including toys, stamps, and sports programs, among other things, alongside the antique books that give the show its name.
The Michigan Antiquarian Book Dealers Association has been hosting the Book and Paper Show bi-annually for more than 30 years. Dealers including Charles Herrick, the owner of Old Stone Studio in Mason, said the show has changed since the advent of eBay and other websites that make it easier for collectors to find their items without going to fairs.

Herrick said the show has decreased in both number of dealers and number of customers since dealing on the internet became popular. But Walsh said the event will still host 42 booths with more than 125 tables of material.

"Yes, this is smaller than we have had in the past, but it's still one of the largest shows in the Midwest," Walsh said.

The show continues to draw crowds in part because of the consistent group of dealers, many of whom have been participating in the show for more than 20 years. Dave Jaeger, a postcard dealer and participant in the Book and Paper Show, said dealers can keep their customers' loyalty by continuing to find them cards, books or material relevant to their collection.
"This is kind of a, 'What have you done for me today' kind of hobby," Jaeger said. "If you keep finding cards for people, they'll keep coming back. If you don't have anything new in your inventory for months on end, people move on to somebody else who's finding stuff for you."
Jaeger said his audience is mostly made up of older collectors. He said he thinks this is because older Americans grew up valuing the collection of physical items in a way younger people did not.

"Young kids today, I think, are still interested in it, but they don't feel the need to own it," Jaeger said. "You know, they can go on the internet, they can see that image, because it's been scanned in and out there. They go, 'Wow, that's cool,' and then they move on to the next thing."

Though many collectors and dealers are older, Jay Platt, the owner of West Side Book Shop in Ann Arbor and a longtime participant in the Book and Paper Show, said he is starting to see more young adults come to fairs.

"You know, it's kind of something that you don't really get a feel for until you're at least in your 20s or 30s," Platt said. "I wasn't interested until my late 20s, and it was kind of like turning on a lightbulb and saying, 'Oh, that's really neat.'"

Jaeger said the "social aspect" of the show is what keeps customers coming back to fairs when they could use eBay or other online sources instead.

"The fact that they can actually hold these pieces of history in their hands and look at it, talk with the dealers, share with other collectors in the room," Jaeger said. "I see it all the time, that people collect different things, and they're yelling across the room for somebody to come over because I found this card for you. And I think that's the real plug."