MSU Foundation helps with grants, partnerships for students and staff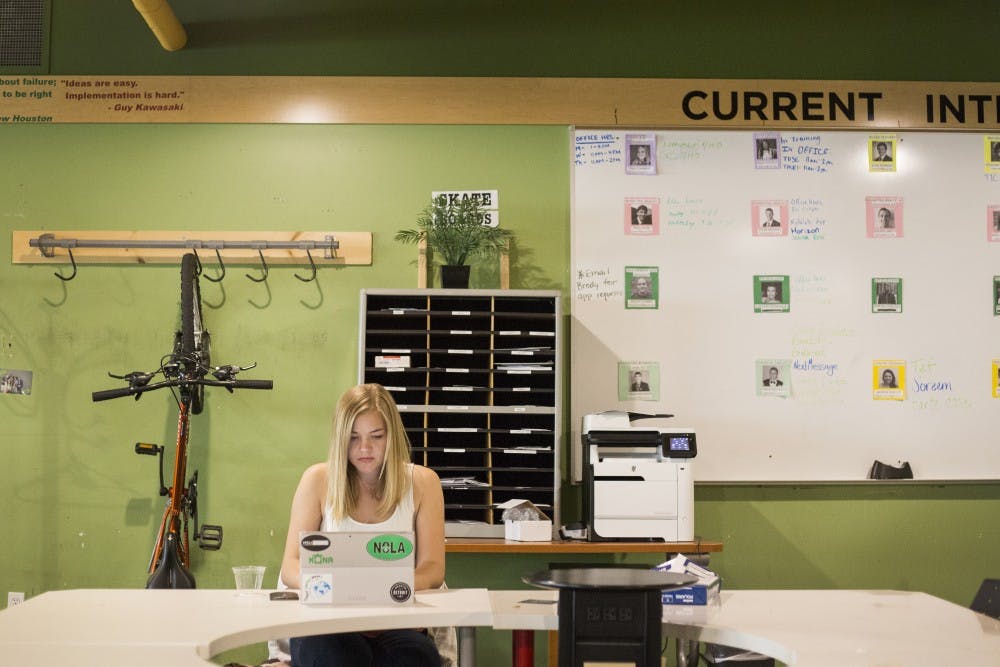 ---
The MSU Foundation is a nonprofit organization to help student, faculty and staff through grants and partnerships.
"The best part of the Foundation is that we're helping to make MSU the premier land grant institution across the United States," Communications Manager Aaryn Richard said. "We want to make sure that MSU is fulfilling its mission, attacking common problems in uncommon ways, to quote."
The Foundation helps fund and develop research at MSU. This is done through subsidiaries of the Foundation, Spartan Innovations, Red Cedar Ventures, University Corporate Research Park, UCRP and Michigan Biotechnology Institute, MBI, Richard said.
"Spartan Innovations is a venture creation organization, which is designed to help students who have ideas that they want to figure out how to turn into companies," MSU Foundation Executive Director Dave Washburn said.
During the 2016-17 school year, there were more than 200 applicants for "The Hatch" — a program run by Spartan Innovations for students, Richard said.
"We have a three-step process, with two milestones," Director of Student and Community Engagement for Spartan Innovations Paul Jaques said. "It's called discovery, validation and launch."
There is approximately $90,000 of available funding for students, Washburn said.
"I like being with the students from the very beginning where it's just an idea, the excitement that they have coming in, then really seeing them as they go towards graduation and seeing where they're starting to make money, they're getting investments and really seeing it starting to get out there in the market," Jaques said.

Another subsidiary of the MSU Foundation is UCRP.
"(UCRP works with the) real estate and economic development on the behalf of the university foundation," UCRP Director Jeff Smith said. "I manage the research park itself, the buildings within it and recruiting companies to those buildings. I also recruit and support and manage off-site projects as well."
UCRP manages 116 acres and 250,000 square feet of space. There are around 40 businesses that lease from UCRP, Smith said.
"Our goals and our objective is to try to help companies that are collaborating with our faculty and our staff or working with our students or hiring our students," Washburn said. "We want to bring them closer to campus."
Office or lab space is required for companies seeking federal funding and UCRP helps provide space, Smith said.
"We are the first line of defense for companies coming out of the university, this is their first step," Smith said. "We also provide large-scale space for companies that are fully established. In every case what we're looking for is a company that is already establishing or working to establish a relationship with MSU."
Part of the MSU Foundation's mission is to help MSU with economic development, Washburn said.
"Our job is to help make the economy grow faster on behalf of the university, and so if there's a new technology coming out of the university — and there always is — there's always a new opportunity for the job to change, for new economy to be grown," Smith said.
MBI is another subsidiary that helps economic development for MSU. It analyzes the risks for businesses and also helps develop new projects, Washburn said.
"There's one (technology) that they are really primarily focused on right now and that is the AFEX technology," Washburn said.
AFEX technology is working to reduce food waste and find new ways to feed animals from what is left in fields after a harvest, Richard said.
The final subsidiary of the MSU Foundation is Red Cedar Ventures.
"All of the investments that the foundation makes into companies or startups are actually held by Red Cedar Ventures," Washburn said. "We've allocated about $5 million to use to invest in startup companies created by our students and our faculty and our staff."
While the MSU Foundation is not part of MSU, they do work together often, Richard said.
"To see the leadership that President Simon has given and emphasis that President (Lou Anna K.) Simon has given to entrepreneurship and committing to innovation at MSU is nothing short of extraordinary," Richard said.