MSU to play No. 14 Ohio State and Maryland at Jenison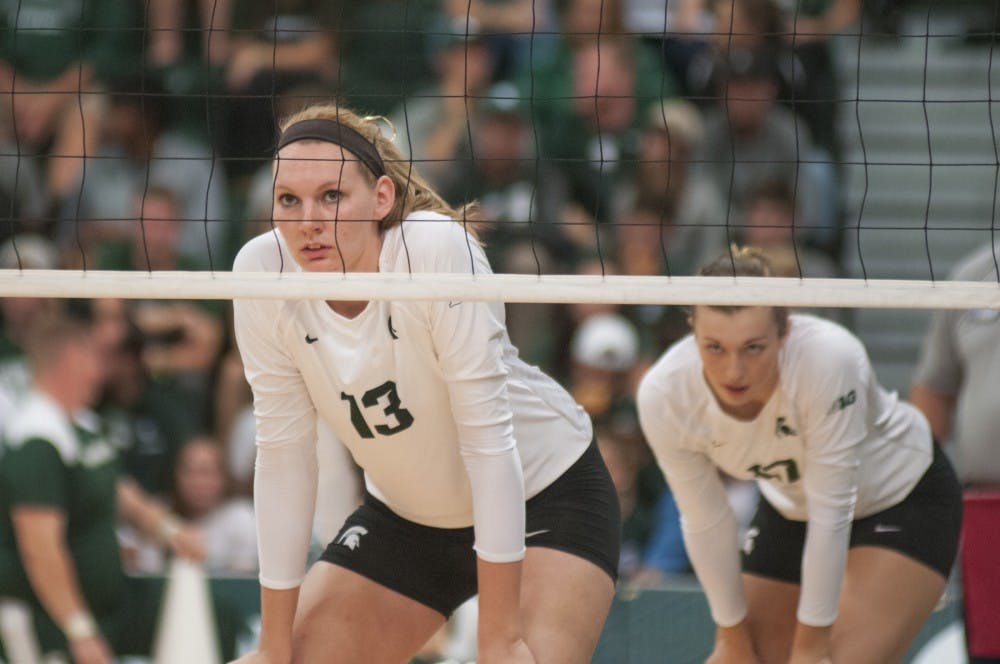 ---
On Friday and Saturday the MSU volleyball team will play back-to-back Big Ten matches against No. 14 Ohio State University and Maryland.
MSU has developed a mantra on the season, "One More," which they have been using both on and off the court. Junior Holly Toliver said the meaning of the mantra is fluid, and often changes to fit her needs.
"I'll work on passing, because I haven't been a starting passer before," Toliver said. "So, I've been working on that a lot to make sure that I'm consistent and that I can help bring something to the team that I couldn't do the past two years. Recently it's been working on hitting, basically I've been only back row. Then I will work on hitting to make sure I get those reps in. … If I have a bad game in passing, I'll work on passing, if I have a bad game in hitting, just like anything, or serving. It really alternates for me."
After a road trip against then-No. 16 Penn State and Rutgers, junior Alyssa Garvelink had nine kills and three blocks on the weekend. Coming into the weekend, Garvelink now ranks fourth in the Big Ten with a .375 hitting percentage. Garvelink also received her 300th career block in the match against Penn State.
Junior Rachel Minarick posted her third double-double of the season against Rutgers with 38 assists and 11 digs. Minarick now has 2,738 career assists, putting her seventh-all time for the MSU record.
Head coach Cathy George said the intensity of play during the games is a crucial factor for the Spartans. In her 12th season, George wants to see her players continue to improve in order to create meaningful games down the stretch of the season.
"We are early in the Big Ten conference, but every game matters a lot, and when you look at your body of work at the end you want to make sure you're proud of what you've been doing," George said. "It's just giving attention to the detail in practice, and make sure that we're improving every day, and sometimes it gets a little harder when you're bumped up and bruised a little bit, and you're getting tired or whatever. You have to make sure you're paying attention to all the little things that will make the body of work what you want it to be."
Having lost to two Big Ten teams already, the Spartans learned some key points from those games to apply to the rest of their conference play, including Ohio State and Maryland.
"It's a lot of little things, where do you need to capitalize?" George said. "Where were some weakness that you need to (show) up? What kind of things do you need to be more productive in? Where are they trying to exploit you? And what are you going to do about it? Some of that is improvement, some of that is just changes in what you want to do, offensively, defensively, but just making those tweaks and getting ourselves stronger, because that's what it does, the conference pushes you at such a high level. ... What you're trying to do is, you're trying to make sure that plan you have now, you have an answer for any weakness you might have."
MSU has six wins over the Terrapins. Ohio State defeated No. 1 Nebraska last weekend, but the Spartans were able to sweep the Buckeyes last season. Both MSU and Ohio State hold 2-2 records in conference play, resulting in a pivotal matchup in the Big Ten standings. Game time against the Buckeyes is set for 7 p.m.