Alum living dream after poker victory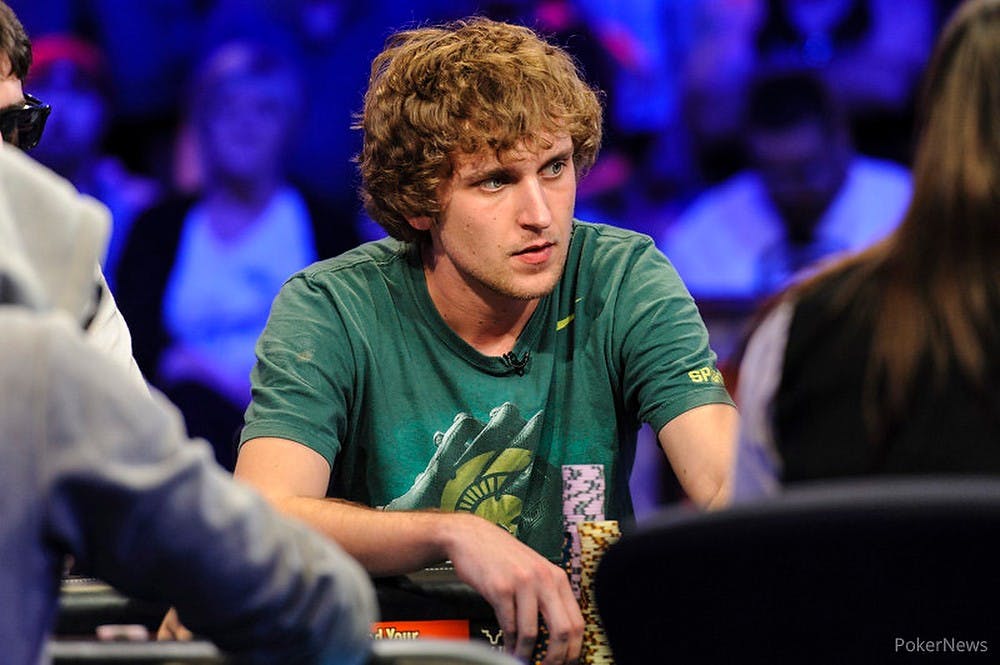 ---
Just three days after winning $8.3 million in a poker tournament, Ryan Riess perfectly summed up how things are going in four words: "Life is a dream," the 2012 MSU alumnus tweeted.
After taking home the World Series of Poker Main Event title — the most sought-after award in poker — Riess is living his childhood dream.
Ever since playing cards in his basement when he was 14 years old with friends at his house in Waterford, Mich., Riess had his eyes set on the Main Event's biggest prize — the coveted bracelet. After beating more than 6,300 entrants, people tuning into ESPN's coverage saw the 23-year-old's dream come to life, some of whom were watching on the TVs hanging on the walls of East Lansing bars.
"It's cool, I kind of wish I was at Rick's (American Cafe) watching it with everyone else," Riess said in an interview with The State News on Monday. "I'm friends with a lot of the bar workers, so it was cool they were all checking me out."
Riess spent four years at MSU, earning a degree in hospitality business and working in the parking booths in East Lansing during his time.
When he wasn't collecting money from drivers or dealing poker at Stacks Hold'em Bar, people were likely to find Riess at Tripper's Sports Bar working on his game.
Riess said he played two to three times a week during his four years, something he said his parents never knew about.
Although back then, he wasn't going to try to break other people's banks.
"I wasn't really doing it as a job; I was doing it more for entertainment," he said. "Everyone thought I was horrible because I would try new things, like try crazy bluffs, but I was mainly having fun."
After winning more than $250,000 in a WSOP Circuit event in Indiana during his senior year, Riess began to get serious about the card game and make a career out of it.
"My family didn't really want me to do that, because they didn't know how good I was until (the circuit event)," he said. "Before that, they weren't really that supportive and wanted me to do the conventional thing, but after the tournament I said, 'I want to travel and play full time for a year,' and they said, 'as long as you get your degree, we will be fully supportive,' and that meant a lot."
Fast forward to the 2013 Main Event, and Riess was nearing the final table wearing a green Nike Pro Combat MSU T-shirt. Wearing that shirt and, at the final table, a Calvin Johnson jersey instead of advertisement patches on his clothes cost him upwards of $100,000.
"I've had a lot of offers from people wanting me to wear their shirts and patches for anywhere from $10,000 to $35,000 (per patch)," he said. "But I just wanted to represent where I was from."
After winning the title and celebrating in a suite at the Rio Hotel and Casino with more than 100 family and friends, and $6,000 in comped drinks, Riess headed out of Las Vegas. He and his girlfriend Tabitha Trask, who have known each other since they were 11, went to Orlando to go to Electric Daisy Carnival and Walt Disney World. The next stop for Riess will be sitting courtside at tonight's MSU basketball game against No. 1 Kentucky.
Of his winnings, 44 percent will go back to people who helped pay his initial $10,000 buy-in. Riess also noted that instead of strangers paying for him to play, it was nothing but family and friends who helped with his buy-in.
The largest stake anyone had in his winnings was 5 percent, according to Riess, but most of his stakes were in smaller increments.
"Almost everybody has 1 percent, and they are all close friends and family," Riess said. "There's not one person I don't know who had action on me."
The champ said he hasn't put too much thought into future spending, but knows he won't blow it all away.
"I might go crazy and get a Lamborghini," he said. "But I'm going to make sure I put enough money away so I don't go broke."