Library helps E.L. with e-book technology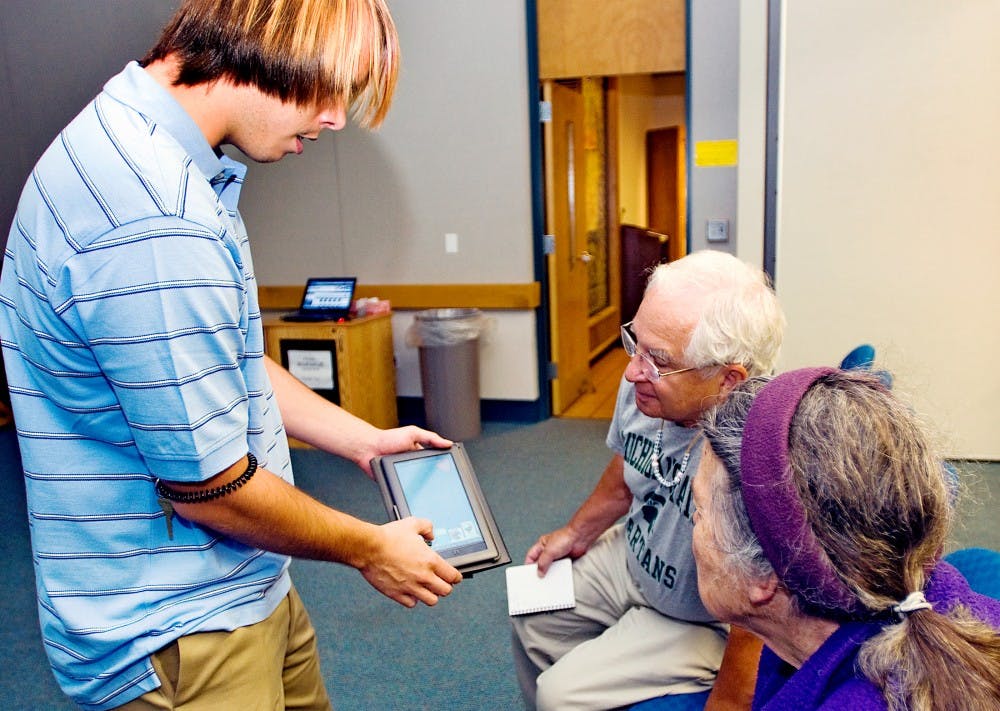 ---
After being a member of the East Lansing Public Library, or ELPL, for the past 20 years, Elise Harvey was delighted to be able to learn how to read books on her computer at the monthly e-book clinic held at the library Monday night.
Harvey, a 72-year-old East Lansing resident, said the technology behind e-books is both astounding and overwhelming. She was thankful the clinic instructor was very helpful, understanding and thorough in answering questions.
"I'm going to be 73 in about two weeks, and I feel like I am more like 17, partly from being here tonight," she said.
Jill Abood, the head of adult and children's services at the ELPL, said the e-book clinic is a computer class that shows the public how to use the OverDrive system — an online digital media host — and how to download e-books and audio books onto their devices.
"We have a Kindle, a Nook and an iPad we let people use and play with in class," she said.
She said the library has more than 2,000 e-book and audio book titles available for patrons to download for free. DVDs also are free to check out.
Lauren Douglass, head of technology services at the ELPL and one of the clinic teachers, said the technology department staff takes turns teaching the class. People who come in for the clinic often do not have an e-book or have one and need help using it. There can be as little as four attendees or as many as 35.
Most of the questions the technology department receives on a regular basis are about e-books and e-readers, Douglass said.
"A lot of people think they can't get popular titles at the library, but they can," she said. "If you can get it in print, you can usually get it in e-book at the library."
Abood said there were 365 checkouts of e-books and audio books on OverDrive in July, which was a 14 percent increase from June.
"They're extremely popular, and their popularity just continues to grow," she said. "We are ordering more and more e-books."
Although the OverDrive system is not compatible with the Kindle currently, Abood said it will be in the future.
Douglass said e-books are something libraries have to have when moving forward. The digital future even changes the definition of a library.
"Just because a building doesn't contain hundreds of thousands of books doesn't mean it's not a library," she said.
Apart from the e-book clinic, the library also offers a gadget workshop and one-on-one technical assistance, Abood said. Patrons can bring in digital cameras, flash drives, laptops or any other gadget and learn how to use them. Services at the library are free of charge.
Abood said the library welcomes college students, and they have free WiFi and parking, making the ELPL a great place to study. Staff are open to helping people of all ages.
"We have helped people set up their Facebook, use Twitter — pretty much anything that is tech related," she said.
Harvey said everyone should go to the ELPL all the time, especially because the programs and services offered create more opportunities to learn.
"This library is full of joy," she said. "Keep coming and being open to the new things that keep happening."